Study at Brevard
June 23 - August 7, 2016
Brevard Music Center provides a congenial summer community for young musicians of exceptional gifts. Four hundred students enroll each year from nearly every state in the U.S. and around the world. All students and an artist faculty of sixty live and work on the Music Center campus, 180 wooded acres in the beautiful mountains of western North Carolina.
More than eighty public performances, the outcome of study, comprise Brevard's renowned summer festival and attract tens of thousands of listeners each year.
Brevard has two divisions, one for high school students and one for students of college age and older. The two divisions have separate curricula and distinct campus life policies. All students reside on campus.
The minimum age for admission to the High School division is 14. The minimum age for admission to the College division is 18, and students in the College division must have completed a year as a full-time college student before they can enroll at Brevard. The maximum age in the college division is 29.
---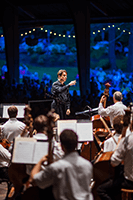 2016 Season Highlights
Conductors
Keith Lockhart • JoAnn Falletta • David Effron • Matthias Bamert • Robert Moody • Jayce Ogren • Ken Lam • Jerome Shannon
Soloists/Ensembles
Apollo's Fire • Mason Bates (Composer/Performer) • David Daniels (Countertenor) • Kevin Deas (Bass-baritone) • Roberto Diaz (Viola) • International Contemporary Ensemble (ICE) • Elissa Lee Koljonen (Violin) • Min Kwon (Piano) • Robert McDuffie (Violin) • Shanghai String Quartet • Jean-Yves Thibaudet • Joyce Yang (Piano)
---
---
Repertoire Highlights
Orchestra
BATES Rusty Air in Carolina
BEETHOVEN Piano Concerto No. 3
BEETHOVEN Symphony No. 9, "Choral"
BERLIOZ Symphonie fantastique
BERNSTEIN Serenade
COPLAND Symphony No. 3
DVOŘÁK "New World" Symphony
KODÁLY Háry János Suite
MAHLER Symphony No. 5
MOZART Sinfonia Concertante
PROKOFIEV Symphony No. 5
RACHMANINOFF Rhapsody on a Theme of Paganini
SAINT-SAËNS Piano Concerto No. 2
SHOSTAKOVICH Symphony No. 5
SIBELIUS Symphony No. 2
STRAUSS An Alpine Symphony
STRAUSS Four Last Songs
STRAVINSKY Rite of Spring
STRAVINSKY Suite from Firebird
TCHAIKOVSKY Piano Concerto No. 1
VAUGHAN WILLIAMS Serenade to Music
WAGNER Prelude & Liebestod from Tristan und Isolde
WAGNER Prelude from Die Meistersinger
Opera
MOZART Die Zauberflöte
BRITTEN A Midsummer Night's Dream
J. MARK SCEARCE Falling Angel