Classical Voice Summer Institute
---
The Program
The Classical Voice program is for high school singers ages 14-18 who plan to pursue vocal studies in college. Each student receives two private lessons per week, in addition to individual and group coachings on chamber music. Students have extensive work on the foundations of foreign language diction, how to act the song, collaboration with other voices and/or instruments which are performed at weekly recitals, masterclasses, and a program of solo songs and staged opera scenes. As available, students are also invited to audit rehearsals of Brevard's Janiec Opera Company

In addition to private lessons, the schedule of classes includes:
music theory and literature
yoga/mindfulness
acting fundamentals and self-taping
acting the song
movement and stage combat
vocal coaching
lyric diction in Italian, French and German
masterclasses in performance and audition techniques
Students in the Classical Voice program will participate in the BMC Chorus. In 2023, the BMC Chorus will join Artistic Director Keith Lockhart and the Brevard Music Center Orchestra in the season finale performance of Verdi's Requiem on August 6.
A sample daily schedule can be found below. This program is led by Director Janine Hawley.
"This is truly an amazing program. I learned so much and improved as well. All of the teachers were so supportive and encouraging. I accomplished things at this camp that I never thought I could do and I couldn't have done it without all of my teachers."
"I had lessons from two different teachers. They each had their own methods of teaching and presenting information, and they both helped me address different things. They were both a good mix of supportive and constructively critical."
---
Dates and Deadlines
Program Dates: July 15 - August 6, 2023 (three weeks) - arrival afternoon July 15, departure August 7
Deadline: Applications are closed for the Classical Voice Institute for Summer 2023.
Ages: 14-18
Tuition: includes all instruction, housing, and meals
Scholarships: BMC offers both merit scholarship and financial aid support as part of the application process
Application fee: $40
We also have a Musical Theater intensive for high school voice and encourage students to apply to both! Please feel free to contact [email protected] for assistance in applying to multiple programs.
---
2023 Faculty
Janine Hawley, Private Voice and Acting the Song instructor
Allison Pohl, Private Voice and Lyric Diction instructor
Mya Brown, Acting Technique
Patricia Grace Hazard, Collaborative Piano
---

S
ample Daily Schedule
Breakfast
8:00-9:00a Music Theory
9:15-9:45a Yoga/Mindfulness
10:00-11:30a Class rotation (Chamber Music, Acting the Song, Stage Combat)
11:45a Private lesson rotation/Practice time

Lunch
1:30-2:30p Private lesson rotation/Practice time
2:45-4:15p Class rotation (Chamber Music, Acting the Song, Stage Combat)
4:30-5:30p Lyric Diction and IPA
5:30-5:45p Reflection

Dinner
7:00-8:30p Master Class/practice or free time
Student recital each week
---
Audition Requirements
Admission to the Brevard Music Center is determined by audition. Voice applicants must submit a video recording by including YouTube video link(s) in their application.
Perform from memory two songs from the classical repertoire (not musical theater).
Submissions do not have to be one continuous take; once you add one selection, the option to add another will appear.
---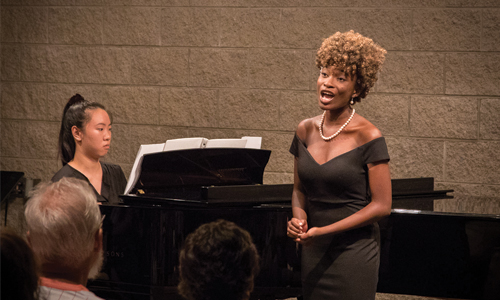 Tuition and Payment Schedule
The tuition for the 3-week High School Voice program will be announced. The tuition fee includes all instruction, housing, meals, and the opportunity to attend on-campus concerts and other events. Each participant is responsible for travel to and from Brevard.
A non-refundable enrollment fee of $600 is due within 2 weeks of acceptance and applies toward the cost of tuition. The remaining tuition balance is due by May 15.
Refunds
All payments, except the $40 application fee and $600 enrollment fee, will be fully refunded if the Center receives notice of cancellation due to serious illness before May 15. Written verification from an M.D. is required before a refund can be made. No reduction in fees can be made for late arrival or early departure. No refunds will be made after May 15.
---
Scholarships
Brevard Music Center offers scholarship support according to a student's audition and demonstrated financial need, and program need. In recent years, Brevard has provided scholarship support to more than 70% of its students. Scholarship support includes merit, need-based, and the BMC Opportunity Scholarship open to students of Black and Latinx descent.
Please visit the Scholarship section of our FAQ page for more information.