Piano Institute
---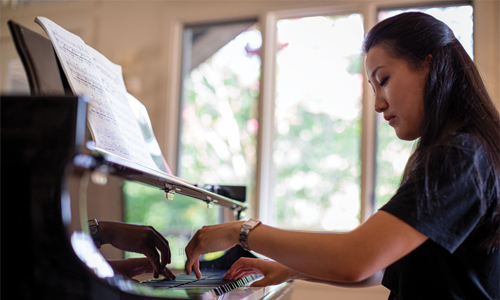 The Program
The Piano program at Brevard offers students the chance to work with world-renowned faculty. Each year the program enrolls more than seventy students. Pianists may attend for the full six-week term or for either the first or the second half session. Most students select the full term.
The piano program provides:
private study with distinguished teachers

ample practice time

weekly studio and master classes with faculty and guest artists
special topic classes in entrepreneurship, piano literature, performance practice, and The Etude Lab weekly classes focusing on piano etudes and techniques

open rehearsals with world-renowned concert soloists

access to orchestra rehearsals, specifically to repertoire that features orchestral piano parts
opportunity to attend nearly 80 orchestra, chamber, solo, and opera performances
Full Session and Session 2 students will also participate in the BMC Chorus. In 2024, the BMC Chorus will join the Brevard Music Center Orchestra in the season finale performance on August 4.
Piano students also present a public recital each week. In addition, limited spots are available for The BMC Etude Project. This project connects pianists with the members of the Composition Institute to premiere new etudes for piano written specifically for this project. 2024 will be the 7th edition of the project.
Students work on campus in 90 studios and practice rooms. Piano students may reserve daily practice time and may practice in any vacant room. Steinway is the official piano of the Brevard Music Center.
---
Dates and Deadlines
Program Dates:
Full Session: June 21 - August 4, 2024 (six weeks)
Half Session 1: June 21 - July 13, 2024 (three weeks)
Half Session 2: July 13 - August 4, 2024 (three weeks)
Deadline: March 15, 2024
Early Admissions: Apply by January 1 (Learn More)
Ages: 14-29
Scholarships: BMC offers both merit scholarship and financial aid support as part of the application process
Application fee: $65
---
2024 Faculty
Jihye Chang - Session I + II
Michael Chertock - Session II
Jihea Hong-Park - Session I
Norman Krieger - Session I
Donna Lee - Session I
Gabriela Martinez - Session II
Liza Stepanova - Session II
Yu-Lien The - Session I
Terrence Wilson - Session II
---
Competitions
Full-session piano students may enter the BMC Solo Piano Competition, which is sponsored by the Zimmerli Foundation. The competition takes place in two rounds on campus. Winners perform a short solo recital in Parker Concert Hall and receive cash prizes between $500-3000.
Full-session students may also enter the Jan and Beattie Wood Concerto Competition. Winners perform with the BMC Orchestra in the "Soloists of Tomorrow" concert and receive a full scholarship to attend Brevard the following year. 2024 repertoire will be announced in Winter 2023.
---
Audition Requirements
Admission to the Brevard Music Center is determined by audition. Pianists may upload audio recordings or link(s) to YouTube video auditions directly into the application.
Perform two contrasting solo works or movements from different style periods.
Submissions do not have to be one continuous take; once you add one selection, the option to add another will appear.
---
Tuition and Payment Schedule
Tuition is $8950 Full Session or $4950 Half Session, less any scholarships received. The tuition fee includes all instruction, housing, meals, on-campus health services, and concert admission. Each participant is responsible for travel to and from Brevard.
A non-refundable enrollment fee of $950 is due within 2 weeks of acceptance and applies toward the cost of tuition. The remaining tuition balance is due by May 15.
Refunds - All payments, except the $65 application fee and $950 enrollment fee, will be fully refunded if the Center receives notice of cancellation due to serious illness before May 15. Written verification from an M.D. is required. No reduction in fees can be made for late arrival or early departure. No refunds will be made after May 15.
Arrival and Departure
Full Session - Arrival June 21 afternoon, departure August 5
Half Session 1 - Arrival June 21 afternoon, departure July 13 morning
Half Session 2 - Arrival July 13 afternoon, departure August 5
Full Session and Session 2 students also will participate in the BMC Chorus. In 2024, the BMC Chorus will join the Brevard Music Center Orchestra in the season finale performance on August 4 at 3:00pm.
---
Scholarships
Brevard Music Center offers scholarship support according to a student's audition and demonstrated financial need, and program need. In recent years, Brevard has provided scholarship support to more than 70% of its students. Scholarship support includes merit, need-based, and the BMC Opportunity Scholarship open to students of Black and Latinx descent.
Please visit the Scholarship section of our FAQ page for more information.
---
Resident Assistants
Brevard Music Center students in the College division may apply to serve as Resident Assistants (RA). RAs have the same ensemble and performance opportunities as other students. RAs pay only a non-refundable enrollment fee of $950 which covers tuition, room, and board, and must be 21 or older by the start date of their program.
A limited number of RA positions are available in the Piano Institute. Brevard's RAs supervise student living quarters and provide guidance to younger students. Two RAs live in each high school residence; one RA lives in each college residence.
Selected individuals will participate in a telephone interview, and, if chosen, submit to a formal background check and participate fully in the RA orientation sessions prior to student arrival. Note: All Resident Assistants, including piano RAs, must arrive on Monday, June 10 and depart on Tuesday, August 6, 2024.
---
Apply Now