Frequently Asked Questions
---
When will the 2020 application be available?
The 2020 Summer Institute application will open on October 1, 2019.
---
When is the application deadline?
Janiec Opera Company: January 10, 2020
Orchestra Studies, Piano, Collaborative Piano, Composition: February 10, 2020
Classical Guitar, High School Voice: March 10, 2020
---
How good do I have to be in order to be accepted?
Brevard's students represent the best from around the world, and the program is competitive. Your audition should represent you at your best.
---
Should I send a letter of recommendation from my private teacher?
Only students applying to the High School Voice program for the first time should send a letter. Otherwise, please do not send a letter of recommendation. If you attended the Voice program previously, there is no need to send a letter.
---
If I was accepted to Brevard last year but did not attend, can I attend this year without applying or auditioning again?
Everyone – even alumni – must apply and audition each year, and we are happy for you to apply again.
---
If I was accepted to Brevard last year but did not attend, will that have a negative effect on my application this year?
Absolutely not; we welcome your 2020 application.
---
If I was enrolled as a student at Brevard in 2019, do I need to audition again for 2020?
Yes, unless you received an award during the 2019 season that makes you exempt.
---
Can international students attend Brevard?
Yes, we welcome your application! International students from over 30 countries have attended Brevard over the past decade. Following your enrollment, Brevard will send you a letter that will assist you in acquiring a B1/B2 Visa.
---
When will I hear about my acceptance?
Opera applicants will be notified in late January. Notification of an audition decision may occur at any time after the audition has been evaluated. However, most applicants will be notified of their audition decision via email beginning the first week of March.
A letter and enrollment information will be sent to those students who are admitted. The admissions process continues until all slots are filled.
---
What does it mean if I'm placed on the waiting list?
It doesn't mean anything negative! Brevard can enroll only a precise number of students in each instrument or program. Some students are accepted immediately, some are denied immediately, and the rest are placed on the waiting list. When someone who was accepted declines our offer, we admit another student from the waiting list. An applicant's status on the waiting list is not disclosed. Calling the Admissions Office will not increase your chances or speed things up; your patience is greatly appreciated as we move through the process.
---
What level of scholarship should I expect to receive?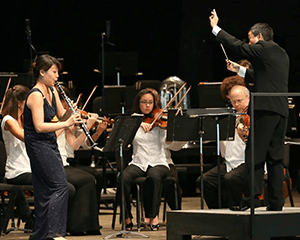 Brevard offers scholarship support according to merit and to need, so the amount varies from student to student. However, over 70% of students receive some aid from Brevard.
To be considered for need-based scholarship (work study) you must complete the financial aid portion of the online application. Merit awards are based solely on your audition.
The BMC Opportunity Scholarship is open to students of African-American and Latinx descent. BMC Opportunity Scholarships are awarded in conjunction with merit and work study scholarships. Students may apply for the scholarship in the Financial Aid section of the online application.
There are many places that can help you, if you do some research. Your own school, music clubs, civic and religious organizations, and even private businesses might provide scholarship assistance for summer study. Be creative and professional, and begin seeking assistance now.
Visit this website for a comprehensive list of organizations that provide scholarships for musicians. Below is a list of other web sites that may be helpful to you.
---
Can I bring a computer and a cell phone?
You can bring a laptop, but it isn't necessary; if you do, you will find several wireless hotspots on campus. Brevard has a computer lab available if you don't have or want to bring a laptop.
Yes, you can bring a cell phone. Because of the terrain, cell phone service can be spotty in some areas of the campus. Verizon has a tower in Brevard and is known to work most reliably. Phones from some providers may not work as well.
---
Are religious services available?
Yes, in the town of Brevard. Students who wish to attend weekly services may be transported by BMC residence life staff. Some area churches send vans to meet students and bring them back to campus afterwards. Services are not held on campus.
---
How do I get to the off-campus concerts?
BMC provides a bus to transport students to and from any concerts held at the Porter Center on the Brevard College Campus. If you are performing at any of our off-campus venues, we'll be sure you can get there.
---
What is the mailing or shipping address for Brevard?
Mail should be sent to: Brevard Music Center, Admissions, P.O. Box 312, Brevard, NC 28712
If sending by UPS or FedEx, please send to: Brevard Music Center, Admissions, 349 Andante Lane, Brevard, NC 28712