Frequently Asked Questions
How is Brevard preparing for the 2022 Summer Institute?
The health and safety of our participants is our number one priority. Brevard continues to work with local and state health officials, along with campus and venue reopening specialists, to develop guidelines and protocols designed to keep our students, faculty, staff, and patrons safe.
COVID-19 Vaccination Required
A vaccine mandate policy is in place for all students, faculty, and summer staff and residents for the 2022 season. Proof of COVID-19 vaccination is required. This applies to all ages that are eligible according to the CDC. Brevard Music Center acts in accordance with applicable state and federal labor laws based on the most current workplace health safety guidance from local, state, and federal health and labor agencies. Brevard Music Center follows CDC and OSHA guidelines for what is considered fully vaccinated.
Campus Life
In 2022, the Brevard Music Center will resume all programs for both the High School and College Divisions. Campus housing will return to normal occupancy. In addition to the vaccine requirement, other safety measures and precautions such as social distancing and/or mask-wearing may be implemented as needed.
---
Admissions
When is the application deadline?
Application deadlines vary by program - in the High School or College division - and will be posted on each individual program page.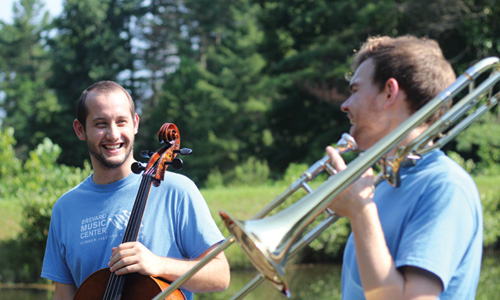 Do you offer early admissions?
Yes, for applicants in piano, and previously in violin. Apply now to be considered for early acceptance! Applications will be reviewed and limited spots will be offered on a rolling basis in piano, in addition to the stated program deadlines.
When will I receive my admission decision for the 2022 season?
Notification of an audition decision may occur at any time after the audition has been evaluated. All notifications will be sent via email. For most programs, notifications will go out within 2-3 weeks of the application deadline for each program. The admissions process continues until all slots are filled.
If you are up against a decision deadline for another program, please reach out to us at admissions@brevardmusic.org and we will do our best to work with you for an earlier notification.
If I was enrolled as a student at Brevard in 2021, do I need to audition again for 2022?
Everyone – even alumni – must apply and audition each year, and we are happy for you to apply again. Contact admissions@brevardmusic.org if you have any questions.
Am I eligible for the college division?
The College Division is for students ages 18 through 29 who will have completed at least one year as a full-time college student by the start date of their program.
In addition to current undergraduates, many students at BMC have graduated or are presently enrolled for graduate study.
Can international students attend Brevard?
Yes, we welcome your application! International students from over 30 countries have attended programs at Brevard over the past decade. Following your enrollment, Brevard will send you a letter that will assist you in acquiring a B1/B2 Visa for summer study.
Should I send a letter of recommendation from my private teacher?
No, letters of recommendation are not necessary.
What does it mean if I'm placed on the waiting list?
It doesn't mean anything negative! Brevard can enroll only a precise number of students in each instrument or program. Some students are accepted immediately, some are denied immediately, and the rest are placed on the waiting list. When someone who was accepted declines our offer, we admit another student from the waiting list. An applicant's status on the waiting list is not disclosed. Calling the Admissions Office will not increase your chances or speed things up; your patience is greatly appreciated as we move through the process.
What is the Concertmaster Studio?
BMC's Concertmaster Studio provides a select group of violin students with the opportunity to study with some of the world's greatest concertmasters. Students in the Concertmaster Studio will receive weekly private lessons, orchestral leadership training, and will participate in studio classes and masterclasses. Acceptance into the Concertmaster Studio is by audition. (Selection into the Concertmaster Studio does not guarantee a principal seat in orchestra.)
In 2022, guest concertmasters include Nikki Chooi (Buffalo Philharmonic Orchestra) and Dennis Kim (Pacific Symphony).
Additional audition excerpts are required. See the "Audition Requirements" section of the high school orchestra or college orchestra page for more details.
---
Scholarships
What level of scholarship should I expect to receive?
Brevard offers scholarship support according to merit and to need, so the amount varies by program and from student to student. In recent years, Brevard has provided scholarship support to more than 70% of its students.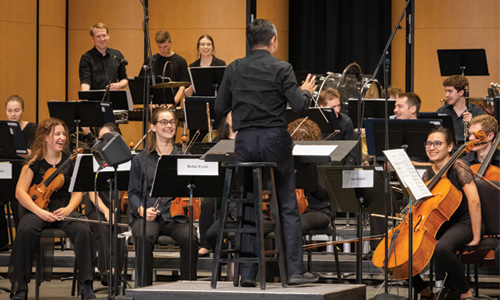 What is the difference between merit and need-based scholarships?
Merit awards based solely on your audition, which is uploaded directly to your application as a YouTube link or audio file. You do not need to fill out the financial aid portion of the application to be considered for a merit scholarship.
Need-based scholarship support is awarded as work study. Work study students complete from 2 to 8 hours of assigned duties per week, depending upon the amount of the award. Students may work as library, administrative, parking, or technical assistants, or as ushers. Various other activities are available according to qualifications, including the New Music Ensemble* (college students only). To be considered for need-based scholarship (work study) you must complete the financial aid portion of the online application.
Many students receive a combination of merit awards and need-based aid.
*BMC's all-student New Music Ensemble presents world-premiere readings of Brevard's composition students. Students will be chosen based on experience, interest, and program need.
What is the BMC Opportunity Scholarship?
The BMC Opportunity Scholarship is designed to assist historically underrepresented populations in the study of music. Open to students of African-American and Latinx descent, the BMC Opportunity Scholarship program seeks to help these young musicians overcome financial obstacles that might prevent them from achieving their full potential. BMC Opportunity Scholarships are awarded in conjunction with financial aid. Students may apply for the scholarship in the Financial Aid section of the online application. Learn more about our Commitment to Diversity.
Where else can I look for scholarship assistance?
There are many places that can help you, if you do some research. Your own school, music clubs, civic and religious organizations, and even private businesses might provide scholarship assistance for summer study. Be creative and professional, and begin seeking assistance early.
Visit this website for a comprehensive list of organizations that provide scholarships for musicians. Additional resources:
Can I pay my tuition by check?
Payment can be made online by signing into your MyBMC application page, or you can mail a check to the address below. If you mail a check, please make the check out to "Brevard Music Center." Be sure to write the Program name and the full name of the student in the memo field.
Mail check to:
Brevard Music Center
ATTN Admissions Department
P.O. Box 312
Brevard, NC 28712
Once the check is received, we will apply it directly to the student's tuition and update their MyBMC account.
---
Campus Life
Can I bring a computer and a cell phone?
You can bring a laptop, but it isn't necessary; if you do, you will find several wireless hotspots on campus. Brevard has a computer lab available if you don't have or want to bring a laptop.
Yes, you can bring a cell phone. Because of the terrain, cell phone service can be spotty in some areas of the campus. Verizon has a tower in Brevard and is known to work most reliably. Phones from some providers may not work as well.
Learn more at About Our Campus.
Are religious services available?
Yes - the town of Brevard is home to a wide variety of faiths and denominations. Students who wish to attend services may carpool with other students, or make their own transportation arrangements. Some area churches send vans to meet students and bring them back to campus afterwards. Services are not held on campus.
How do I get to the off-campus concerts?
Transportation will be provided for students involved in a limited number of outreach events at off-campus venues.
What is the mailing or shipping address for Brevard?
Mail should be sent to:
ATTN Admissions Department
Brevard Music Center
349 Andante Lane
Brevard, NC 28712
Have more questions? Contact admissions@brevardmusic.org. We look forward to hearing from you!