2018 Repertoire
---
Brevard Music Center Orchestra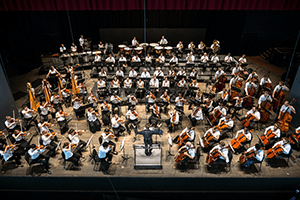 Friday, June 22
Keith Lockhart, conductor
Olga Kern, piano
BARTÓK Concerto for Orchestra
RACHMANINOFF Piano Concerto No. 2
Friday, June 29
Sebastian Lang-Lessing, conductor
Itamar Zorman, violin
WAGNER Overture to Rienzi
BERG Violin Concerto
BEETHOVEN Symphony No. 6 "Pastoral"
Friday, July 6
Matthias Bamert, conductor
Yekwon Sunwoo, piano
BERLIOZ Roman Carnival Overture
SCHUMANN Concerto for Piano in A minor
BRAHMS Symphony No. 2
Friday, July 13
Keith Lockhart, conductor
Greenville Chorale
Norman Krieger, piano
BERNSTEIN Chichester Psalms
MAHLER Adagio from Symphony No. 10
BERNSTEIN Symphony No. 2 'The Age of Anxiety'
Friday, July 20
Rune Bergmann, conductor
Conrad Tao, piano
MOZART Overture to Le Nozze di Figaro
BEETHOVEN Piano Concerto No. 1
STRAUSS Also sprach Zarathustra
Friday, July 27
JoAnn Falletta, conductor
Noah Bendix-Balgley, violin
BRAHMS Academic Festival Overture
BENDIX-BALGLEY Fidl-Fantazye: A Klezmer Concerto
TCHAIKOVSKY Symphony No. 4
Sunday, August 5
Keith Lockhart, conductor
John McVeigh, tenor
BERNSTEIN Mass
---
Brevard Sinfonia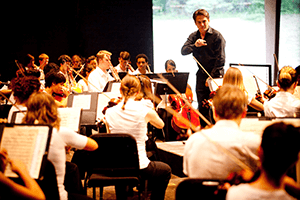 Sunday, June 24
Keith Lockhart, conductor
BERNSTEIN Overture to Candide
BERNSTEIN Fancy Free (complete ballet)
BERNSTEIN Three Dance Episodes from On the Town
BERNSTEIN Divertimento
BERNSTEIN Symphonic Suite from On the Waterfront
Tuesday, June 26
Steep Canyon Rangers with Orchestra
Saturday, June 30
Sebastian Lang-Lessing, conductor
Dasol Kim, piano
MOZART Piano Concerto No. 25
ELGAR Enigma Variations
ELGAR Pomp and Circumstance March No. 1
Saturday, July 7
Daniel Hege, conductor
Robert McDuffie, violin
Mike Mills, guitar
MILLS Concerto for Violin, Rock Band, and String Orchestra
BARBER Medea's Dance of Vengeance
DEBUSSY La Mer
Saturday, July 14
BERNSTEIN West Side Story (film with live orchestra)
Saturday, July 21
Rune Bergmann, conductor
Sergey Khachatryan, violin
Narek Hakhnazaryan, cello
SVENDSEN Norwegian Artists' Carnival
TCHAIKOVSKY Romeo and Juliet Overture-Fantasy
BRAHMS Double Concerto for Violin and Cello
Saturday, July 28
JoAnn Falletta, conductor
Time for Three
SIERRA Fandangos
HIGDON Concerto 4-3
TIME FOR THREE Originals and Mashups
RESPIGHI Roman Festivals
Saturday, August 4
Ken Lam, conductor
Zorá String Quartet
DZUBAY Ra!
LEES Concerto for String Quartet and Orchestra
MUSSORGSKY Pictures at an Exhibition
---
Brevard Camerata
Wednesday, July 11
Amy Porter, flute
Dilshad Posnock, flute
William Preucil, violin
BACH Brandenburg Concerto No. 3
BACH Brandenburg Concerto No. 4
TCHAIKOVSKY Serenade for Strings
Wednesday, August 1
Adam Holzman, guitar
TURINA La Oración del Torero (The Bullfighter's Prayer)
VIVALDI Guitar Concerto in D major
SUK Serenade
---
Brevard Concert Orchestra
Wednesday, July 4
Ken Lam, conductor
TCHAIKOVSKY 1812 Overture
Sunday, July 15
Ken Lam, conductor
Joseph Horowitz, curator
"Bernstein the Educator"
GERSHWIN An American in Paris
CHADWICK Melpomene Overture
COPLAND Excerpts from Billy the Kid
HARRIS Finale from Symphony No. 3
IVES Finale from Symphony No. 2
Sunday, July 22
Ken Lam, conductor
Annelle Gregory, violin
SUK Scherzo Fantastique
DVOŘÁK The Noonday Witch
WAXMAN Carmen Fantasy
RESPIGHI Pines of Rome
Friday, August 3
Kraig Alan Williams, conductor
Keith Lockhart, conductor
Jonathan Spitz, cello
BACH Toccata and Fugue in D minor
MASLANKA O Earth, O Stars for Solo Cello and Winds
HOLST The Planets
---
Janiec Opera Company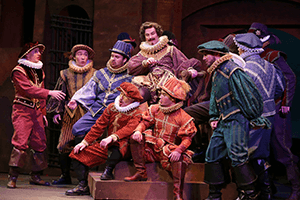 June 21
Opera's Greatest Hits
June 28, 30
PUCCINI Madama Butterfly
July 12, 14
ROSSINI La Cenerentola (Cinderella)
July 26, 28
BERNSTEIN Candide
August 2
Sondheim on Sondheim