Adult Guitar Workshop
---
For Guitarists 30 and up
---

The Program
Come to Brevard to be a classical guitarist for the week! Under the direction of Professor Adam Holzman, Brevard's Adult Guitar Workshop (AGW) is a comprehensive 5-day course of study offering lessons, masterclasses, and ensemble playing for classical guitarists age 30 and up.
Areas of focus and program features will include:
Technique
Musicianship
Sound Production
Memorization
Guitar Ensemble
There will also be a faculty recital and a culminating class recital. Instruction will be geared to the level and specificity of the participant. All participants will work closely with all faculty members.
---
2024 Faculty
Adam Holzman, Director
René Izquierdo
Andrew Zohn
---
Dates and Deadlines
Program Dates: June 9-15, 2024
Registration Deadline: Registration will close when all spots are filled
Ages: 30+
Tuition: $1850, includes all instruction, on-campus housing, and meals
Registration fee: $500, applies toward the cost of tuition
How to register: Click the "Apply Now" button to the left or the "Register Now" button at the bottom of the page
Arrival information
Attendees should arrive on Sunday, June 9, 2024 between noon-4:00pm. There will be an evening meeting and meal, and the first class is Monday morning. Departure is by 10am on Saturday, June 15.
The nearest airport to Brevard is the Asheville Regional Airport (AVL), or participants can drive to the Music Center (free parking provided).
---
Daily Schedule
7:30 - 9:00 a.m. Breakfast
9:00 - 10:00 a.m. Technique class
10:00 a.m. - 12:00 p.m. Small group private lessons (Monday-Friday)

12:00 - 1:30 p.m. Lunch
1:30 - 3:00 p.m. Individual practice time
3:00 - 5:00 p.m. Masterclasses (solo and ensemble literature)

5:00 - 6:30 p.m. Dinner
Evenings Activities, ensemble rehearsals, or social gatherings
Thursday Evening – Faculty Concert
Friday – Student Final Concert and Closing Dinner
---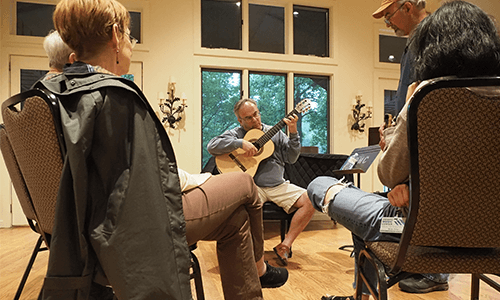 Fees and Payment Schedule
The cost for the Adult Classical Guitar Workshop @ Brevard is $1850. This cost includes tuition, on-campus housing, meals, and all instructional activities. Each participant is responsible for travel to and from Brevard.
A non-refundable registration deposit of $500 will be charged at the time of your online registration. This amount holds your spot and applies toward the total cost of the workshop. All tuition is due by May 1.
Refunds
All payments, except the $500 registration deposit, will be fully refunded if the Center receives notice of cancellation before May 1. There is no reduction in fees for late arrival or early departure. No refunds will be made after May 1.
Payment
Payments can be made online in your MyBMC account or you can mail a check to the address below. If you mail a check, please make the check out to "Brevard Music Center." Be sure to write "Guitar Workshop" and the full name of the participant in the memo field.

Mail check to:
Brevard Music Center
ATTN: Guitar Workshop
P.O. Box 312
Brevard, NC 28712
Please contact [email protected] if you have any questions- we hope you are able to join us in June!
---
Faculty Bios
Adam Holzman, Director
Adam Holzman, international performer, recording artist, and teacher is hailed as "...polished and quite dazzling," by The New York Times, "...brilliant!," by De Gelderlander, Holland, and "...masterful!," by The Toronto Star.
Five times a winner in major international competitions including: First Prize at the 1983 Guitar Foundation of America Competition held in Quebec, Canada and Top Prize at the Ninth Concorso Internazionale di Interpretazione di Gargnano, Italy. Mr. Holzman has performed at the prestigious Concertgebouw in Amsterdam and distinguished New York venues such The 92nd St. Y, Merkin Hall, and Carnegie Recital Hall. He is also a frequent guest in music festivals and series around the globe. His extensive international performances have taken him throughout Europe, Canada, Mexico, Central and Latin America.
Mr. Holzman's recordings for the Naxos label have been critically acclaimed. The first two are discs of the music of Fernando Sor and have been called "...irresistible" by Gramophone Magazine. Of his Naxos release, The Venezuelan Waltzes of Antonio Lauro, the American Record Guide had this to say: "The landmark recording was David Russell's 1980 LP. Now, 20 years later, comes another masterly recording by Adam Holzman: in many ways it raises the benchmark still further." His recording debut, on HRH Records, was a collection of rarely or never before recorded selections. According to The American Record Guide this performance is "…so flawless he makes it all sound easy." His recordings are all featured on the Adam Holzman channel on Pandora.
Mr. Holzman's commitment to new music led him to co-commission Samuel Adler's first Concerto for Guitar and Orchestra. He has also premiered works by composers Robert Helps, Roland Dyens, and Stephen Funk Pearson among others. In 2018 he was part of a Consortium Grant to commission the new concerto for Guitar and Orchestra Colours by Stephen Goss.
Founder of the Guitar Department at the University of Texas at Austin's Butler School of Music and the Austin Guitar Society, Mr. Holzman is considered one of America's leading guitar pedagogues. He heads a thriving guitar studio and his students have won an astounding array of international prizes.
Mr. Holzman's performance studies were with Bruce Holzman, Albert Valdes Blain, Eliot Fisk, and Oscar Ghiglia. He was chosen twice to perform in the historic Master classes of the legendary Andrés Segovia. You can learn more about Adam Holzman at: www.adamholzman.net
---
René Izquierdo
Cuban-born René Izquierdo is a unique artist and passionate educator whose career has been dedicated to inspiring individuals and connecting communities. Whether passionately performing on stage, devotedly mentoring his students, fundraising, or leading community outreach, René's multi-faceted approach endeavors to continue creating experiences that enrich people's lives and add beauty to our world.
Through his "unforgettable versatility, sensitivity and sublime musicianship" (Classical Guitar Magazine), René has firmly established himself as one of the world's classical guitar virtuosos. He is celebrated for his ability to weave an unparalleled technical command of his instrument with his gift of storytelling, accomplishing an intimate musical experience with his audience.
As an educator, René is passionate about engaging the mind and the heart. Through his teachings all around the world, he shares his belief that the greatest musicians not only have the technical mastery to communicate effectively but also are deeply curious, and equally adept at analytical and emotional modes of thought.
---
Andrew Zohn
American guitarist Andrew Zohn is recognized internationally for his work as a performer, instructor, and composer. He has performed concerts on five continents as a soloist and chamber musician. In addition to extensive touring throughout the United States, recent performances include venues in China, Argentina, Italy, Egypt, Malaysia, Germany, and the Netherlands. A recent critic has said: "Zohn…easily demonstrated how he is one of the most sought after performers on the classical guitar as his fingers deftly plucked some of the most subtle of tones on the instrument." -The Star, Kuala Lumpur.
Since 1999, Dr. Zohn has served on the faculty of the Schwob School of Music (Columbus State University) in Georgia, where he directs the annual CSU Guitar Symposium. He has performed and taught at many of the world's most prestigious music festivals including the Festival of New Music (Central Conservatory of Music, China) the Guitar on the Mediterranean Guitar Festival (Italy), Sevilla Guitar Festival (Spain), Guitar Festival Changsha and Shenyang Festival (China), the Iserlohn Guitar Symposium (Germany), Borguitar Festival (Italy), the Guitar Foundation of America (USA), Festivale Emilia Romagna and Musica Ravenna (Italy), and GuitareMontreal (Canada). Students of Andrew Zohn have won prizes in dozens of international competitions including, among others, The Parkening International, The Guitar Foundation of America, The World Guitar Competition (Serbia), and The Asia International (Bangkok). Many of his students have been also been featured on the American National Public Radio program highlighting outstanding young musical talent From the Top.
Original compositions and transcriptions by Andrew Zohn are published through Les Productions d'Oz, Canada, Tuscany publications (Theodore Presser), and FJH Publications. His recordings for Clear Note and Centaur Records have received wide acclaim from American Record Guide, Classical Guitar Magazine, GuitArt Magazine, Soundboard, Guitarra Magazine, and Rosewood Review.
---
Register Now