College Program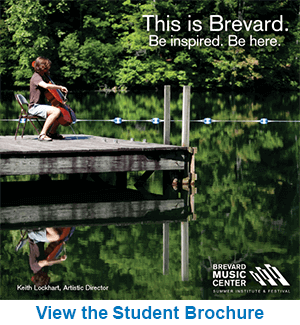 Each year the College Division enrolls approximately 230 students, ages 18 through 29, who have completed a year as a full-time college student. In addition to current undergraduates, many students in the program have graduated or are presently enrolled for graduate study.
Six programs of study are available:
Students in the orchestral studies, piano, collaborative piano, classical guitar, and composition programs receive private lessons from Brevard's artist faculty and may participate in studio or masterclasses. Opera students receive private coachings in lieu of lessons.
Instrumentalists have the opportunity for formal chamber music coaching with members of the artist faculty.
Students have the opportunity to perform solo and chamber music in Brevard's weekly student recitals.
There are formal, required classes for students in Piano, Collaborative Piano, Composition, Classical Guitar, and Opera, and sectional rehearsals for students in Orchestral Studies.
All BMC students may attend open rehearsals with world-renowned concert soloists. Students have the opportunity to attend nearly 80 orchestra, chamber, solo, and opera performances throughout the full season.
---
2017 Season Highlights
Orchestra
BACH/STOKOWSKI Passacaglia and Fugue
BARTÓK Suite No. 1
BARTÓK Viola Concerto
BEETHOVEN Symphony No. 4
BEETHOVEN Symphony No. 5
BRAHMS Piano Concerto No. 1
BRAHMS Symphony No. 3
BRAHMS Violin Concerto
COPLAND Lincoln Portrait
DVOŘÁK Cello Concerto
DVOŘÁK Symphony No. 8
GERSHWIN Rhapsody in Blue
LISZT Piano Concerto No. 1
MARQUEZ Danzon No. 2
MENDELSSOHN Violin Concerto
MOZART Symphony No. 38
PROKOFIEV Romeo and Juliet
RACHMANINOFF Piano Concerto No. 3
RACHMANINOFF Symphonic Dances
RAVEL La Valse
RIMSKY-KORSAKOV Scheherazade
SHOSTAKOVICH Piano Concerto No. 2
SHOSTAKOVICH Symphony No. 7
STRAVINSKY Petrushka
TCHAIKOVSKY Symphony No. 5
TCHAIKOVSKY Symphony No. 6
TCHAIKOVSKY 1812 Overture
TIPPETT Symphony No. 1
VERDI Requiem
VIVALDI The Four Seasons
WEILL Seven Deadly Sins

Opera
DONIZETTI Don Pasquale
MOZART Le Nozze di Figaro
WEILL Street Scene
---
2017 Conductors
Keith Lockhart • JoAnn Falletta • Matthias Bamert • Marcelo Lehninger • Neil Thomson • Ken Lam • Kraig Alan Williams • Robert Moody • Tyson Deaton • Caleb Harris
---
2017 Soloists / Ensembles
Amernet String Quartet • Kirill Gerstein (Piano) • International Contemporary Ensemble (ICE) • Norman Krieger (Piano) • Nikita Mndoyants (Piano) • Johannes Moser (Cello) • Anne Akiko Meyers (Violin) • Garrick Ohlsson (Piano) • William Preucil (Violin) • Scott Rawls (Viola) • Lise de la Salle (Piano) • Shanghai String Quartet • William Sharp (Baritone) • Andrew Tyson (Piano) • Lisa Vroman (Soprano)