College Program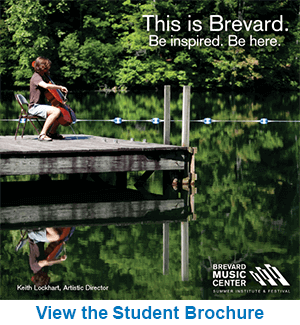 Each year the College Division enrolls approximately 230 students, ages 18 through 29, who have completed a year as a full-time college student. In addition to current undergraduates, many students in the program have graduated or are presently enrolled for graduate study.
Six programs of study are available:
Students in the orchestral studies, piano, collaborative piano, classical guitar, and composition programs receive private lessons from Brevard's artist faculty and may participate in studio or masterclasses. Opera students receive private coachings in lieu of lessons.
Instrumentalists have the opportunity for formal chamber music coaching with members of the artist faculty.
Students have the opportunity to perform solo and chamber music in Brevard's weekly student recitals.
There are formal, required classes for students in Piano, Collaborative Piano, Composition, Classical Guitar, and Opera, and sectional rehearsals for students in Orchestral Studies.
All BMC students may attend open rehearsals with world-renowned concert soloists. Students have the opportunity to attend nearly 80 orchestra, chamber, solo, and opera performances throughout the full season.
How can I participate?
To apply to Brevard 2019, you must:
be 18 through 29 years old and have completed one year as a full-time college student (for the College Division)
fill out an online application
submit the application fee (non-refundable)
submit an audition
Audition requirements vary by program. Auditions may be uploaded directly to the Brevard Music Center or posted on YouTube.
Students in the Piano or Classical Guitar program may attend for the full six weeks or may attend for three weeks – the first or second session.
Applications and auditions must be complete by the posted deadline. (Applications remain open until enrollment is complete.)
What does it cost?
Tuition is $7200 for Brevard 2019. This is an all-inclusive fee. There are no extra fees for private lessons, food service, concert admission, or access to on-campus health services. Tuition for Piano and Classical Guitar students who attend for three weeks is $3950.
Does Brevard offer scholarships?
Yes, Brevard provides some scholarship support to more than 70% of its students.
Scholarships from Brevard come in two forms:
Merit awards based on the student's audition
Work-study awards based on financial need
Scholarships are based on merit, financial need, and program need.
Requesting financial aid is simple – it's part of Brevard's online application process.