College Program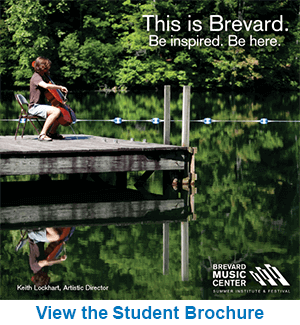 Each year the College Division enrolls approximately 230 students, ages 18 through 29, who have completed a year as a full-time college student. In addition to current undergraduates, many students in the program have graduated or are presently enrolled for graduate study.
Six programs of study are available:
Students in the orchestral studies, piano, collaborative piano, classical guitar, and composition programs receive private lessons from Brevard's artist faculty and may participate in studio or masterclasses. Opera students receive private coachings in lieu of lessons.
Instrumentalists have the opportunity for formal chamber music coaching with members of the artist faculty.
Students have the opportunity to perform solo and chamber music in Brevard's weekly student recitals.
There are formal, required classes for students in Piano, Collaborative Piano, Composition, Classical Guitar, and Opera, and sectional rehearsals for students in Orchestral Studies.
All BMC students may attend open rehearsals with world-renowned concert soloists. Students have the opportunity to attend nearly 80 orchestra, chamber, solo, and opera performances throughout the full season.
---
2018 Season Highlights
Orchestra
BACH Brandenburg Concertos No. 3 and 4
BARTÓK Concerto for Orchestra
BEETHOVEN Pastoral Symphony
BENDIX-BALGLEY Fidl-Fantazy
BERG Violin Concerto
BERNSTEIN Age of Anxiety
BERNSTEIN Chichester Psalms
BERNSTEIN Mass
BERNSTEIN On the Waterfront
BERNSTEIN West Side Story (film with live orchestra)
BRAHMS Double Concerto for Violin and Cello
BRAHMS Symphony No. 2
ELGAR Enigma Variations
HOLST The Planets
MAHLER Adagio from Symphony No. 10
MIKE MILLS (R.E.M) Concerto for Violin and Rock Band
MUSSORGSKY Pictures at an Exhibition
RACHMANINOFF Piano Concerto No. 2
RESPIGHI Pines of Rome
SCHUMANN Piano Concerto
STRAUSS Also sprach Zarathustra
SUK Serenade
TCHAIKOVSKY 1812 Overture
TCHAIKOVSKY Serenade for Strings
TCHAIKOVSKY Symphony No. 4
VIVALDI Guitar Concerto in D major
Special multi-media concert: "Bernstein the Educator"
Opera
BERNSTEIN Candide
PUCCINI Madama Butterfly
ROSSINI La Cenerentola
---
2018 Conductors
Keith Lockhart • JoAnn Falletta • Matthias Bamert • Rune Bergmann • Daniel Hege • Sebastian Lang-Lessing • Ken Lam • Craig Kier • Michael Sakir • Kraig Alan Williams
---
2018 Soloists / Ensembles
Noah Bendix-Balgley (Violin) • Annelle Gregory (Violin) • Narek Hakhnazaryan (Cello) • Olga Kern (Piano) • Dasol Kim (Piano) • Sergey Khachatryan (Violin) • Norman Krieger (Piano) • Robert McDuffie (Violin) • Yekwon Sunwoo (Piano) • Itamar Zorman (Violin) • Shanghai String Quartet • Sō Percussion • Time for Three