Jazz Institute @ Brevard
June 4 - 15, 2018
Michael Dease, Director
Under the direction of Michael Dease, the Jazz Institute @ Brevard is committed to providing an authentic, immersive experience in the jazz aesthetic while refining the elements of musical and personal discipline, integrity, and passion. If you are seeking to take your musical abilities to the next level, look no further, you are in the right place.
Review of applications will begin on February 16, 2018, and will stay open until April 1, 2018. (Applications open until enrollment is complete.)
---
The Program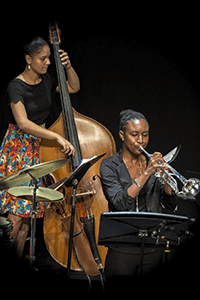 The program will enroll up to 60 students, ages 14 to 29, who will participate in big band / combo classes and performances, private lessons, recording sessions, and mentoring opportunities with world renowned faculty and guest artists.
Our all-star faculty are some of the busiest working professionals in the music industry and their talent is equaled in their teaching ability. They are here for you – our students. The great Dizzy Gillespie once said, "I always try to teach by example and not force my ideas on a young musician. One of the reasons we're here is to be a part of this process of exchange."
Days are packed with events including big band, quintets – sextets – septets – octets, professional recording sessions, masterclasses with guest artists, private lessons, jazz history, jazz theory, jam sessions, outreach concerts, and performances at the Brevard Music Center. Topics of study reach across the entire music industry and provide insight to playing all styles of music. There is something for everyone at every step of the way. Time off in the schedule allows for hiking, rafting, tubing, cook-outs, and exploring the scenic forests and waterfalls of the Blue Ridge Mountains.
---
Randy Brecker, Featured Guest Artist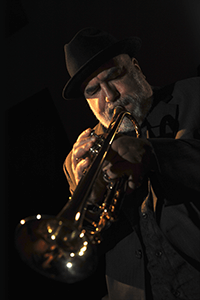 A seasoned jazz veteran, virtuosic trumpeter and prolific composer, Randy Brecker's horn has graced the bandstands and recordings of Horace Silver, Art Blakey's Jazz Messengers, Charles Mingus, Clark Terry, Joe Henderson, Duke Pearson, Frank Foster and Thad Jones/Mel Lewis Orchestra. As a first call studio player, Brecker's trumpet has also energized innumerable studio sessions by artists ranging from James Taylor, Bruce Springsteen and Parliament-Funkadelic to David Sanborn, Jaco Pastorius, and Frank Zappa.
In the realms of cutting-edge jazz-rock fusion, Brecker has been a major contributor to Blood Sweat and Tears, Larry Coryell's Eleventh House and Dreams, a group he co-founded with his brother Michael and drummer Billy Cobham.
After departing BS&T in 1969, Randy appeared with Horace Silver and many other jazz acts feeling a need to stretch his desire to improvise freely. By 1973, Randy and his sax playing brother, Michael had become the most in-demand studio players in New York City. In 1975 they decided to form their own band, "The Brecker Brothers".
The Brecker Brothers became a band of immeasurable influence and impact. Hailed by pop and jazz critics alike, their first album, which Randy produced, was nominated for four Grammy awards. The Brecker Brothers went on to record a total of 6 albums and receive seven Grammy nominations between 1975 and 1981. In the late 70's, Randy also recorded on Charles Mingus' last album, Me Myself an Eye. He has since performed on various incarnations of Mingus Dynasty and the Mingus Big Band.
After the Brecker Brothers took a hiatus in 1982, Randy toured and recorded extensively as a key member of Jaco Pastorius' Word of Mouth. Several more solo projects followed with numerous tours around the world with many different artists.
A ten year break from the Brecker Brothers ended in 1992 with the release of the GRP project "Return of the Brecker Brothers" and "Out of The Loop" in 1994 which received 2 Grammy awards and resulted in both USA and European tours.
Randy is now signed with ESC Records. First Cd on this label was "Hangin' in The City" which was released worldwide in April 2001 to considerable commercial and critical success. The release included all new funk/hip-hop and jazz compositions featuring the cream of the crop of NYC players.
Randy just released in April his new CD called "34th N Lex" for the ESC label featuring Michael Brecker, David Sanborn, Fred Wesley, Ronnie Cuber and his regular working band.
---
Sample Daily Schedule
7:00 a.m. – 8:00 a.m.
Breakfast
8:15 a.m. – 9:30 a.m.
Warm-up Class
10:00 a.m. – 11:00 a.m.
Combo Rehearsal
11:00 a.m. – 12:00 p.m.
Theory/History Class
12:00 p.m. – 1:00 p.m.
Lunch
1:00 p.m. – 5:00 p.m.
Big Band Rehearsals / Private Lessons
5:00 p.m. – 6:00 p.m.
Private Lessons / Practice Time
6:00 p.m. – 7:00 p.m.
Dinner
7:00 p.m. – 9:00 p.m.
Master Class / Concerts
9:00 p.m.
Jam Session
---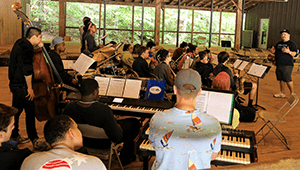 Audition Requirements
Students who play the following instruments may apply (click on an instrument to view specific audition requirements):
---
Faculty
Michael Dease, Director, Trombone, Big Band
Gwen Dease, Associate Director
Jim Alfredson, Organ / Recording
Marlene Rosenberg, Bass
Tim Green, Alto Saxophone
Brandon Lee, Trumpet
Anthony Stanco, Trumpet
Luther Allison, Piano
Zach Adleman, Drums
Randy Napoleon, Guitar
Aubrey Johnson, Vocals
---
Guest Artists
---
Dates
Review of applications will begin on February 16, 2018, and will stay open until April 1, 2018. (Applications open until enrollment is complete.)
Monday, June 4 – Arrival, Evening Convocation, and Masterclass
Friday, June 15 – Departure from Brevard Music Center (no later than noon)
---
Fees and Payment Schedule
The cost for the Jazz Institute is just $1500* per person. This includes tuition, housing, meals, and transportation in Brevard. Each participant is responsible for travel to and from Brevard.
A non-refundable reservation deposit of $500 is due within 2 weeks of acceptance. The balance of the fee is due by May 18, 2018.
* Tuition waived for Teaching Assistants / Resident Assistants.
---
Refunds
All payments, except the $40 application fee and $500 reservation deposit, will be fully refunded if the Center receives notice of cancellation due to serious illness before May 18, 2018.
Written verification from an M.D. is required before a refund can be made. No reduction in fees can be made for late arrival or early departure.
No refund for any reason will be made after May 18, 2018.
---
Payment
Payment can be made online by signing into your application page, or you can mail a check to the address below.
If you mail a check, please make the check out to "Brevard Music Center."
Be sure to write "Jazz Institute" and the full name of the student in the memo field.
Mail check to:
Brevard Music Center
ATTN: Jazz Institute
P.O. Box 312
Brevard, NC 28712