Jazz Institute @ Brevard
June 5 - 16, 2017
Michael Dease, Director
Under the direction of Michael Dease, the Jazz Institute @ Brevard is committed to providing an authentic, immersive experience in the jazz aesthetic while refining the elements of musical and personal discipline, integrity, and passion. If you are seeking to take your musical abilities to the next level, look no further, you are in the right place.
---
The Program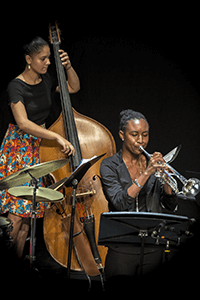 The program will enroll up to 35 High School and College-age (and above) students who will participate in big band / combo classes and performances, private lessons, recording sessions, and mentoring opportunities with world renowned faculty and guest artists.
Our all-star faculty are some of the busiest working professionals in the music industry and their talent is equaled in their teaching ability. They are here for you – our students. The great Dizzy Gillespie once said, "I always try to teach by example and not force my ideas on a young musician. One of the reasons we're here is to be a part of this process of exchange."
Days are packed with events including big band, quintets – sextets – septets – octets, professional recording sessions, masterclasses with guest artists, private lessons, jazz history, jazz theory, jam sessions, outreach concerts, and performances at the Brevard Music Center. Topics of study reach across the entire music industry and provide insight to playing all styles of music. There is something for everyone at every step of the way. Time off in the schedule allows for hiking, rafting, tubing, cook-outs, and exploring the scenic forests and waterfalls of the Blue Ridge Mountains.
---
Sample Daily Schedule
8:00am - 9:00am
Breakfast
9:00am - 9:50am
Warm-up Class
10:00am - 11:50am
Big Band Rehearsal
12:00pm - 1:00pm
Lunch
1:00pm - 4:00pm
Combo Rehearsals / Jazz Theory and History Classes
4:00pm - 6:00pm
Private Lessons / Practice Time
6:00pm - 7:00pm
Dinner
7:00pm - 9:00pm
Master Class
9:00pm
Jam Session
---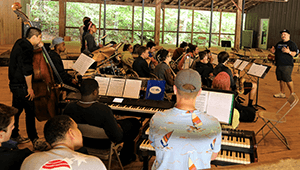 Audition Requirements
Students who play the following instruments may apply (click on an instrument to view specific audition requirements):
---
Faculty
Michael Dease, Director, Trombone, Big Band
Gwen Dease, Associate Director
Jim Alfredson, Organ
Tim Green, Guest Artist, Saxophone
Jason Hainsworth, Saxophone
Brandon Lee, Trumpet
Joseph Lulloff, Saxophone, Jazz Theory, Chamber Music
Jacob Reodriguez, Guest Artist, Saxophone
Jeff Sipe, Guest Artist, Drums
---
Dates
Monday, June 5 – Arrival, Evening Convocation, and Masterclass
Friday, June 16 – Departure from Brevard Music Center
---
Fees and Payment Schedule
The cost for the Jazz Institute is just $1500* per person. This includes tuition, housing, meals, and transportation in Brevard. Each participant is responsible for travel to and from Brevard.
A non-refundable reservation deposit of $500 is due within 2 weeks of acceptance. The balance of the fee is due by May 19, 2017.
* Tuition waived for Teaching Assistants / Resident Assistants.
---
Refunds
All payments, except the $40 application fee and $500 reservation deposit, will be fully refunded if the Center receives notice of cancellation due to serious illness before May 19, 2017.
Written verification from an M.D. is required before a refund can be made. No reduction in fees can be made for late arrival or early departure.
No refund for any reason will be made after May 19, 2017.
---
Payment
Payment can be made online by signing into your application page, or you can mail a check to the address below.
If you mail a check, please make the check out to "Brevard Music Center."
Be sure to write "Jazz Institute" and the full name of the student in the memo field.
Mail check to:
Brevard Music Center
ATTN: Jazz Institute
P.O. Box 312
Brevard, NC 28712