Jazz Institute @ Brevard
June 3 - 14, 2019
Michael Dease, Director
Under the direction of Michael Dease, the Jazz Institute @ Brevard is committed to providing an authentic, immersive experience in the jazz aesthetic while refining the elements of musical and personal discipline, integrity, and passion. If you are seeking to take your musical abilities to the next level, look no further, you are in the right place.
Application deadline: March 4, 2019. Applications will remain open until enrollment is complete.
---
The Program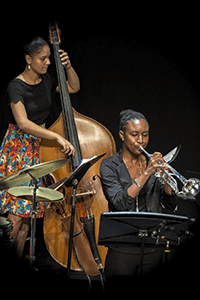 The program will enroll up to 70 students, ages 14 to 29, who will participate in big band / combo classes and performances, private lessons, recording sessions, and mentoring opportunities with world renowned faculty and guest artists.
Our all-star faculty are some of the busiest working professionals in the music industry and their talent is equaled in their teaching ability. They are here for you – our students. The great Dizzy Gillespie once said, "I always try to teach by example and not force my ideas on a young musician. One of the reasons we're here is to be a part of this process of exchange."
Days are packed with events including big band, quintets – sextets – septets – octets, professional recording sessions, masterclasses with guest artists, private lessons, jazz history, jazz theory, jam sessions, outreach concerts, and performances at the Brevard Music Center. Topics of study reach across the entire music industry and provide insight to playing all styles of music. There is something for everyone at every step of the way. Time off in the schedule allows for hiking, rafting, tubing, cook-outs, and exploring the scenic forests and waterfalls of the Blue Ridge Mountains.
---
2019 Jazz Institute @ Brevard Faculty
NB: Faculty appointments are subject to change.
---
David Sanborn, Featured Guest Artist
David Sanborn has released 24 albums, won six Grammy Awards, and has had eight Gold albums and one Platinum. Having inspired countless other musicians, Dave has worked in many genres which typically blend instrumental pop, R&B and traditional jazz. He released his first solo album Taking Off in 1975, but has been playing the saxophone since before he was in high school when he was inspired by the great Chicago blues artists near his hometown of St. Louis. Having contracted polio at the age of three, Dave was introduced to the saxophone as part of his treatment therapy. By the age of 14, he was able to play with legends such as Albert King and Little Milton. Dave went on to study music at Northwestern University before transferring to the University of Iowa where he played and studied with the great saxophonist JR Monterose. Later traveling to California on the advice of a friend, he joined the Butterfield Blues Band and played Woodstock with Paul Butterfield. Following that, Dave toured with Stevie Wonder and recorded for Wonder's Talking Book album, played with The Rolling Stones, and toured with David Bowie. It was with Bowie that he recorded the famous solo heard on "Young Americans". At the same time, Dave was touring and recording with the great Gil Evans, dividing his time between the two. After moving to New York City and studying with George Coleman, Dave started his solo career where he later collaborated with such artists as Paul Simon and James Taylor. Dave's solo release of Taking Off in 1975 – still considered a classic – further solidified his career. His 1979 release of Hideaway became a popular hit and further propelled Dave's ascent with the single, "Seduction" being featured in the movie, American Gigolo. Veteran bassist and composer Marcus Miller joined Dave on the 1981 album, Voyeur. The single, "All I Need Is You" won Dave his first Grammy Award for Best R&B Instrumental Performance. In 1983, Dave released the hit album Backstreet that included Luther Vandross as a featured guest vocalist. Moving onto television, Dave hosted the show, Night Music from 1988 to 1990. Produced by Saturday Night Live creator Lorne Michaels, the show featured films of jazz legends like Thelonious Monk, Dave Brubeck and Billie Holiday, as well as banter and memorable music jams by a remarkable list of musicians including Sonny Rollins, Miles Davis, Joe Sample, Pharoah Sanders, and many others. Additionally, Dave has regularly hosted the "After New Year's Eve" TV special on ABC. Dave has also recorded many shows' theme songs as well as several other songs for The Late Late Show with Tom Snyder. In 2017, Dave teamed up with his nephew and brother-in-law to create a new show called "Sanborn Sessions".
---
Typical Daily Schedule
7:00 a.m. – 8:00 a.m.
Breakfast
8:15 a.m. – 9:30 a.m.
Warm-up Class
10:00 a.m. – 11:00 a.m.
Combo Rehearsal
11:00 a.m. – 12:00 p.m.
Theory/History Class
12:00 p.m. – 1:00 p.m.
Lunch
1:00 p.m. – 5:00 p.m.
Big Band Rehearsals / Private Lessons
5:00 p.m. – 6:00 p.m.
Private Lessons / Practice Time
6:00 p.m. – 7:00 p.m.
Dinner
7:00 p.m. – 9:00 p.m.
Master Class / Concerts
9:00 p.m.
Jam Session
---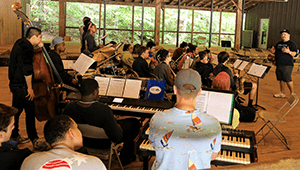 Audition Requirements
Students who play the following instruments may apply (click on an instrument to view specific audition requirements):
---
Dates
Application deadline: March 4, 2019. Applications will remain open until enrollment is complete.
Monday, June 3 – Arrival, Evening Convocation, and Masterclass
Friday, June 14 – Departure from Brevard Music Center (before noon)
---
Tuition and Payment Schedule
The tuition for the Jazz Institute is $1500*. This includes all instruction, housing, meals, and transportation in Brevard. Each participant is responsible for travel to and from Brevard.
A non-refundable reservation deposit of $500 is due within 2 weeks of acceptance. The balance of the fee is due by May 17, 2019.
*Tuition waived for Teaching / Resident Assistants. (A non-refundable enrollment fee of $300 is due within 2 weeks of acceptance.)
---
Scholarships
Brevard Music Center offers scholarship support according to a student's audition and demonstrated financial need, and program need. In 2018 over 70% of Brevard students received support from the Music Center.
Students are encouraged to seek financial assistance from outside sources. Schools, music clubs and organizations, youth orchestras and bands, service clubs (e.g., Rotary, Kiwanis, etc.), businesses, and foundations may be willing to help. Be professional and creative, and start planning early.
Organizations providing scholarships for musicians
Students apply for Brevard's scholarships online, as part of the regular application process. Applying for scholarship support requires disclosure of certain financial information and a detailed statement of need.
---
BMC Opportunity Scholarship
The BMC Opportunity Scholarship is designed to assist historically underrepresented populations in the study of music. Open to students of African-American and Latinx descent, the BMC Opportunity Scholarship program seeks to help these young musicians overcome financial obstacles that might prevent them from achieving their full potential. BMC Opportunity Scholarships are awarded in conjunction with financial aid. Students may apply for the scholarship in the Financial Aid section of the online application.
---
Teaching Assistants / Resident Assistants
Brevard Music Center students in the College division may apply to serve as Teaching Assistants / Resident Assistants.
A limited number of Teaching Assistant / Resident Assistants (TA/RA) positions are available.
Duties for Teaching Assistants (TA) may include coaching younger students, conducting sectional rehearsals, and assisting faculty. Brevard's Resident Assistants (RA) supervise student living quarters and provide guidance to younger students.
TA/RAs have the same ensemble and performance opportunities as other college division students. TA/RAs pay a non-refundable enrollment fee of $300 which covers tuition, room, and board.
A TA/RA applicant must:
be at least 21 years of age by June 1, 2019
submit the separate Teaching Assistant / Resident Assistant application (within the general application)
be accepted first as a student
submit to a formal background check, if selected
Teaching Assistants / Resident Assistants must arrive on Sunday, June 2, 2019.
---
Refunds
All payments, except the $45 application fee and $500 reservation deposit, will be fully refunded if the Center receives notice of cancellation due to serious illness before May 17, 2019.
Written verification from an M.D. is required before a refund can be made. No reduction in fees can be made for late arrival or early departure.
No refund for any reason will be made after May 17, 2019.
---
Payment
Payment can be made online by signing into your application page, or you can mail a check to the address below.
If you mail a check, please make the check out to "Brevard Music Center."
Be sure to write "Jazz Institute" and the full name of the student in the memo field.
Mail check to:
Brevard Music Center
ATTN: Jazz Institute
P.O. Box 312
Brevard, NC 28712