Lenora Helm Hammonds
---
Programs
---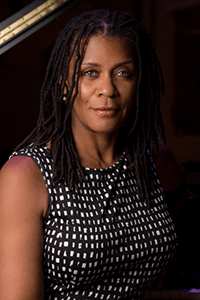 Chicago native Lenora Helm Hammonds (p/k/a as Lenora Zenzalai Helm) is a jazz vocalist, vocal musicianship coach, composer, arranger, lyricist and educator who has earned international acclaim from her six solo recordings, and her own recording and publishing company, Zenzalai Music. Her achievements have garnered accolades as "the voice of her generation" by Jazziz Magazine, and she has an extensive recording discography and touring itinerary with some of the biggest names in jazz and contemporary music. Her voice can be heard on numerous television and radio commercials and her music and voice can be heard on the HBO series Unchained Memories: Readings from the Slave Narratives. She has appeared in renowned jazz festivals and venues worldwide, including Jazz at Lincoln Center, Schomburg Center's Women in Jazz Festival, JVC Jazz Festivals, Mellon Jazz Festival, Clifford Brown Jazz Festival, Capetown Jazz Festival, South Africa, Fiji Jazz & Blues Festival and annual appearances for Aruba's International Jazz Day. She appears on recordings with renowned jazz musicians Andrew Hill, Stanley Cowell, Donald Brown, Dave Liebman, Ron Carter, Antonio Hart, Branford Marsalis, Mulgrew Miller and others. Her touring, recording and performing credits span many genres -- including R&B, neo-soul, and pop having toured with Michael Franks, Freddie Jackson and many others, as well as appearing in St. Louis Woman with Dance Theatre of Harlem. She was a featured guest artist with the Durham Symphony and has held highly touted leading roles in theater productions like Aldonza in Man of LaMancha and in opera as Queen of the Night in Mozart's The Magic Flute.
Helm's critically acclaimed Chronicles of a Butterfly CD release, (produced by Branford Marsalis), was recorded live and featured renown pianist Mulgrew Miller. Of her six recordings, her latest CD, I Love Myself When I'm Laughing, was listed on Independent Ear's 30 Recommended Record Releases amongst an esteemed list of jazz artists. In doing so, I Love Myself joined the distinction with her previous releases garnering inclusion on the GRAMMY ballot for consideration of nomination in vocal jazz and arranging categories.
Helm was named a 2018 Who's Who Lifetime Achievement Award recipient, with achievements in music and music education spanning more than three decades, garnering her inclusion as a subject of biographical record for Who's Who in America, Who's Who in American Women and Who's Who in the World. She has blazed a trail with an impressive list of first accomplishments, first Black woman to earn a film scoring degree from the prestigious Berklee College of Music, first Black vocalist to be awarded the Chamber Music America New Jazz Works Composer award, and first Black woman to direct the North Carolina Central University's Vocal Jazz Ensemble. A recent addition to the list of firsts is her developing and authoring a new entrepreneurial training program; an online, year-long certificate program for teaching artists at NCCU, the first of its kind in the state of North Carolina. A published author of articles, chapters and books on jazz vocal performance pedagogy, and curricula for distance education courses in globally networked classrooms, she is a sought-after clinician and workshop facilitator in jazz and corporate education circles. Awards include being named a 2017-18 Innovation Award for Academic Affairs/NCCU, 2017-18 John Hope Franklin Institute/Mellon Foundation Digital Humanities Fellow at Duke University, a Sister Cities 2017 Mayor's Award for promoting international understanding, 2015 GRAMMY Music Educator of the Year Quarterfinalist, MacDowell Composer Fellow and Salzburg Global Citizenship Program Fellow.
She recently completed two residencies in Denmark and South Africa as a Fulbright Senior Music Specialist and has served Southeastern Africa as a U.S. Jazz Ambassador under the auspices of the State Department. At NCCU she wears many hats and roles of academic leadership, including: Director, Vocal Jazz Ensemble, Jazz Studies; Global Educator Fellow, University of North Carolina; Global Citizen Certificate development team, NCCU International Affairs; Co-Author and Co-Instructor of course, Global Inequality, Global Structures, Culture and Power; Community Engagement Coordinator, College of Arts and Sciences; Collaborative Online International Learning; Lead Fellow of a 12-person team with three successful courses between schools in South Africa, Denmark and NCCU. The 2017-18 academic year also marked landmark program where Lenora spearheaded the curriculum design and implementation of the university's first Teaching Artist Certificate Program, a training and job preparatory program for teaching artists. This program is the first of its kind at a historically black college and university.
Since 2015, she has been the Vocal Jazz artist-in-residence for the annual International Jazz Day celebration in Oranjestad, Aruba, training emerging vocal jazz youth and adults. Hammonds is a member of numerous international music and academic service, advocacy and professional organizations including GRAMMY's NARAS (National Academy of Recording Arts & Sciences), AAUW, (American Association of University Women), Jazz Educators Network, Chamber Music America, College Music Society, is a SESAC composer and publisher, GLOMUS (Global Network of Higher Music Education), is a past president of International Women in Jazz and a former board member of New York Arts-in-Education Roundtable. Additionally, Lenora has adjudicated numerous vocal competitions and sat on several grant panels.
As a TV and film music composer, most recent music credits include writing the musical score for the children's play, Indigo Blue: A Reimagining of the Pied Piper, for Walltown Children's Theater, Durham, NC. Other notable composition credits include Ms. Helm's compositions featured in several Black History Month promo campaigns on the ESPN network. As a lyricist, she has penned lyrics to the compositions of John Coltrane, Andrew Hill, Jason Moran, Wayne Shorter and Branford Marsalis.
She graduated in the top of her class with a Bachelor of Music in Film Scoring/Voice from Berklee College of Music, (earning that degree in just three years), and earned inception into Pi Kappa Lambda music honor society with a Master of Music in Jazz Performance/Voice from East Carolina University. While teaching a full course load at North Carolina Central University (NCCU), Helm has completed all coursework in doctoral studies toward a Doctor of Musical Arts, Music Education degree at Boston University, with an eye on completion of her dissertation (intersecting her interests as an intercultural competence researcher of jazz in globally networked classrooms) in 2018. Helm is an Assistant Professor in the Department of Music at NCCU in Durham and co-directs their award winning NCCU Vocal Jazz Ensemble. Whether experiencing her concerts, transformative workshops and master classes, or corporate trainings on utilizing the creativity at the core of improvisation to invigorate a workplace as a creative playground, Helm delivers. A strong personal philosophy of the equality in access to resources in education for all, Lenora's dream for creating access to under-served global populations interested in vocal jazz education was realized in the creation of a library of online vocal training programs at www.LenoraHelm.online.