Randy Napoleon
---
Programs
---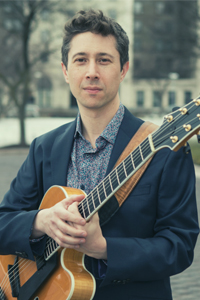 Known as a forward-thinking musician with a passion for the jazz tradition, guitarist Randy Napoleon tours with the legendary singer/pianist Freddy Cole and leads his own trios, quartet, and three-horn sextet. He is an assistant professor at Michigan State University, where he teaches jazz guitar.
Napoleon is also a composer and an arranger for singers, big bands, and small combos. He arranged as well as performed on Cole's 2010 Grammy-nominated release from High Note, Freddy Cole Sings Mr. B. He is also the guitarist on Cole's Live at Dizzy's Club: The Dreamer in Me, Talk to Me, and This and That. When off the road in his home in Manhattan, he also freelances with artists across the jazz spectrum such as Bill Charlap, Natalie Cole, Rodney Whitaker, Melissa Morgan, Aaron Diehl, Josh Brown, Dmitry Baevsky, Jared Gold, Etienne Charles, Mike Dease, Sara Gazarek, Brianna Thomas, Bootsie Barnes, Mike Karn, Eric Comstock. Will and Pete Anderson, and Vince Giordano and the Nighthawks.
Prior to joining Freddy Cole, Napoleon toured with the Clayton-Hamilton Jazz Orchestra and appears on the recording, The Clayton Hamilton Orchestra: Live at MCG. He has also toured extensively with Benny Green and crooner Michael Buble. Napoleon is featured on Buble's Grammy-nominated CD Caught in the Act. Napoleon has played or arranged on over seventy records.
Guitarist George Benson calls Napoleon "sensational." Detroit Free Press critic Mark Stryker says Napoleon "plays with a gentle, purring tone that makes you lean in close to hear its range of color and articulation." Washington Post critic Mike Joyce praises his "exceptionally nimble finger-style technique." Comparing him to Wes Montgomery, music critic Michael G. Nastos says, "he displays an even balance of swing, soul, and single-line or chord elements that mark an emerging voice dedicated to tradition and universally accessible jazz values."