Michael Dease
---
Programs
---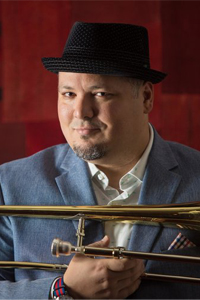 Michael Dease is one of the world's eminent trombonists, lending his versatile sound and signature improvisations to over 200 recordings and artists as diverse as David Sanborn, Christian McBride, Michel Camilo, and Alicia Keys. Born in Augusta, GA, he played the saxophone and trumpet before choosing the trombone at age 17. In 2001, Dease moved to New York City to become part of the historic first class of jazz students at The Juilliard School, earning both Bachelors and Masters degrees, and quickly established a reputation as a brilliant soloist, side musician, and bandleader.
Best Next Thing (Posi-Tone, 2022), Dease's newest release, his ninth on Posi-Tone, gathers together an assemblage of exceptional musicians to help him interactively explore the essence of the blues and reframe the abstract truths of jazz as the "Best Next Thing" for today's audience of listeners. Critical listeners agree that this is possibly Dease's most excited recording to date, and awarded a coveted 4 star review in the featured HotBox in DownBeat Magazine.
Dease, the winner of the 69th and 70th Annual DownBeat Poll for Trombonist of the Year and multi-Grammy award winner as a member of the Christian McBride Big Band, is also a sought-after lead and ensemble trombonist with today's leading jazz orchestras. His experiences include bands led by Christian McBride, the late Roy Hargrove, Nicholas Payton, Charles Tolliver, Rufus Reid, Jazz at Lincoln Center Orchestra, Rodney Whitaker, and the Dizzy Gillespie All-Star Big Band. However, it is on the frontline of quintets and sextets led by master musicians like The Heath Brothers, Winard Harper, Renee Rosnes, Bill Charlap, Claudio Roditi, and Lewis Nash, where Dease has revitalized the trombone's image. Not content to simply improvise, Dease arranges and composes for many different bands, constantly adjusting his tone and timbre to add just the right flavor to the music.
Dease's unique blend of curiosity, hard work and optimism has helped him earn worldwide recognition, including awards from JazzTimes Magazine, ASCAP, The International Trombone Association, Yamaha, Eastern Trombone Workshop, New York Youth Symphony, Hot House Magazine and The Airmen of Note, among others. Dease was profiled in Cicily Janus' book, The New Face of Jazz: An Intimate Look at Today's Living Legends (Random House). His experience in the studio has led him to produce several recording sessions for emerging artists, often creating original compositions and writing liner notes for the releases on his D Clef Records label.
Dease's singular talent has made him an effective and prolific teacher, resulting in invitations, master classes and residencies at institutions such as the University of North Texas, San Francisco Conservatory of Music, Brevard Music Center, CSUN Northridge & Fullerton, Temple University, Cincinnati Conservatory of Music, UNC- Boulder and many schools abroad. He serves as Professor of Jazz Trombone at the renowned Michigan State University jazz program, where he has been awarded the MASU Distinguished Professor of the Year and the MSU Teacher-Scholar Award. He has also been on faculty at Queens College - CUNY, The New School and Northeastern University. Many of Dease's current and former students have released acclaimed recordings, received international recognition and are enjoying successful careers in the music world with artists like Michael Buble', Bruno Mars, Revive Da Live Big Band, The Vanguard Jazz Orchestra, and the Downbeat award-winning Ulysses Owen's Big Band.
Always an informed, but forward-thinking musician, Dease learned the craft from trombone legends Wycliffe Gordon and Joseph Alessi. His associations have run the entire spectrum of musical experience: Alicia Keys, Paul Simon, Paul Schaffer and the CBS Orchestra, Elton John, Neal Diamond, Illinois Jacquet, Slide Hampton & The World Of Trombones, Fred Wesley, Maceo Parker, WDR Big Band, George Gruntz, Billy Harper, Andy James and numerous others. Dease channels this experience into his love for Jazz Education, serving as Artistic Director of the Jazz Institute of Brevard Music Center (North Carolina) and Faculty Leader at the Seiko Summer Jazz Camp (Tokyo). Michael Dease also teaches at the Skidmore Jazz Institute and the JALC Summer Jazz Academy.
Dease enjoys spending time with his extraordinary wife and Professor of Percussion at MSU, Gwendolyn Dease, and their daughters Brooklyn & Charly. Michael Dease is a Yamaha Performing Artist and plays Yamaha trombones exclusively. Dease also plays Vandoren Reeds and Mouthpieces, Pickett Brass Mouthpieces, and uses Gard Bags for his many instruments.