Jocelyn Gould
---
Programs
---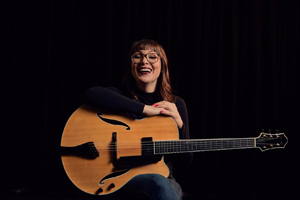 Jocelyn Gould is an accomplished guitarist, vocalist and bandleader. From Winnipeg, Canada, she grew up singing every chance she got, and became enthralled with the guitar as a teenager. She cites Grant Green, Kenny Burrell, Wes Montgomery and Joe Pass as primary influences of the instrument. After completing her Masters Degree in Jazz Studies at Michigan State University in 2018 and shortly after winning 1st place in the Wilson Centre International Guitar Competition, Jocelyn relocated to New York City.
Jocelyn maintains an active international performance career, including performances at the St. Lucia Jazz Festival, the Detroit Jazz Festival and the TD Toronto Jazz Festival. She has performed with Grammy nominated vocalist Freddy Cole, Trumpeter Etienne Charles and DownBeat Rising Star trombonist Michael Dease. She is featured on Michael Dease's record "Never More Here", Diego Rivera's album "Connections" and Randy Napoleon's album "Common Tones". Jocelyn's debut recording, 'Elegant Traveler', was released in March 2020.
In fall 2019, Jocelyn relocated back to Canada and began a position as professor and "Head of Guitar Department" at Humber College in Toronto, where she teaches courses, private lessons and manages the guitar department.