Altin Sencalar
---
Programs
---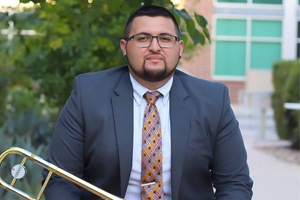 Hailed by major publications such as Stereophile Magazine as "Sencalar and Glassman sound like 21st century grandchildren of JJ Johnson and Kai Winding" and the International Trombone Associations Journal as "…In addition to both trombonists' virtuosity, they perform with convincing melodic and harmonic mastery, meriting their solo work several listens." Altin Sencalar remains in high demand across the country as a performer, educator, and composer.
Altin attended Texas State University where he studied with one of his first mentors, Freddie Mendoza. While attending Texas State University he was able to gain entrance in the thriving Austin music scene and began to emerge as a new talent. Altin then moved to Austin, TX where he attended the Butler School of Music at the University of Texas at Austin where he studied under the tutelage of Andre Hayward. He became a fixture to the Austin music scene after being named a "2017 top 10 Austin Music Awards horn player," recording his debut album "Introducing Altin Sencalar" in Austin, TX, and becoming known as a top call trombonist in the area. After graduating from the Butler School of Music he was given the opportunity to travel with the University of Texas Jazz Orchestra as a soloist to the Montreaux Jazz Festival, North Sea Jazz festival, and Luxembourg Gardens in Paris, France. After graduation Altin, gained admittance to Michigan State University as the Graduate Assistant to Michael Dease and Rodney Whitaker in pursuit of his Master of Music degree in Jazz Studies. While at Michigan State University, Altin co-founded "The Sencalar/Glassman Quintet" who have been the recipients of over 3,000 dollars in funding from the East Lansing Cultural Arts FY19 Grant and the MSU Running Start grant. This grant gave the quintet the opportunity to tour all East Lansing elementary schools and use their knowledge of jazz to educate the younger generation in hopes for the students to have an artistic and creative outlet for students who may not be exposed to jazz music.
While pursuing higher education Altin also gained international and national recognition being granted honors and prizes for the American Trombone Workshop jazz solo divisions, International Trombone Association's jazz solo Carl Fontana competition and J.J. Johnson competition, the Kai Winding trombone ensemble competition, Texas State Trombone Symposium Michael Rath jazz solo competition, Yamaha Young Performing Artist, Downbeat Student Music Awards, and International Tuba-Euphonium Association Rich Matteson Jazz Euphonium competition
Altin has performed, toured, and/or recorded with DeeDee Bridgewater, Rodney Whitaker, Xaiver Davis, Teri Lynn Carrington, Christian McBride, The Temptations, The Four Tops, The Velvalletes, Ne-Yo, Big Sean, Martha Reeves, Savion Glover, Ali Jackson, Steve Wilson, Rene Marie, Joe Jonas, Wayne Bergeron, Rick Margitza, Michael Dease, Hector Tricoche, Steve Davis, Conrad Herwig, Dave Taylor, Randy Napoleon, Andre Hayward, Diego Rivera, Etienne Charles, MSU Professors of Jazz, Brandee Younger, the Gathering Orchestra, Walter White, and many others
Altin holds a Bachelors in Music Performance from the University of Texas at Austin and a Masters in Music Performance in Jazz Studies from Michigan State University. He has held teaching positions at Michigan State University, Brevard Jazz Institute, The Dr.Phillips Center for the Performing Arts Summer Jazz Intensive, Jazz & Creative Institute, Central Texas College, and the University of Mary Hardin Baylor. Altin is a performing artist for Earasers Earplugs, Robinson's Remedies, and was named a 2017 Yamaha Young Performing Artist. Altin is currently on the music faculty at the University of Mary Hardin Baylor as Adjunct Professor of Music where he is the Director of Jazz Ensembles and the Applied Trombone Instructor.