Classical Guitar Institute
---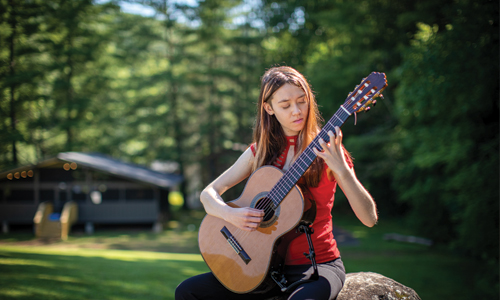 The Program
Under the direction of Professor Adam Holzman, Brevard's Classical Guitar program is an intensive course of study offering numerous lessons, small ensemble coachings, and masterclasses and technique classes for guitarists.
Each student will receive two lessons a week and will have multiple performance opportunities. The lessons are set up as small group masterclasses, providing 4 hours a day of study with Professor Holzman. Instruction is geared to the level and specificity of the student.
Areas of focus will include:
technique and sound production
interpretation
pedagogy
stage deportment
entrepreneurship
competition preparation
college audition preparation
Each session will present a public recital in Parker Concert Hall, which are audio and video recorded.
---
Dates and Deadlines
Program Dates:
Full Session: June 21 - July 20, 2024 (four weeks)
Half Session 1: June 21 - July 6, 2024 (two weeks)
Half Session 2: July 6 - July 20, 2024 (two weeks)
Application Deadline: March 15, 2024
Ages: 14-29
Scholarships: BMC offers both merit scholarship and financial aid support as part of the application process
Application fee: $40
---
Audition Requirements
Admission to the Brevard Music Center is determined by audition. Guitarists submit video recordings by including YouTube video link(s) in their application.
Perform 3 solo works of contrasting styles.
Submissions do not have to be one continuous take. Once you add one video, the option to add another will appear.
---
Sample Daily Schedule
9:00-9:50am Technique Class
10:00am-Noon Lessons (All lessons in masterclass format)
Noon-1:00pm Lunch
3:00-5:00pm Lessons (All lessons in masterclass format) or Weekly Studio Class
5:30-6:30pm Dinner
Evenings BMC concerts or evening activities
Wednesday mornings are dedicated to hikes and/or a class trip.
Weekends are largely off, with students able to participate in other activities around campus and attend our numerous concerts and programming. Off-campus trips include hiking, waterfall trips, and exploring the town of Brevard, and on-campus activities include swimming, bonfires, frisbee/soccer, basketball, etc.
High school division students will also participate in music theory / music history classes on weekdays.
There are two guitar student recitals during the four-week full session, and numerous other performance opportunities including pre-concert recitals and library recitals.
---
Tuition and Payment Schedule
Tuition is $5950 for the Full Session or $3400 for a Half Session, less any scholarships received. The tuition fee includes all instruction, housing, meals, on-campus health services, and concert admission. Each participant is responsible for travel to and from Brevard.
A non-refundable enrollment fee of $600 is due within 2 weeks of acceptance and applies toward the cost of tuition. The remaining tuition balance is due by May 15.
Arrival and Departure Dates
Full Session - Arrival June 21 afternoon, departure July 20
Half Session 1 - Arrival June 21, departure July 6 morning
Half Session 2 - Arrival July 6 afternoon, departure July 20
Refunds
All payments, except the application fee and $600 enrollment fee, will be fully refunded if the Center receives notice of cancellation due to serious illness before May 15. Written verification from an M.D. is required before a refund can be made. No reduction in fees can be made for late arrival or early departure. No refunds will be made after May 15.
---
Scholarships
Brevard Music Center offers scholarship support according to a student's audition and demonstrated financial need, and program need. In recent years, Brevard has provided scholarship support to more than 70% of its students. Scholarship support includes merit, need-based, and the BMC Opportunity Scholarship open to students of Black and Latinx descent.
Please visit the Scholarship section of our FAQ page for more information.
---
Teaching Assistants
Brevard Music Center students in the College division may apply to serve as Teaching Assistants. One TA position may be available in the Classical Guitar program.
TAs have the same lesson and performance opportunities as other students. Duties may include coaching younger students, teaching theory classes, and assisting faculty. TAs pay only a non-refundable enrollment fee of $600 which covers tuition, room, and board, and must be 21 or older by the start date of their program.
---
Faculty Bio
Adam Holzman, international performer, recording artist, and teacher is hailed as "...polished and quite dazzling," by The New York Times, "...brilliant!," by De Gelderlander, Holland, and "...masterful!," by The Toronto Star.
Five times a winner in major international competitions including: First Prize at the 1983 Guitar Foundation of America Competition held in Quebec, Canada and Top Prize at the Ninth Concorso Internazionale di Interpretazione di Gargnano, Italy. Mr. Holzman has performed at the prestigious Concertgebouw in Amsterdam and distinguished New York venues such The 92nd St. Y, Merkin Hall, and Carnegie Recital Hall. He is also a frequent guest in music festivals and series around the globe. His extensive international performances have taken him throughout Europe, Canada, Mexico, Central and Latin America.
Mr. Holzman's recordings for the Naxos label have been critically acclaimed. The first two are discs of the music of Fernando Sor and have been called "...irresistible" by Gramophone Magazine. Of his Naxos release, The Venezuelan Waltzes of Antonio Lauro, the American Record Guide had this to say: "The landmark recording was David Russell's 1980 LP. Now, 20 years later, comes another masterly recording by Adam Holzman: in many ways it raises the benchmark still further." His recording debut, on HRH Records, was a collection of rarely or never before recorded selections. According to The American Record Guide this performance is "…so flawless he makes it all sound easy." His recordings are all featured on the Adam Holzman channel on Pandora.
Mr. Holzman's commitment to new music led him to co-commission Samuel Adler's first Concerto for Guitar and Orchestra. He has also premiered works by composers Robert Helps, Roland Dyens, and Stephen Funk Pearson among others. In 2018 he was part of a Consortium Grant to commission the new concerto for Guitar and Orchestra Colours by Stephen Goss.
Founder of the Guitar Department at the University of Texas at Austin's Butler School of Music and the Austin Guitar Society, Mr. Holzman is considered one of America's leading guitar pedagogues. He heads a thriving guitar studio and his students have won an astounding array of international prizes.
Mr. Holzman's performance studies were with Bruce Holzman, Albert Valdes Blain, Eliot Fisk, and Oscar Ghiglia. He was chosen twice to perform in the historic Master classes of the legendary Andrés Segovia. You can learn more about Adam Holzman at: www.adamholzman.net
---
Apply Now