Classical Guitar Institute
---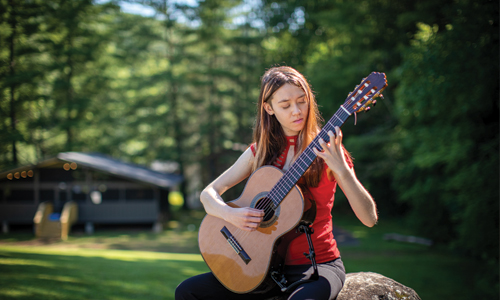 The Program
Under the direction of Professor Adam Holzman, Brevard's Classical Guitar program is an intensive course of study offering private lessons, chamber music coachings, and masterclasses for guitarists.
Each student will receive at least one hour a week of private lessons and will have multiple opportunities to attend and perform in weekly masterclasses. Instruction is geared to the level and specificity of the student.
Areas of focus will include:
technique and sound production
interpretation
pedagogy
stage deportment
entrepreneurship
competition preparation
college audition preparation
---
Dates and Deadlines
Program Dates:
Full Session: June 23 - July 22, 2023 (four weeks - arrival 6/23, departure 7/22)
Half Session 1: June 23 - July 8, 2023 (two weeks - arrival 6/23, departure 7/8)
Half Session 2: July 8 - July 22, 2023 (two weeks - arrival 7/8 afternoon, departure 7/22)
Deadline: March 15, 2023
Ages: 14-29
Tuition: $5800 Full Session, $3250 Half Session; includes all instruction, housing, and meals
Scholarships: BMC offers both merit scholarship and financial aid support as part of the application process
Application fee: $40
---
Audition Requirements
Admission to the Brevard Music Center is determined by audition. Guitarists must submit a video recording by including YouTube video link(s) in their application.
Perform 3 solo works of contrasting styles.
Submissions do not have to be one continuous take; once you add one selection, the option to add another will appear.
---
Tuition and Payment Schedule
Tuition includes all instruction, housing, meals, and the opportunity to attend on-campus concerts and other events. Each participant is responsible for travel to and from Brevard.
A non-refundable enrollment fee of $600 is due within 2 weeks of acceptance and applies toward the cost of tuition. The remaining tuition balance is due by May 15.
Full Session (four weeks): $5800
Half Session (two weeks): 3250
Refunds
All payments, except the application fee and $600 enrollment fee, will be fully refunded if the Center receives notice of cancellation due to serious illness before May 15. Written verification from an M.D. is required before a refund can be made. No reduction in fees can be made for late arrival or early departure. No refunds will be made after May 15.
---
Scholarships
Brevard Music Center offers scholarship support according to a student's audition and demonstrated financial need, and program need. In recent years, Brevard has provided scholarship support to more than 70% of its students. Scholarship support includes merit, need-based, and the BMC Opportunity Scholarship open to students of Black and Latinx descent.
Please visit the Scholarship section of our FAQ page for more information.
---
Teaching Assistants
Brevard Music Center students in the College division may apply to serve as Teaching Assistants. One TA position may be available in the Classical Guitar program.
TAs have the same ensemble and performance opportunities as other students. Duties may include coaching younger students, teaching theory classes, and assisting faculty. TAs pay only a non-refundable enrollment fee of $600 which covers tuition, room, and board, and must be 21 or older by the start date of their program.
---
Apply Now