Flute Seminar
---
Accepting applications until all spots are filled. Apply now!
The Program
The Brevard Music Center is excited to host a new, one-week seminar just for flutists ages 14-21! This immersive, engaging, and fun experience will help improve your technique, accelerate your growth, and expand your network of teachers and fellow flutists. This program is led by BMC faculty member Dilshad Posnock (BMC faculty, Asheville Symphony) and by Molly Barth (Vanderbilt University Blair School of Music), with Danielle Maeng (TŌN - The Orchestra Now) and a guest appearance by Amy Porter (BMC faculty, University of Michigan).

The Flute Seminar is for participants ages 14-21. During the program, students will work closely with faculty to receive both individual and group instruction. In addition, flutists will participate in daily masterclasses, attend special presentations, and have the opportunity to perform flute ensemble repertoire. The week's activities will include:
Private lessons
Masterclasses in solo repertoire
Flute Fundamentals and Effective Practice Techniques
Orchestral Excerpts and mock auditions
Maximizing Performance Potential
Mind and Body well–being
Preparation for College, Careers, and beyond
Flute Ensemble
Closing recital
This program will run from June 11-17, 2023, with a final student concert on June 16. Accepting applications until all spots are filled. Apply now!
Students interested in the Flute Seminar can also apply to our High School Orchestral Institute or College Orchestral Institute! Please feel free to contact admissions@brevardmusic.org and we can copy your application over.
---
Audition Requirements
Admission to the Brevard Music Center is determined by audition. Flutists may upload audio recordings or link(s) to YouTube video auditions directly into the application.
Perform two contrasting solo works or movements from different style periods.
---
Tuition
The program dates are June 11-17, 2023, and the tuition for the Flute Seminar is $1450. This includes all instruction, housing, meals, and transportation in Brevard. Each participant is responsible for travel to and from Brevard.
The application fee is $40. A non-refundable enrollment fee of $400 is due within 2 weeks of acceptance and applies toward the cost of tuition. The remaining tuition balance is due by May 15.
---
Scholarships
Brevard Music Center offers limited scholarship assistance for the Flute Seminar according to a student's audition and demonstrated financial need, and program need. Scholarship support may include merit, need-based, and the BMC Opportunity Scholarship open to students of Black and Latinx descent.
Please visit the Scholarship section of our FAQ page for more information.
---
Resident Assistants
A limited number of Flute Seminar Resident Assistant (RA) positions are available for the one-week program. Brevard's Resident Assistants (RA) provide guidance to younger students and supervise student living quarters.
RAs have the same ensemble and performance opportunities as other college division students. Flute Seminar RAs pay only a non-refundable enrollment fee of $400 which covers tuition, room, and board, and must be 21 by the start date of the program.
Selected individuals will participate in a telephone interview, and, if chosen, submit to a formal background check and participate fully in the RA orientation sessions prior to student arrival.
---
Refunds
All payments, except the $40 application fee and $400 enrollment fee, will be fully refunded if the Center receives notice of cancellation due to serious illness before May 1.
Written verification from an M.D. is required before a refund can be made. No reduction in fees can be made for late arrival or early departure.
No refunds will be made after May 1.
---
Faculty Bios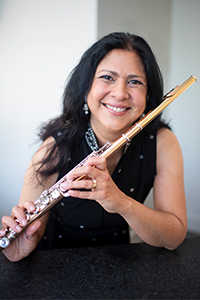 Originally from Mumbai, India, flutist Dilshad Posnock has appeared in concerts and festivals across the United States, England, Puerto Rico and India, and has been featured on BBC TV and BBC World Service Radio.
Ms. Posnock's performance experience is wide and varied. She has been featured as a concerto and recital soloist, as well as a chamber musician, collaborating with musicians from the New York Chamber Ensemble, the Chamber Orchestra of Europe, the Academy of St. Martin-in-the-Fields, as well as her hometown ensemble – the Bombay Chamber Orchestra. She has also participated in such international music festivals as the Brevard Music Center, the Casals Festival in Puerto Rico, the Cape May Music Festival, Musica Viva, and was a founding member of the Sangat Music Festival in Mumbai, India.
Ms. Posnock completed her undergraduate studies with Honors at the Royal College of Music, London, and her Master's Degree at Carnegie Mellon University in Pittsburgh, where she studied with renowned flutist and pedagogue Jeanne Baxtresser, former Principal Flute of the New York Philharmonic. While in Pittsburgh, she performed regularly with ensembles including the Pittsburgh Symphony, the Pittsburgh Ballet, and Pittsburgh Opera, and was Director of the Artist Diploma Program at the Carnegie Mellon School of Music.
Ms. Posnock has a deep passion for teaching. She has served as Artist Lecturer in Flute at CMU, is currently Artist Faculty at the Brevard Music Center and Brevard College, and woodwind coach for the Asheville Symphony Youth Orchestra. She lives in Brevard, NC with her husband Jason, and two children. She is solo piccolo of the Asheville Symphony Orchestra, and travels back to India to perform as Principal Flute with the South Asian Symphony Orchestra.
---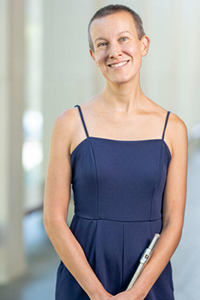 Molly Barth is constantly in motion. This Grammy Award-winning flutist, professor and clinician moves effortlessly from concert hall to teaching studio to rehearsal room to orchestral section. Molly needs fuel for this fire.
Molly is fueled by visceral communication with listeners. The halls may be large or small, the music may be old or new, but the performances are always concentrated, intense.
Molly is fueled by the smell of wet ink and spark of chamber music. Molly has premiered hundreds of pieces, finding the creation of new music uplifting and miraculous. Molly has toured the world, recorded a dozen albums, and—with Eighth Blackbird—won a Grammy Award. Molly is a co-founder of the Zohn Collective, a group of curious musicians who share a love of risk and exploration.
Molly is fueled by her work as a teacher. Molly is Associate Flute Professor at the Blair School of Music, Vanderbilt University, and Molly guides her students to become comprehensive flutists. Molly took her inspiration primarily from her stellar teachers at Oberlin, the Cincinnati Conservatory, and Northwestern.
Molly is fueled by her desire to document her adventures as a performer. You can hear Molly's blend of control and ferocity on these featured albums: Vento Appassionato, digging into 20th century solo flute repertoire; Thorn, focusing on the chamber music of David Lang; and Castillos de Viento, performing intimate music with guitar.
To help fuel Molly, contact Molly via her website: mollybarth.com
---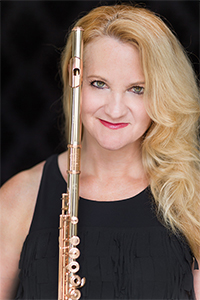 American flutist Amy Porter enjoys a versatile and distinguished career as one of the world's leading concert performers. Critics uniquely note her "strength, beauty, a captivating and seductive force, sensitivity, perfection and a sense of humor." Ms. Porter combines her exceptional musical talent with her passion for scholarship and her musical achievements have resulted in many awards and accolades for her concerts and discography. Regarding German composer Sigfrid Karg-Elert, a reviewer from Spain notes, "from the other world he has been inspired and taking pride in the soul of his true muse, Amy Porter."
Ms. Porter is a Haynes Artist who performs recitals in the major concert halls of Asia and the United States with pianist Christopher Harding. She has performed as concerto soloist with orchestras throughout the world. Ms. Porter has been heard in recital on National Public Radio, highlighted on PBS Live From Lincoln Center. She has been featured on the covers and written articles for Flute Talk Magazine in the USA and The Flute Magazine in Japan.
A native of Wilmington, Delaware, Ms. Porter is a graduate of the Juilliard School in New York. Her teachers at Juilliard were Samuel Baron and Jeanne Baxtresser, and in Austria her teachers were Alain Marion and Peter-Lukas Graf. After Juilliard, she held the position of Associate Principal Flute in the Atlanta Symphony Orchestra for eight years before becoming Professor of Flute at the University of Michigan School of Music, Theatre & Dance in Ann Arbor. She is the founder and Past President of the non-profit Southeast Michigan Flute Association. She is founder of the popular workshop, "Amy Porter's Anatomy of Sound" held annually in Ann Arbor with Professor of Theatre (Movement) Jerald Schwiebert and internationally renowned guests. She also is the master teacher for the MPULSE Summer Institute for advanced High School students at U of M.
---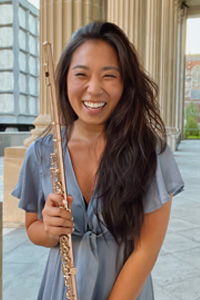 Korean-Australian flutist and Brevard Music Center alum Danielle Maeng pursues a multi-faceted career and has performed in notable venues across the United States.
Growing up in Nashville, Tennessee, Danielle studied with Norma Rogers and Philip Dikeman as a Myra Jackson Scholar at the Blair School of Music of Vanderbilt University. She continued her studies in London at the prestigious Royal Academy of Music with Principal Flute of the Philharmonia Orchestra, Samuel Coles, where she graduated with a Bachelor of Music Degree.
She was a first prize winner in the Alexander & Buono International Flute Competition and gave her debut performance in Weill Recital Hall at Carnegie Hall in New York City. During her brief studies in Paris, France at l'École Normale de Musique, Danielle was awarded Diplôme Superieur de L'Enseignement by a unanimous vote from the jury. She has spent summers at the Brevard Music Festival and L'Académie Internationale d'Eté de Nice. Recently, Danielle obtained her Masters Degree in Flute Performance at the Yale School of Music under the tutelage of renowned flutist Ransom Wilson.
Currently, Danielle is a Flute Fellow in TŌN - The Orchestra Now, a graduate-level training orchestra based in New York. TŌN comprises vibrant young performers from across the globe performing regularly at venues including Carnegie Hall, The Metropolitan Museum of Art, Lincoln Center, and the Fisher Center in the Hudson Valley.
---
Apply Now