Composition Institute
---
Dates and Deadlines
Program Dates: June 23 - August 7, 2022
Deadline: March 15, 2022
Ages: 14-29
Tuition: $7850, includes all instruction, housing, and meals
Application fee: $65, apply now through MyBMC
Please note: Proof of COVID-19 vaccination is required for all students, faculty, and summer staff for the 2022 season. Please see our FAQ page for more information.
---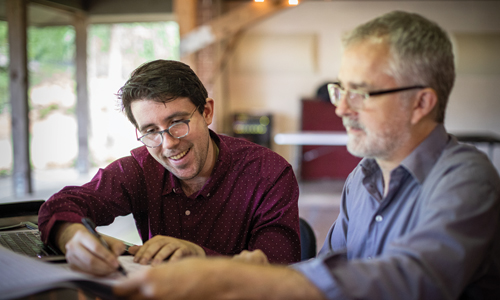 The Program
Brevard's composition faculty works closely with students and provides instruction through weekly private lessons and regular seminars. While in residence, students produce new works which are performed in a series of public concerts.
Students collaborate closely with Brevard's New Music Ensemble, comprised of instrumentalists in the College Division who have demonstrated ability and interest in the performance of new music. During the season, Brevard's performing ensembles devote a session to reading and recording new student works.
Composition students spend much of their time in the composition lab, a pair of adjoining rooms housing MIDI keyboards, printers, and audio equipment. Students bring their own computers, and may elect to use their preferred notation software.
Each season Brevard invites renowned guest artists to present concerts, classes, and seminars focusing on new music and contemporary performance practices. Recent collaborators have included Sō Percussion, the International Contemporary Ensemble (ICE), the Shanghai String Quartet, and Mason Bates.
---
Faculty
Robert Aldridge, Professor and Head of Composition – Rutgers University
David Dzubay, Professor and Chair of Composition – Indiana University
Greg Simon, Assistant Professor of Composition – University of Nebraska-Lincoln
---
Audition Requirements
Admission to the Brevard Music Center is determined by audition. Composition applicants submit a dossier of works.
Submit a portfolio that includes at least two scores and audio recordings. All files can be directly uploaded into your application. Once you upload one composition (PDF score + audio file), the application will save and allow you to upload additional files.
---
Tuition and Payment Schedule
Tuition for the six-week Composition Institute is $7850. This includes all instruction, housing, meals, and the opportunity to attend on-campus concerts and other events. Each participant is responsible for travel to and from Brevard.
A non-refundable enrollment fee of $800 is due within 2 weeks of acceptance and applies toward the cost of tuition. The remaining tuition balance is due by May 15.
Refunds
All payments, except the $65 application fee and $800 enrollment fee, will be fully refunded if the Center receives notice of cancellation due to serious illness before May 15. Written verification from an M.D. is required before a refund can be made. No reduction in fees can be made for late arrival or early departure. No refunds will be made after May 15.
---
Scholarships
Brevard Music Center offers scholarship support according to a student's audition and demonstrated financial need, and program need. In recent years, Brevard has provided scholarship support to more than 70% of its students. Scholarship support includes merit, need-based, and the BMC Opportunity Scholarship open to students of African-American and Latinx descent.
Please visit the Scholarship section of our FAQ page for more information.
---
Teaching Assistants and Resident Assistants
Brevard Music Center students in the College division may apply to serve as Teaching Assistants (TA) or Resident Assistants (RA). TAs and RAs have the same composing and performance opportunities as other students. TAs and RAs must pay a non-refundable enrollment fee of $800 which covers tuition, room, and board, and must be 21 or older by the start date of their program.
Teaching Assistant
A limited number of TA positions are available in the Composition program. Duties for teaching assistants may include coaching younger students, teaching theory classes, and assisting faculty.
Resident Assistant
A limited number of RA positions are available. Brevard's RAs supervise student living quarters and provide guidance to younger students. Two RAs live in each high school residence; one RA lives in each college residence.
Selected individuals will participate in a telephone interview, and, if chosen, submit to a formal background check and participate fully in the RA orientation sessions prior to student arrival. Note: All Resident Assistants, including composition RAs, must arrive on Monday, June 13, 2022 and depart on Tuesday, August 9, 2022.