Robert Aldridge
---
Programs
---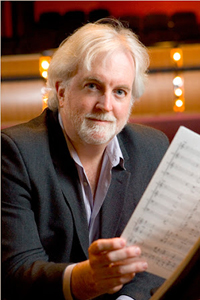 Grammy-winning composer Robert Livingston Aldridge (born:1954, Richmond,VA) has written over eighty works for orchestra, opera, music-theater, voice, dance, string quartet, solo and chamber ensembles. His music has been performed throughout the world. He has received numerous fellowships and awards for his music from the Guggenheim Foundation, the American Academy of Arts and Letters, National Endowment for the Arts, the New York Foundation for the Arts, the Pennsylvania Council on the Arts, the Massachusetts Artist's Foundation, the Lila Wallace Reader's Digest Fund, Meet the Composer, The American Symphony Orchestra League, the New Jersey Council on the Arts and the Dodge Foundation.
Robert Aldridge's opera, Elmer Gantry, based on the novel by Sinclair Lewis, with a libretto by Herschel Garfein, was given its fully-staged world premiere by Nashville Opera in November, 2007, and received unanimous praise from the New York Times ('Behold! An Operatic Miracle'), The Wall St. Journal and Opera News. Excerpts from Elmer Gantry were performed by New York City Opera on their 2007 VOX Festival. He was commissioned by Orpheus Chamber Orchestra and the Los Angeles Chamber Orchestra to compose a clarinet concerto for David Singer, which was premiered in April and May, 2005, and was released on compact disc by Naxos International in 2010. It was hailed as 'a brilliant new concerto' by Gramophone Magazine. His tone poem, Leda and the Swan, a commission from the New Jersey Symphony Orchestra, The Nashville Symphony Orchestra, and the Louisiana Philharmonic Orchestra, was premiered in January, 2003 at the New Jersey Performing Center for the Arts. His forty-five minute symphonic oratorio, Parables (written with librettist Herschel Garfein) was commissioned and premiered by the Topeka Symphony for their 2010 season finale. Other 2010 season highlights include both professional and university performances of Elmer Gantry in Milwaukee, Houston and Minnesota. A CD recording of Elmer Gantry (Florentine Opera/ Milwaukee Symphony) was released by Naxos International in 2011 and was ranked the #1 CD of the year by Opera News Magazine. The New Jersey Symphony Orchestra commissioned him to write an Elmer Gantry Suite for orchestra, which was given its world premiere at the opening gala for their 2010-2011 season. His music has recently been conducted by Keith Lockhart, Jacques Lacombe and performed by Gidon Kremer and Martha Argerich. Robert Aldridge and Herschel Garfein received a 2012 Grammy for Best Contemporary Classical Composition, only the third opera ever to receive this distinction. In addition, the Naxos CD of Elmer Gantry received a Grammy for Best Engineered Classical Album of 2012.
Robert Livingston Aldridge has been Composer-in-Residence at the Brevard Music Festival since 2006. He has been a Meet the Composer/Music Alive Composer in Residence, and was 2010 Composer in Residence at CU NOW in Boulder, Colorado. In April, 2012, he will be a composer-in-residence at the University of Minnesota. He has been a fellow at the MacDowell Colony on five occasions since 1987. In 1989, he was chosen to represent the New York Foundation for the Arts in a solo concert of his music at Lincoln Center. He was a founder of the Composers in Red Sneakers, a composer consortium which achieved international recognition in 1980's. In 1991 he received a National Endowment Recording Grant for a compact-disc of his chamber music for saxophone. His compositions are exclusively published by Edition Peters (CF Peters Corporation).
Robert Livingston Aldridge received a Doctorate in Composition from the Yale School of Music, a Master's Degree in Composition from the New England Conservatory of Music, and a Bachelor's Degree in English Literature from the University of Wisconsin at Madison. Currently, he is a Professor of Music Composition and Theory at the John J. Cali School at Montclair State University. He was Founding Director of the John J. Cali School from 2006-2009, and Chair of the Music Department from 2005-2011. Most recently, he has been appointed Director/Chair of the Music Department at Mason Gross School of the Arts, Rutgers University (July, 2012).