Greg Simon
---
Programs
---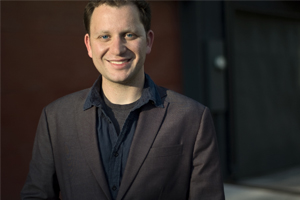 Greg Simon (b. 1985) is a composer and jazz trumpeter hailing from California, by way of Oregon and Colorado. Greg's music has been praised for its "high energy, lovely solo turns, and upbeat personality" (Fanfare Magazine) and called "thoughtful composition, full of beauty that satisfies audiences of all experience levels" (Saxophonist Magazine). Drawing its inspiration from jazz, funk, Balinese gamelan, Chilean folk song, and street art (among many other sources), his music explores heritage and intersection, aiming to create a common space between the myriad communities it reflects.
Greg is currently Associate Professor of Composition and Jazz Studies at the University of Nebraska-Lincoln, where he also directs the Flyover New Music Series. During the summer, he serves on the composition artist-faculty at the Brevard Music Center. He also currently serves as co-chair of Region VI for the Society of Composers, Inc.
Greg's works have been performed by ensembles and performers around the world, including the Ju Percussion Group, Alarm Will Sound, the Moanin' Frogs, and the Nu Deco Ensemble. He has presented work at conferences for the Percussive Arts Society, the College Band Directors' National Association, the World Saxophone Congress, and the North American Saxophone Alliance, and been commissioned for new works by organizations including the Nebraska Music Teachers' Association; and faculty at Hope College, the University of Arizona, Midwestern State University, and Florida State University.
Radio and digital broadcasts of Greg's music or interviews have included features on NET Radio's "The Verge," the "Relevant Tones" program from WFMT, and podcasts "Adagio for Things" and "We Are Not Beethoven." His collaborations with violinist Hyeyung Yoon and dancer Hye-won Hwang became the subject of the documentary Madang - A Creative Journey, recorded with 360-degree cameras and produced by Nebraska Educational Television. Greg's compositions have been recorded on labels including 4Tay, MSR Classics, Blue Griffin, Equilibrium, Open G, SMS Classical, and Terpsichore.
Greg is the recipient of awards for achievement in composition from the Zodiac International Music Festival, the Moscow Conservatory, National Association of Composers/USA, the Esoterics, and others. He has also received recognition for his work from Phantom Brass, the Kaleidoscope Chamber Orchestra, and CBDNA, among others. Greg was a featured composer at the 2013 Mizzou International Composers' Festival and was the 2013-14 young composer-in-residence for the Detroit Chamber Winds and Strings.
A passionate educator, Greg regularly writes on pedagogy and his practice of teaching compositional concepts through literary narrative designs. His pedagogical writings are published by the College Music Symposium and the Oxford Online Handbook on Music Assessment, and he has presented it at national conferences for the College Music Society and the Society of Composers, Inc. In 2020 he was announced the winner of the Hixson-Lied College of Fine and Performing Arts Award for Curriculum Development.
As a jazz musician, Greg has studied with Bill Lucas, Ellen Rowe, and Brad Goode. He's performed with the Marcus Lewis Big Band, the Shawn Bell Quartet, the Rhythm Society Orchestra, the Jodi-Renee Band, and many others, at venues ranging from Dazzle Jazz Club to the Jewell of Omaha; and played in the bands of The Temptations, Hannah Huston, and Andrew Dost of fun. As part of his ongoing efforts to bridge the classical and jazz worlds, he's premiered and presented works for improvising musicians by a variety of composers, including Stephen Rush, Hunter Ewen, Michael Theodore, and himself. Currently, Greg plays trumpet/flugelhorn alongside his colleagues in the UNL Faculty Jazz Ensemble and serves as the director of the UNL Jazz Orchestra. Greg has taught jazz with the Detroit Symphony Civic Jazz Orchestra and Omaha Performing Arts Academy, and served as guest clinician at the Westside Jazz Festival and the Nebraska State Band Association's Jazz Festival.
Greg is a fluent performer in the Balinese gamelan tradition, having spent five years with Denver's Gamelan Tunas Mekar. In 2020, alongside colleagues Dave Hall and Lynne Elkins, he directed the world premiere of the University of Nebraska-Lincoln's gamelan angklung ensemble.
Greg studied composition with Evan Chambers, Michael Daugherty, Kristin Kuster, Carter Pann, Daniel Kellogg, and Robert Hutchinson. He holds a D.M.A. from the University of Michigan, an M.M. from the University of Colorado, and a B.A. from the University of Puget Sound. Prior to his appointment at UNL, he taught at Concordia University Ann Arbor, the Metropolitan State University of Denver, and the University of Colorado. When he's not composing or playing, Greg enjoys hockey, bourbon, and short stories.