Norman Krieger
---
Programs
---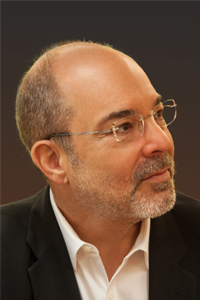 Norman Krieger is professor of piano at the Indiana University Jacobs School of Music.
A native of Los Angeles, he is one of the most acclaimed pianists of his generation and is highly regarded as an artist of depth, sensitivity, and virtuosic flair. He previously served as professor of keyboard studies at the University of Southern California's Thornton School of Music since 1997.
Zubin Mehta, Marin Alsop, Myung-Whun Chung, Miguel Harth-Bedoya, JoAnn Falletta, Jeffrey Kahane, Donald Runnicles, Leonard Slatkin, Michael Tilson Thomas, Keith Lockhart, Jaap van Zweden, and Carl St. Clair are just a few of the conductors with whom Krieger has collaborated.
Krieger regularly appears with the major orchestras of North America, among them the New York, Los Angeles, Buffalo, Dayton and Rochester philharmonics, the Minnesota Orchestra, Boston Pops Orchestra, National Symphony, Pacific Symphony, and the symphony orchestras of Austin, Baltimore, California, Chicago, Cincinnati, Columbus, El Paso, Florida, Grand Rapids, Hartford, Honolulu, Indianapolis, Jacksonville, Kansas City, Long Beach, Milwaukee, New Haven, New Mexico, North Carolina, Oregon, Phoenix, Pittsburgh, Richmond, Saint Louis, San Antonio, San Diego, San Luis Obispo, Santa Fe, Santa Rosa, Spokane, Stockton, Syracuse, and Virginia, among others, as well as Mexico's Orquesta Filarmónica de la Ciudad de México and Orquesta Sinfónica de Xalapa.
Abroad, he has been guest soloist with Germany's Philharmonisches Orchester Augsburg, Holland's Orkest van het Oosten, Prague's Czech National Symphony Orchestra, Turkey's Presidential Symphony Orchestra, New Zealand's Auckland Philharmonia, Taiwan's National Symphony Orchestra, the Shanghai Symphony, and the Hong Kong Philharmonic. In September 2014, he recorded the Brahms Piano Concerto No. 2 with the London Symphony Orchestra under the baton of Philip Ryan Mann.
In recital, Krieger has appeared throughout the United States, Europe, Mexico, and Asia, while chamber music collaborations have included appearances with sopranos Beverly Hoch and Sheri Greenawald, cellists Jian Wang and Zuill Bailey, and the Tokyo and Manhattan string quartets. His debut at New York City's prestigious Carnegie Hall and Mostly Mozart Festival earned him an immediate invitation to Lincoln Center's 2005-06 Great Performers Series.
In 1987, Krieger made headlines by being named the Gold Medal Winner of the first Palm Beach Invitational Piano Competition. Earlier, in 1984, he earned selection to the distinguished roster of Affiliate Artists, where he participated in the Xerox Pianists Program from 1984 to 1986. He is also the recipient of the Paderewski Foundation Award, Bruce Hungerford Memorial Prize, Victor Herbert Memorial Prize, Buffalo Philharmonic Young Artists Competition Prize, and Saint Louis Symphony Prize.
Krieger's first piano teacher was his uncle, Rudy Hadda. Later training began in Los Angeles under the tutelage of Esther Lipton. At age 15, he became a full-scholarship student of Adele Marcus at The Juilliard School, at which he earned both Bachelor's and Master's degrees. Subsequently, he studied with Alfred Brendel and Maria Curcio in London and earned an Artist Diploma from the New England Conservatory, where he worked with Russell Sherman.
A champion of contemporary music, he features the music of John Adams, Leonard Bernstein, John Corigliano, Daniel Brewbaker, Donald Crockett, Judith St. Croix, Lukas Foss, and Lowell Liebermann among his active repertoire.
Krieger's solo recordings include five albums available on the Artisie 4 label: Norman Krieger: Transformations, comprised of Liszt's two piano concertos and his Totentanz, with the Prague Radio Orchestra; Gershwin in Prague, including "Rhapsody in Blue" and Concerto in F, with the Prague National Symphony Orchestra, and Tomas Svoboda: Piano Concertos with the Dayton Philharmonic Orchestra, both under the baton of Neal Gittleman; Norman Krieger: Piano Recital, with music by Bach, Mozart, Beethoven, and Chopin; and American Piano Concertos, featuring works by MacDowell and David Wiley with the Roanoke Symphony Orchestra conducted by Wiley.
Krieger's chamber music collaborations include Raising the Roof, an album of chamber music by Haydn, Bloch, Bruch, and Martinů (Artisie 4); The Prince Albert Chamber Music Festival, including works by Barber, Beethoven, Bizet, Chopin, Schubert, and Tchaikovsky (Artisie 4); Voices Through Time, works of Brahms and Schubert with flutist Emily Skala (Summit); and Summerdays, music of Barber, Berg, Bernstein, Gershwin, Glazunov, Lehár, and Mozart, from the Musical Masterworks Festival at Old Lyme (Well-Tempered).
In 2013, he performed Gershwin's Piano Concerto with the New West Symphony, Beethoven's Concertos Nos. 4 and 5 with the Dayton Philharmonic and Ravel's Concerto for the Left Hand with the Brevard Music Center Orchestra. He regularly gives master classes around the world.
Krieger is the founding artistic director of The Prince Albert Music Festival in Hawaii. Since 2008, he has served on the summer faculty at the Brevard music festival in North Carolina.