Donna Lee
---
Programs
---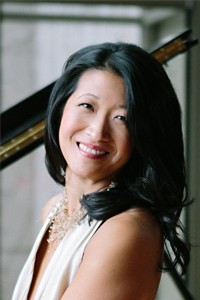 Steinway artist Donna Lee made her solo debut in 1990 with the National Symphony Orchestra. She has since appeared as a soloist and collaborative artist at Kennedy Center's Concert Hall and Terrace Theater in Washington, DC and Lincoln Center's Alice Tully Hall in New York City. She has concertized in Asia, Europe and throughout the US, with performances in Shenyang, China, Brno, Czech Republic and Maui, Hawaii. Donna made her solo recording debut on the Azica label, with a program entitled Scenes from Childhood with works by Schumann, del Tredici, Medtner, and Prokofieff. In 2011, she released a recording on the Blue Griffin label of Felix Mendelssohn's Complete works for cello and piano with cellist Keith Robinson. Fanfare Magazine called the disc," …quite simply, amazing".
Critics have described Donna Lee's performances as elegant and refined (Il Fronimo, Italy), engaging (WCLV-Cleveland) and brilliant (Iwate Daily News, Japan). As a soloist and chamber musician, she has performed at the Ameri-China Festival in China, Gotland Chamber Music Festival in Sweden, Brevard Music Center in North Carolina, Interlochen Arts Center in Michigan, Kent Blossom Music Festival in Ohio, Maui Classical Music in Hawaii, Music-on-the-Hill in Rhode Island and Classical Tahoe in Nevada. A frequent collaborator with clarinetist Daniel Gilbert, the husband-wife duo has performed in recital throughout the United States, including recent performances in Florida, Georgia, Hawaii, Michigan, New Hampshire, Rhode Island, Nevada, North Carolina, North Dakota, Ohio, South Carolina and Washington as well as in Chengdu, China.
A highly respected pedagogue, Donna Lee has received accolades for her teaching. In October of 2021, she was inducted into the Steinway & Sons Teacher Hall of Fame, a prestigious designation recognizing the work of North America's most committed and passionate piano teachers. In the same year, she received a Distinguished Teaching Award from Kent State University, the institution's highest honor, where she serves on the faculty as Professor and Coordinator of Piano. During the summers, Donna is also artist-faculty at Brevard Music Center in North Carolina.
A native of Silver Spring, Maryland, Donna Lee earned her doctorate from Peabody Conservatory of The Johns Hopkins University, Masters from The Juilliard School, and Bachelor of Music degree from the University of Maryland, College Park, where she studied with prominent artist-teachers Julian Martin, the late Rudolf Firkušný, and Thomas Schumacher, respectively.