High School Voice (Musical Theater)
---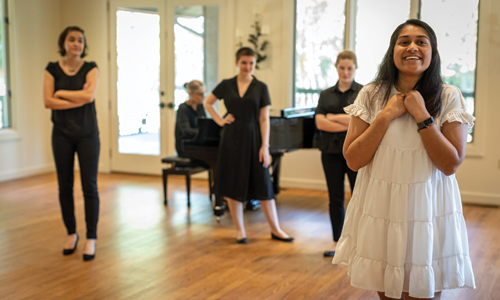 The Program
The inaugural year of the Musical Theater program is for high school singers ages 14 and older interested in pursuing studies in musical theater in college.
The focus of our training is to provide students with the tools to be the best singing actor they can be. Classes provide skills training in singing, dancing, acting, and how to tell a story through song. Each student receives two private voice lessons per week, in addition to other ensemble coachings. Extensive training will be provided on acting the song, which marries vocal technique with acting intentions.
Each student will also work on a 16-bar audition cut of a solo song and work with partners in duets, trios, or quartets. Dance classes will introduce vocabulary used in audition situations, and emphasize using the body rhythmically. Select pieces will be shared in a showcase on the final day of the session with other BMC students, families, and friends.
The daily schedule of classes may include:
musical theatre and dance
vocal technique and style
acting
stage combat
sight reading and ensemble singing
music theory
yoga and mindfulness
masterclasses in audition techniques and the profession
---
Dates and Deadlines
Program Dates: July 16 - August 7, 2022
Deadline: Closed for 2022
Ages: 14-18
Tuition: $4150, includes all instruction, housing, and meals
Application fee: $40, apply now through MyBMC
We also have a Classical intensive for high school voice!
Please note: Proof of COVID-19 vaccination is required for all students, faculty, and summer staff for the 2022 season. Please see our FAQ page for more information.
---
Faculty
Janine Hawley, Program Director
Greg Walter, Voice Instructor and Coach
Chris Dolman, Acting Technique and On-Camera Audition Technique
Dale Girard, Stage Combat Choreographer & Instructor
---
Sample Daily Schedule
Breakfast
8:00-9:00a Music Theory
9:15-9:45a Yoga/Mindfulness
10:00-11:30a Class rotation (Musical Theatre/Jazz Dance, Stage Combat)
11:45a-12:45p Acting for the Camera/Private coaching rotation
Lunch
1:30-2:30p Private lesson rotation/Practice time
2:45-4:15p Class rotation (Acting technique and Storytelling, Leaning into the Lyrics, Audition Techniques
4:30-5:30p Acting a Song
5:30-5:45p Reflection
Dinner
7:00-8:30p Musical Theater Ensembles/Master Class/Practice or free time
Weekly student recital
---
Audition Requirements
Admission to the Brevard Music Center is determined by audition. Voice applicants must submit a video recording by including YouTube video link(s) in their application.
Perform two contrasting songs from memory. All selections should be sung with an accompanying piano track.
One from the Golden Age Musical Theater repertoire (pre-1960)

One written after 1960
Submissions do not have to be one continuous take; once you add one selection, the option to add another will appear.
---
Tuition and Payment Schedule
The tuition for the 3-week High School Voice program is $4150. This includes all instruction, housing, meals, and the opportunity to attend on-campus concerts and other events. Each participant is responsible for travel to and from Brevard.
A non-refundable enrollment fee of $500 is due within 2 weeks of acceptance and applies toward the cost of tuition. The remaining tuition balance is due by May 15.
Refunds
All payments, except the $40 application fee and $500 enrollment fee, will be fully refunded if the Center receives notice of cancellation due to serious illness before May 15. Written verification from an M.D. is required before a refund can be made. No reduction in fees can be made for late arrival or early departure. No refunds will be made after May 15.
---
Scholarships
Brevard Music Center offers scholarship support according to a student's audition and demonstrated financial need, and program need. In recent years, Brevard has provided scholarship support to more than 70% of its students. Scholarship support includes merit, need-based, and the BMC Opportunity Scholarship open to students of African-American and Latinx descent.
Please visit the Scholarship section of our FAQ page for more information.