Tzuying Huang
---
Programs
---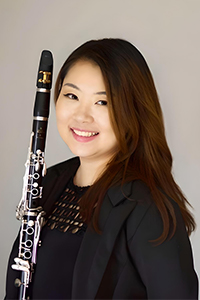 Tzuying Huang, a native of Taipei, Taiwan, presently serves as the Bass Clarinetist for the St. Louis Symphony Orchestra, a position she has held since her appointment in 2015 under the direction of music director David Robertson. Prior to her role with the St. Louis Symphony Orchestra, Ms. Huang held the Clarinet/Bass Clarinet position with the Kansas City Symphony. She has performed as a guest bass clarinetist with the Cleveland Orchestra, Chicago Symphony Orchestra, and Dallas Symphony Orchestra. In addition, Ms. Huang has participated in various summer music festivals, including the Lakes Area Music Festival, the Britt Music Festival, and the Colorado Music Festival.
As an active soloist and chamber musician, Ms. Huang made her debut appearances at the Clarinet Association Convention as a featured performer in the summer of 2023 in Denver, Colorado. Beyond her orchestral commitments, she is the founder and artistic director of the Ariel Concert Series, a chamber music series based in St. Louis that stages monthly concerts. Ms. Huang also collaborates regularly with the Chamber Music Society of St. Louis, Chamber Projects St. Louis, the World Chess Hall of Fame Concert Series, and the Missouri Chamber Music Festival. In February 2023, Ms. Huang co-founded the Meridian Clarinet Quartet with three other professional clarinetists, a group committed to commissioning compositions for the Clarinet Quartet and conducting master classes and concerts throughout the United States.
In addition to her performance career, Ms. Huang is a dedicated educator with two decades of teaching experience. She finds joy in working with the St. Louis Symphony Youth Orchestra and the St. Louis Symphony Education and Community Program. Furthermore, she has conducted master classes in Taiwan and various locations across the United States.
Ms. Huang earned her bachelor's degree from the National Taipei University of Education. In 2007, Huang relocated to the United States to study with James Campbell at the Jacobs School of Music at Indiana University-Bloomington, where she earned her master's degree and performance diploma. Her primary teachers include James Campbell, Joaquin Valdepeñas, Burt Hara, Nathan Williams, Wei-Ling Bill Chen, and Pei-Lin Lee.
As a Buffet Crampon performing artist and D'Addario Woodwinds Artist, Ms. Huang exclusively plays on D'Addario Reserve Bass Clarinet reeds, Buffet Crampon clarinets, and bass clarinets.