Natalie Hoe
---
Programs
---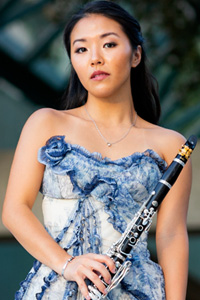 Principal Clarinet of The Florida Orchestra since 2017, Natalie Hoe holds the Bertelstein Family Chair and has already established herself as an accomplished orchestral musician and versatile solo artist.
Ms. Hoe is a regular guest musician with The Cleveland Orchestra and Baltimore Symphony Orchestra, where she was also Guest Principal Clarinet. She has also recently performed with the St. Petersburg Opera and Opera Tampa, as well as the San Antonio Symphony under Music Director Sebastian Lang-Lessing. Ms. Hoe spent the Summer of 2022 performing as Principal Clarinet with the Des Moines Metro Opera under the batons of David Neely, Elizabeth Askren and Michael Ellis Ingram. In Summer of 2017, she toured Japan with the Pacific Music Festival Orchestra under the direction of Valery Gergiev, Jun Märkl, Heiichiro Ohyama and Daniel Matsukawa. She is also an alumnus of the Spoleto Festival USA Orchestra, Music Academy of the West in Santa Barbara and the Aurora Chamber Music and Masterclass Festival in Trollhättan, Sweden.
As a soloist, in the upcoming '23-'24 season, Ms. Hoe will be performing Stravinsky Ebony Concerto and Gershwin Walking the Dog with The Florida Orchestra. She made her solo debut with The Florida Orchestra in the '19-'20 season when she performed the Mozart Clarinet Concerto with Music Director Michael Francis. One of the highlights of her career to date is performing Englishman in New York with Sting at The Florida Orchestra's 50th Anniversary Gala. Notably, Ms. Hoe has also performed twice with the Hong Kong Philharmonic Orchestra, once as a guest artist in the "The Mozart Effect Concert" performing the second movement of the Mozart Clarinet Concerto with conductor John Harding, and once as a Grand Finalist and Winner of the "Young Musician of the Year (Hong Kong, China, Macau)" Competition in 2008, where she performed Weber's Clarinet Concerto No. 2 with conductor Zhang Guoyong. Past noteworthy performances include a solo recital in Singapore at the 15th Anniversary Gala Dinner of the Hong Kong Economic and Trade Singapore Office and at the Hong Kong Music and Dance Association celebration of the 60th Anniversary of China National Day in Hong Kong.
Ms. Hoe was born in the United Kingdom and raised in Hong Kong, where she began her clarinet studies at the age of 6 under the tutelage of Maria Wong, John Schertle and Andrew Simon. In 2017, she graduated with a Master of Music degree from Rice University as a Haylett O'Neill Jr. and Kate Patton O'Neill Endowed Scholarship recipient in Houston, Texas where she studied with Richie Hawley. Prior to that, Ms. Hoe completed her Bachelor of Music studies at the prestigious Colburn Conservatory of Music in Los Angeles, California with Yehuda Gilad.
A Buffet-Crampon artist, Ms. Hoe performs on the Festival Bb and Tradition A models of Clarinet.