Benjamin Karp
---
Programs
---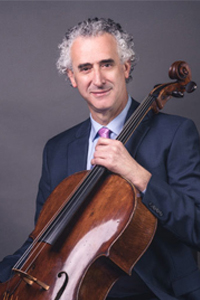 Benjamin Karp is Professor of Music and Director of Chamber Music at the University of Kentucky School of Music, as well as principal cellist with the Lexington Philharmonic Orchestra. From 2009-2013, he served as Adjunct Associate Professor at the Jacobs School of Music at Indiana University.
Mr. Karp has concertized on four continents, including appearances as soloist with the Tianjin Symphony Orchestra in China and the Espirito Santo Philharmonic in Brazil. Benjamin frequently joins the cello section of the Cincinnati Symphony and has played in Carnegie Hall five times with the orchestra. As well, Mr. Karp has performed with the CSO on tours of the United States, Europe, Japan, China, Singapore, and Puerto Rico. He was a member of the Cincinnati Chamber Orchestra for ten years, serving as principal cellist for five.
Benjamin Karp received the Master of Music degree from Indiana University, where he was a student of Janos Starker and Gary Hoffman, and a Bachelors of Arts in Philosophy from Yale University.
Benjamin Karp is a widely known chamber musician, appearing at festivals throughout the United States. For six years, he was the cellist of the New College String Quartet and principal cellist of the Florida West Coast Symphony. He has recorded for the Telarc, Gasparo, Arabesque, CRI, BMG, Centaur and Sony Legacy labels, where he can be heard on the CD The Bright Lights of America with the punk band Anti-Flag.
Benjamin Karp is a Larsen Performing Artist.