Natasha Talukdar Elam
---
Programs
---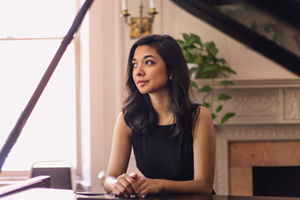 With extensive experience in piano performance and vocal accompanying, Natasha Talukdar Elam is an artist who thrives at the intersections of collaboration. Ms. Talukdar Elam joins Utah Opera as the Resident Artist Pianist for their 2021-2022 season, where she serves as second pianist for Jonathan Dove's Flight as well as chorus pianist for The Barber of Seville, Tosca, and The Pirates of Penzance. She was selected as a 2021 Tomita Young Artist for Finger Lakes Opera's 2021 season where she served as music director for their summer scenes concert and their outreach production of The Three Little Pigs. Ms. Talukdar Elam has also been a pianist for Opera Neo's production of La Cenerentola and a pianist fellow at CoOPERAtive.
Ms. Talukdar Elam has built a reputation as a thrilling, versatile, and reliable collaborative musician. She finished her second master's degree in opera coaching with Dr. Tamara Sanikidze at the University of Texas at Austin's Butler Opera Center. In her time at BOC, Ms. Talukdar Elam coached and was rehearsal pianist for four opera productions: Le nozze di Figaro, L'elisir d'amore, Turn of the Screw and Don Giovanni. In addition to being rehearsal pianist for Turn of the Screw, she also performed piano and celeste with the orchestra for the production. She has also collaborated on numerous art song recitals and operas at the Peabody Conservatory, where she received a master's degree in Vocal Accompanying. Ms. Talukdar Elam was rehearsal pianist for Peabody Opera's mainstage productions, including Gianni Schicchi, Suor Angelica, L'elisir d'amore, Bernstein's Mass and Chérubin. She has also played for masterclasses for Roger Vignoles, Allen Perriello and Joan Dornemann.
Born in the Philippines, Ms. Talukdar Elam grew up in New York, where her love of music and playing for different communities first started. Her interests in collaborative piano began during her undergraduate studies at Binghamton University, where she received a Bachelor of Music in Piano Performance and BA in English Literature. In her spare time, Ms. Talukdar Elam enjoys cooking and trying new foods, spending time outdoors with her husband and puppy, reading, and practicing calligraphy.