Shanda Lowery-Sachs
---
Programs
---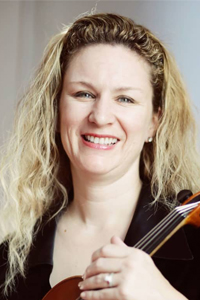 Shanda Lowery-Sachs was born in Porterville, CA--a small agricultural area in the central part of the state. At age 4, she picked up two hobbies that have remained important throughout her life: tennis and music. Her father, a math teacher and tennis enthusiast, taught her how to swing a racquet, while her mother, a cellist from a musical family, started her on violin and piano.
After graduating high school from Michigan's famed Interlochen Arts Academy in 1990, Shanda enrolled at the University of Puget Sound in Tacoma, WA. As her musical skills on violin continually improved, however, she turned her focus towards music. She later met the school's viola teacher and expressed an interest in learning it on the side. Borrowing an instrument from the school, she played it only occasionally. When friends heard her impressive ability, they encouraged her to make it her primary focus.
Earning her Bachelor's Degree in Music in 1994, Shanda purchased a viola and began graduate studies, first at the University of Maryland and later at Rice University in Houston, where she was Principal Viola in the school's orchestra. Following graduation in 1997, she performed as a member of New York's Hudson Valley Philharmonic; with the Virginia Symphony as Assistant Principal; and, prior to her Detroit move, with the Rochester Philharmonic in New York.
Shanda joined the Detroit Symphony Orchestra in July 2001.