Daniel Tosky
---
Programs
---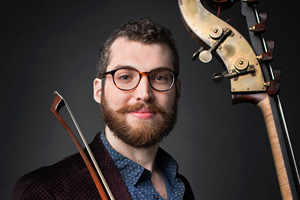 Double bassist Daniel Tosky joined the Atlanta Symphony Orchestra during the 2015/16 season. Tosky came to Atlanta from Miami Beach, where he was a member of the New World Symphony. He has also performed frequently with the New York Philharmonic and Philadelphia Orchestra as guest musician.
Holding the title of Distinguished Artist at the Robert McDuffie Center for Strings at Mercer University, Tosky maintains a small teaching studio and coaches chamber music. He also instructs individually through the ASO's Talent Development Program and has traveled to Colombia, South America on the invitation of La Academia Filarmónica de Medellín to offer lessons and masterclasses.
As a chamber artist, Tosky has performed in Europe and Asia; and as a soloist, he recently presented Nino Rota's Divertimento Concertante with the Western Piedmont Symphony. Orchestral festival fellowships include the Aspen Music Festival, Music Academy of the West, and the New York String Orchestra Seminar. He has also participated in Le Domaine Forget, the Aldeburgh Festival, the Brevard Music Center, and the Wabass Institute.
A native of North Carolina, Tosky began his musical education in the public school system and would later go on to attend the Indiana University Jacobs School of Music, where he had the opportunity to study under renowned pedagogue Lawrence Hurst. After completing his studies at IU, he would gain a master's degree as a member of the Manhattan School of Music's Orchestral Performance program, working with Timothy Cobb. Other influential teachers include Peter Lloyd, Jeffrey Turner, Hal Robinson, and Orin O'Brien. He performs on an instrument made in Genoa by Ludovico Rastelli, ca. 1835.