Benjamin Adler
---
Programs
---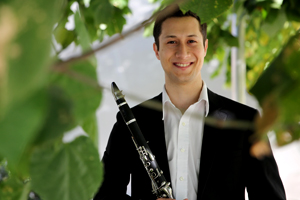 Benjamin Adler joined the Milwaukee Symphony Orchestra as Assistant Principal/ E-flat/ Second Clarinet in 2015. He also held a one-year position with the St. Louis Symphony Orchestra in the 2018-19 season. In addition, Adler has held a position with the Las Vegas Philharmonic, has performed regularly with The Cleveland Orchestra and gone on tour with the Los Angeles Philharmonic.
Adler is a member of the clarinet faculty at the Brevard Music Center. Prior to Brevard, Adler has spent his summers performing as a guest in The Breckenridge Music Festival, Artosphere Festival and the Sierra Summer Festival. He holds the Second Clarinet position at the Britt Festival Orchestra and is an alumnus of the Aspen Music Festival, National Repertory Orchestra, and the Brevard Music Festival.
Adler has performed as soloist with the National Repertory Orchestra and was a grand-prize winner in the Francis Walton LMC competition in 2014. Benjamin competed in the Carl Nielsen International Clarinet Competition, where he was a semi-finalist.
As a chamber musician, Adler has performed throughout the Milwaukee area, including performances with the Prometheus Trio, Present Music, Milwaukee Musaik and the PianoArts Competition judges concert. He also has performed with the Chamber Music Society of St. Louis, Los Angeles Philharmonic Green Umbrella concert series, and the Hear Now Music Festival with members of the Los Angeles Chamber Orchestra.
Along with being a performer, Adler is an active educator within his surrounding communities. He is currently on faculty with the Wisconsin Lutheran College and has been on faculty with the Wisconsin Conservatory of Music. Adler has given masterclasses at Indiana University, UNC Greensboro School of Music and UNLV School of Music. Adler is the Artistic Director of the Clarinet Maestro Festival, a festival he founded in 2020.
Adler grew up in Brooklyn, New York where he first started studying clarinet with his mother Laurie Friedman-Adler. He earned a Bachelor's degree at Northwestern University under the tutelage of Steve Cohen.
He received his Masters degree and Artist Diploma from the University of Southern California and the Colburn School respectively, where he studied with Yehuda Gilad.