Gina Benalcazar
---
Programs
---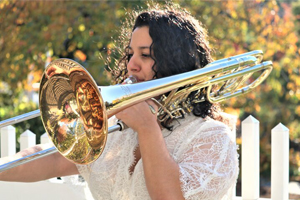 Trombonist, Tubist, composer, arranger, and educator, Gina Benalcazar was born and raised in Queens, New York. At the age of 16 she picked up the trombone, soon realizing she never wanted to put it down. Pursing a degree in classical performance, she studied under the direction of Louis Bremer, the Bass Trombonist of the Jacksonville Symphony, at the University of North Florida. But soon after being immersed in UNF's prestigious jazz department she realized that something needed to change, and she switched her degree from Classical Bass Trombone Performance to Jazz Trombone Studies her junior year.
Studying with artists such as Lynne Arriale, Dennis Marks, Danny Gottlieb, and Clarence Hines helped her pursue further studies at Michigan State University, where she received her Masters of Music in Jazz Trombone. Following the mentorship of instructors Michael Dease, Rodney Whitaker, Etienne Charles, and Randy Napoleon, she moved back to her home state of New York and is currently living as a freelancer. She is now the Bass Trombonist for the Dr. Phillips Center Jazz Orchestra in Orlando, Florida, under the direction of Rodney Whitaker, as well as the Bass Trombonist for Ulysses S. Owen Jr.'s New Century Big Band and a frequent sub for the Vanguard Jazz Orchestra, the Christian McBride Big Band, and the Birdland Big Band. She is also beginning to co-lead the band JandG, a trombone and guitar duo that frequents jazz clubs in the boroughs.
She can be heard playing with different groups at known venues such as Minton's Harlem, 55 Bar, Smalls, Zinc Bar, the Village Vanguard, Littlefield, National Sawdust, Swing 46, Birdland, and more. She has also performed with artists such as Rodney Whitaker, Randy Napoleon, Anat Cohen, Freddie Cole, Ulysses Owens Jr, Randy Brecker, Christian McBride, Michael Dease, Etienne Charles, and Chris Potter.
Gina has also had the opportunity to record with groups such as the Mica Bethea big band, releasing the albums "The Mica Bethea Big Band" and "Suite Theory", Michael Dease's "Bonifide", and is credited as an arranger on one track on Michael Dease's album, "Reaching Out." She is also planning to record her first album as a leader under the label NSF Records in Jacksonville Florida as well as recording with her group JandG with NSF Records in the Fall of 2019.