Karen Strittmatter Galvin
---
Programs
---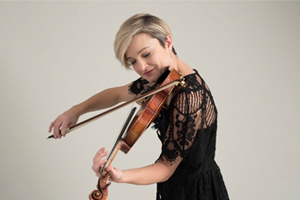 Karen Strittmatter Galvin serves principally as Assistant Concertmaster of the North Carolina Symphony, with whom she has made multiple concerto solo appearances, including performing Nico Muhly's concerto for six-string violin (Seeing is Believing) in 2016 and Anna Clyne's Prince of Clouds in 2019. Ms. Galvin joined the North Carolina Symphony in 2007.
Ms. Galvin is also founder and curator of New Music Raleigh, a cutting-edge ensemble dedicated to performing the works of living composers. Founded in 2009, NMR has become "the Southeast's most plugged-in musical collective devoted to the work of living composers" (Indy Week). NMR presents cutting-edge new works and collaborations that challenge the traditional perception of classical music, engage and inspire diverse audiences, and give voice to today's most innovative and relevant modern music. Equal parts performer, presenter, and advocate, Ms. Galvin has created unique events for the National Gallery of Art, Duke Performances, the North Carolina Symphony, CAM Raleigh, and the North Carolina Opera. New Music Raleigh has several internationally-released recordings on Centaur Records.
Committed to the arts in her community, Ms. Galvin has served on the board of the Raleigh Chamber Music Guild (now Chamber Music Raleigh), has taught at the University of North Carolina, maintains an active private teaching studio, and has performed and recorded with rock bands such as Broken Social Scene, The Rosebuds, the dB's, and Lost in the Trees. Ms. Galvin has performed during past summers with the Chautauqua Symphony Orchestra and served as Associate Concertmaster of the Colorado Music Festival.
A native of Pittsburgh, Pennsylvania, Ms. Galvin began her musical training at the age of five after seeing the violin for the first time while watching Mr. Roger's Neighborhood. Along with two of her sisters, she performed as a member of the Strittmatter Trio from the age of seven until she graduated from Carnegie Mellon University. She then pursued her Master's studies at the University of Maryland where she studied with members of the Guarneri String Quartet. Before moving to North Carolina, Ms. Galvin was a member of the Delaware Symphony Orchestra and had an active freelance career in Washington, D.C., performing regularly with the Washington National Opera and the Eclipse Chamber Orchestra. She is a founding member of the Inscape Chamber Orchestra of Washington, D.C.
Ms. Galvin's husband, Shawn Galvin, the former Principal Timpanist of the United States Navy Band, is also a curator of New Music Raleigh and currently serves as a percussionist and timpanist with the Pittsburgh Symphony Orchestra. Ms. Galvin and her husband were presented the INDY Arts Award in 2013 in recognition for their contributions to the community and commitment to the growth of the arts in Raleigh. They have two daughters, Eleanor and Magnolia.