Karen Strittmatter Galvin
---
Programs
---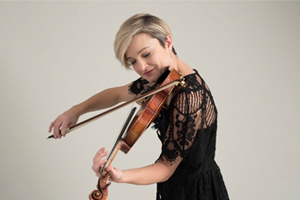 Karen Strittmatter Galvin is the Assistant Concertmaster of the North Carolina Symphony, which she joined in 2007. She has been featured numerous times as soloist with the NC Symphony, notably showcasing contemporary solo violin repertoire including Nico Muhly's Seeing is Believing, Prince of Clouds by Anna Clyne, and Echorus by Phillip Glass. During the past two years, Ms. Galvin has also performed with The Cleveland Orchestra and performed and toured internationally with the Pittsburgh Symphony Orchestra.
Ms. Galvin is the founder and curator of New Music Raleigh, a cutting-edge ensemble dedicated to performing the works of living composers. In 2019, Ms. Galvin became a member of the Artist Faculty of Brevard Music Center where she teaches talented high school and college students, specializing in orchestral literature and audition preparation.
Committed to the arts in her community, Ms. Galvin has taught at the University of North Carolina, maintains an active private teaching studio, and is sought out as a studio musician. Ms. Galvin has performed during past summers with the Chautauqua Symphony Orchestra and served as Associate Concertmaster of the Colorado Music Festival.
A native of Pittsburgh, Pennsylvania, Ms. Galvin began her musical training at the age of five after seeing the violin for the first time while watching Mr. Roger's Neighborhood. She received a Bachelor of Fine Arts Degree from Carnegie Mellon University where she studied with Carolyn Huebl and Cyrus Forough, and a Masters Degree from the University of Maryland where she studied with Elisabeth Adkins and the members of the Guarneri String Quartet.