Jason Hainsworth
---
Programs
---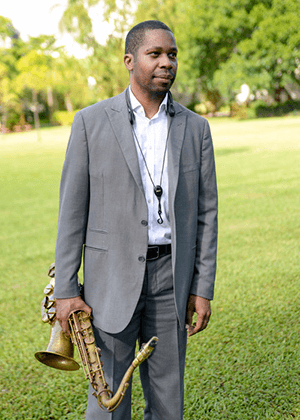 Jason Hainsworth is in demand both as a saxophonist and as a composer/arranger. As a native of Houston, Texas, he studied at the prestigious High School for the Performing and Visual Arts. He later went on to study music at the University of New Orleans with legendary jazz educator Ellis Marsalis and saxophonist Victor Goines. Hainsworth then moved to the New York/ New Jersey area to continue his musical studies at William Paterson University while performing along the east coast. After receiving his bachelor's degree in music, Jason matriculated at Florida State University for graduate work where he earned his Masters degree in Jazz Studies.
As a performer, Mr. Hainsworth has led his own quartet throughout the world to critical acclaim, most recently headlining the Suriname Jazz Festival. He has also performed and recorded with Michael Dease, Johnathan Blake, Renee Rosnes, Lewis Nash, Glenn Zaleski, Tim Warfield, and Martin Bejerano just to name a few. Additionally, Jason is a current touring member of Ed Calle's Mamblue (2016 Latin Grammy Winner), Tito Puente Jr's. Latin Jazz All Stars, and Melton Mustafa Jazz Orchestra. He has performed extensively throughout the United States and South America.
As a composer/ arranger, Mr. Hainsworth's works have been performed throughout the country at various high school and university jazz festivals such as Oklahoma State University, Louisiana State University, University of Iowa, Jacksonville State University, and Florida A&M University. His first vocal arrangement was premiered last spring at the Florida Music Educators Conference by the Dillard Center for the Arts Vocal Ensemble. He was most recently commissioned by Michigan State University to arrange music featuring legendary drummer Jimmy Cobb.
Mr. Hainsworth's debut album, Kaleidoscope, features original compositions and arrangements for big bands with the likes of Tanya Darby, Linda Oh, Claudio Roditi, and Michael Dease as soloists. His latest album, Third Ward Stories is scheduled for release this fall on Origin Records and will feature jazz heavyweights Michael Dease, Josh Evans, Johnathan Blake to name a few.
Mr. Hainsworth serves as Director of Jazz Studies at Broward College. The University of Northern Colorado Jazz Press publishes his compositions and arrangements.