Robert Sullivan
---
Programs
---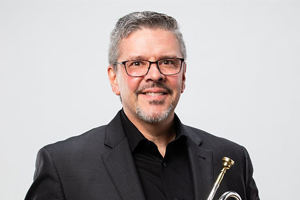 Robert Sullivan is Professor of Trumpet at Northwestern University's Bienen School of Music. Mr. Sullivan was appointed principal trumpet of the Cincinnati Symphony and Cincinnati Pops Orchestras in 2008. He is former assistant principal trumpet of the Cleveland Orchestra (2003-2008), associate principal trumpet of the New York Philharmonic (1993-2004), associate principal trumpet of the Charleston (SC) Symphony Orchestra, member of the U.S. Air Force Band and Orchestra and solo trumpet of the Chicago Chamber Brass. Professor Sullivan toured the U.S. performing recitals for two seasons with Toccatas and Flourishes, a trumpet/organ duo, and performed as a member of the Disneyland All-American College Band. He has served on the faculties of the Cleveland Institute of Music, Manhattan School of Music, Mannes College of Music, Charleston Southern University and the College of Charleston. He has presented master classes and recitals throughout the U.S., South America, Europe and Asia, and has been a faculty member at the Hamamatsu International Music Academy in Japan. A native of Norwood, MA, Mr. Sullivan studied with Armando Ghitalla at the University of Michigan and won the Armando Ghitalla fellowship to attend the Tanglewood Music Center in 1984.
Mr. Sullivan has had a varied performance career. He gave several performances with the Canadian Brass and German Brass while a member of the Principal Brass Quintet of the New York Philharmonic, and he has recorded with and conducted the Empire Brass, and toured and recorded with Summit Brass. While living in New York, Mr. Sullivan recorded soundtracks for several major motion pictures, and performed at the Grammy Awards Show and several live television specials. He has appeared as soloist with several orchestras and wind ensembles, including the Cincinnati Symphony Orchestra under Maestro Paavo Jarvi, the Cincinnati Pops, with the Cleveland Orchestra, and with the Blossom Festival Band. Recent repertoire includes concertos by Haydn, Hummel, Arutunian, Bohme, Telemman and Mozart, cornet solos by Bellstedt and Clarke, and Pops arrangements by Steven Reineke and Tommy Newsom. Robert's two solo albums with pianist James Rensink, Treasures for Trumpet and Kaleidoscope are available on the Summit Records label.
Mr. Sullivan is a Yamaha performing artist. He teamed with Yamaha brass designer Bob Malone in the development of the YTR-9335NYS and YTR-9445NYS Artist Model Bb and C trumpets. He currently performs on a new prototype Yamaha C trumpet and the "Bob Sullivan" Signature mouthpiece.