Hazel Dean Davis
---
Programs
---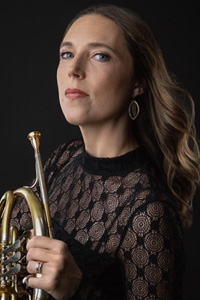 French hornist Hazel Dean Davis performs regularly with the Boston Symphony Orchestra and Pops and the Grammy nominated chamber orchestra A Far Cry. In 2018 she made her Boston solo debut in Britten's Serenade for Tenor, Horn and Strings with tenor Nicholas Phan and A Far Cry, for which The Boston Musical Intelligencer celebrated her "masterful colorings and sensitivity to text.
Other recent highlights include performing as 2nd horn of the Cincinnati Symphony for two weeks in November 2019; the 2018-19 Boston Pops tours of the East Coast, California, Texas, and Florida; a 2017 tour of China and Taiwan with the Cincinnati Symphony and Pops; a 2016 double-horn recital with Cincinnati Symphony principal hornist Elizabeth Freimuth; chamber and solo recitals at the University of New Hampshire; and ten weeks of the 2015-16 season with the Boston Symphony Orchestra, including their Carnegie Hall Tour. She can be heard on numerous BSO recordings, including the 2016 Grammy-winning Shostakovich Symphony 5, Strauss' Alpine Symphony (2017), and the upcoming release of Strauss' Sinfonia Domestica recorded in September 2019.
Ms. Davis has also performed with the San Francisco Symphony and the Baltimore Symphony, including a Carnegie Hall Tour in 2015. She played principal horn for the premiere of Matthew Aucoin's opera Crossing at the American Repertory Theatre in Cambridgein 2015 and at the Brooklyn Academy of Music in 2017. She also plays locally with Rhode Island Philharmonic, Portland Symphony, Boston Ballet, BostonPhilharmonic and the Boston Modern Orchestra Project. Prior to her move to Boston, Ms. Davis was a member of the Virginia Symphony Orchestra, playing second and fourth horn for eleven seasons.
A passionate chamber musician, Ms. Davis has been featured in the Virginia Arts Festival Chamber Series, where critics called her "the star of the show...she played with complete security and authority...whether asked for leaps, trills, or long beautiful sustained notes" (Virginian Pilot).
Originally from St. Paul, Minnesota, Ms. Davis graduated from Harvard University in 2003 with a BA in Biological and Social Anthropology. At Harvard, she studied horn with James Sommerville and was active in the chamber and orchestral music scene, receiving both the David McCord Prize for Music and the Louis Sudler Top Senior Prize in the Arts. Ms. Davis studied with Caroline Lemen and Kendall Betts in St. Paul, and with Julie Landsman at The Juilliard School, where she received a Graduate Performance Diploma in 2004. She spent two summers as a Tanglewood fellow, and also enjoyed summers at the Marlboro Chamber Music Festival, the Pacific Music Festival, and the Aspen Music Festival.
Ms. Davis is on faculty at the Longy School of Music in Cambridge and spends her summers as a faculty artist and teacher at the Brevard Music Center in North Carolina. She also maintains a private horn studio in Arlington, MA.
Ms. Davis lives in the Boston area with her husband and three children. When not playing horn, you will find her running around the Arlington reservoir, reading novels at her favorite coffee shops, making granola, marching for minority and women's rights, reading up on the latest discoveries in human evolution, and playing board games or crafting with her kids.