Ina Zdorovetchi
---
Programs
---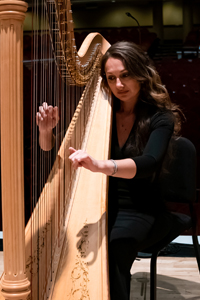 Hailed as "hypnotizing", Ina Zdorovetchi has established a reputation as one of the leading harpists of her generation, having performed as soloist with orchestras in Europe, North America and the Middle East, as recitalist in Carnegie Hall, Jordan Hall, World Harp Congress, American Harp Society National Conference and as recording artist for SONY, Naxos, Albany Records, WGBH Radio-Boston, Israeli Broadcasting Authority and Moldova National TV.
Ina Zdorovetchi is the recipient of a number of awards, including Second Prize (Ist Prize not awarded), Chamber Music Prize and Propes Prize at the 17th International Harp Contest in Israel, First Prize at the Bucharest International Competition, Second Prize at the Paris International Harp Competition, "Outstanding Achievement in Chamber Music" Award from the Fischoff National Competition, "Henry Cabot Award for extraordinary commitment of talent" from the Boston Symphony Orchestra Players Committee and other honors.
Her debut solo album "Un Sospiro", released in 2010, demonstrates her interest in both original works and transcriptions and celebrates composers past and contemporary. Additionally, she has recorded solo, chamber music and orchestral repertoire for Sony, Naxos, Albany Records, BMOP/Sound, Boston Symphony, and has sustained live concertos, recitals, interviews and broadcasts on WGBH Radio-Boston, Israel Broadcasting Authority and Moldova National TV.
Currently, Ina Zdorovetchi is the principal harpist with Boston Lyric Opera, Boston Pops Esplanade Orchestra, Opera Boston, Boston Modern Orchestra Project and is on the faculty at Boston Conservatory, Wellesley College and New England Conservatory Pre-College. Her students have been featured in performances at the World Harp Congress and won several top competition prizes. Other teaching engagements include invitations to Brevard, Vianden and Saarburg International Festivals, masterclasses at Indiana University (South Bend), Chapman University (CA), American Harp Society Chapters in Washington (DC). Syracuse (NY), Los Angeles (CA) and Bolivar Youth Orchestra of Venezuela. Additionallty, she is the founder and artistic director the Boston Harp Festival, an elected member of Pi Kappa Lambda - The National Music Honor Society, and past-president of the American Harp Society Boston Chapter.
Ina Zdorovetchi holds degrees from New England Conservatory (Performance Diploma), Boston University (Master of Music), The Boston Conservatory (Bachelor of Music, Summa Cum Laude) and is an alumna of the Tanglewood Music Center (2003 and 2004). Prior to moving to the USA, she studied at Bucharest Academy of Music (Romania), and "C. Porumbescu" Lyceum of Music in her native Chisinau, Moldova, completing a double major in piano and harp. She studied under the tutelage of harpists Ann Hobson Pilot, Cynthia Price-Glynn, Ion Ivan-Roncea and Ana Mahonina and, for 10 years, was mentored by the great piano professor Larisa Jar.