BMC Mission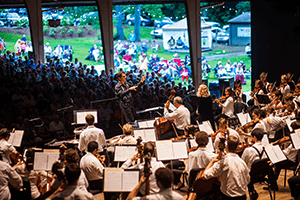 The Brevard Music Center, a summer institute and festival, teaches gifted young musicians to prepare and perform great musical works at a high artistic level.
The Brevard Music Center is a community of student and professional musicians who aspire to ever-higher levels of artistry. Since all members of the community reside on campus, learning occurs constantly and is manifest through intensive practice and rehearsal and a challenging concert schedule. A consistently high level of public performance is a hallmark of the Brevard Music Center.
The students, diverse in age and background, share the virtues of creativity, self-discipline, a sense of teamwork and a superior work ethic. All students work closely with faculty, and many have the opportunity to rehearse and perform alongside their mentors. A summer at the Brevard Music Center can be a transforming experience: seven weeks that change young lives.
The faculty, accomplished professional musicians, devotes their entire summer to teaching and performing. They are joined by other professional artists and teachers who come to Brevard Music Center to work for shorter periods, to inspire students through private teaching, master classes and performance.
The board of trustees and employees passionately support the mission and embrace a creative, open and participative culture of disciplined thought and action in order to provide the human and financial resources required to constantly improve all aspects of the learning community.
The supporters – donors, volunteers and audience – are enriched by our students and faculty, imaginative programming and excellent performances. Brevard Music Center is committed to building enthusiasm for great music that enhances quality of life.
The campus is set on 180 wooded acres in the beautiful mountains of Western North Carolina. It engenders a sense of serenity and freedom from distraction while it promotes artistic achievement.
BMC Commitment to Diversity
The Brevard Music Center is committed to the principles of diversity, equity, inclusion, and belonging to promote a richer and deeper communal experience for our students, faculty, guest artists, staff, audiences, and Board of Trustees.
Brevard Music Center believes that an equitable, diverse, and inclusive environment leads to excellence in educating musicians and accomplishing the BMC mission and vision. We will continue to create the highest standards for artistic quality and creative expression, while instituting and supporting policies and practices that foster and promote knowledge, respect, and understanding of all cultures. These practices should be evident in programming, recruitment, scholarship, hiring and retention practices, and in policies for students, employees, and trustees.
The Brevard Music Center knows well the power of music. We are committed to using that power, through specific and measurable actions, to contribute to our nation and our world.