BMC History at a Glance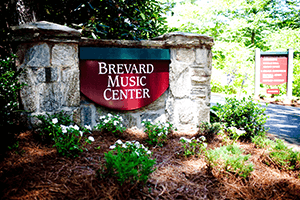 1936 – James Christian Pfohl founded the Davidson Music School for Boys at Davidson College in North Carolina. The school was a summer music camp modeled loosely after the National Arts Camp at Interlochen (MI).
1944 – Pfohl moved his school to its present location in Brevard, North Carolina. The school became coeducational and was renamed Transylvania Music Camp.
1946 – The first Brevard Music Festival, with James Christian Pfohl as Artistic Director, was presented in August as an appendix to the Music Camp season.
1955 – The Transylvania Music Camp was renamed to Brevard Music Center.
1965 – Henry Janiec became the second Artistic Director.
1993 – John Candler became the first President and CEO.
1996 – David Effron, a Brevard Music Center alumnus, became the third Artistic Director.
2007 – Keith Lockhart, a Brevard Music Center alumnus, became the fourth Artistic Director.
2013 – Mark Weinstein named President and CEO.