Glenn Einschlag
---
Programs
---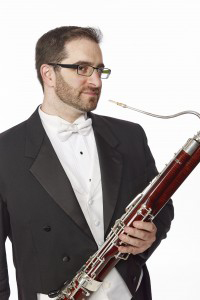 Originally from Morganville, NJ, Glenn Einschlag began his appointment as Principal Bassoonist of the Buffalo Philharmonic Orchestra in September of 1999. He has performed with such ensembles as the Philadelphia Orchestra, the Boston Symphony, the Indianapolis Symphony Orchestra, and the Colorado Music Festival Orchestra. As a soloist, Mr. Einschlag has played various concerti with the Ars Nova Chamber Orchestra, the Buffalo Philharmonic Orchestra, the Erie Chamber Orchestra, and the Buffalo Chamber Players, among others. An avid chamber musician, Mr. Einschlag has played with the Roycroft Music Festival, the Arizona Musicfest Chamber Players, the Wooden Cities Contemporary Ensemble, and has participated in many music festivals including those of Aspen, Tanglewood, Spoleto (USA), and Domaine Forget (Canada). He can be heard on the Beau Fleuve, Naxos, and EMI recording labels.
Passionate about teaching young bassoonists, Mr. Einschlag is currently a faculty member at the Glenn Gould School of the Royal Conservatory in Toronto as well as the Department of Music in the State University of New York at Buffalo. He has presented master classes and pedagogical residencies at such institutions as the Colburn Conservatory of Music, the University of Texas at Austin, the University of Michigan, the Eastman School of Music, Arizona State University, the Manhattan School of Music, Wilfred Laurier University, and Rice University, among others.
He has studied at The Juilliard School, The Curtis Institute of Music, and The Shepherd School of Music at Rice University and has been heavily influenced by the teachings of Harold Goltzer, Marc Goldberg, Bernard Garfield, William Winstead, Norman Herzberg, and Ben Kamins.