David Kirk
---
Programs
---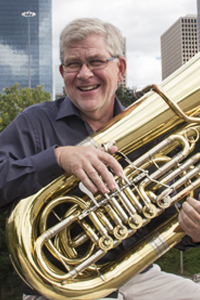 Dave Kirk is Principal Tubist of the Houston Symphony and Associate Professor at Rice University's Shepherd School of Music, positions held since 1982.
Following his freshman year of high school, Dave attended the 1975 Brevard Music Center. Dave acknowledges his attendance of BMC concerts and tuba studies under Jamie Hafner as invaluable lifelong influences.
Mr. Kirk was selected for his teaching and playing positions during his final year of undergraduate studies at the Juilliard School. While at Juilliard, he studied with Don Harry. Kirk's other teachers include David Waters, Chester Schmitz, Warren Deck, and Neal Tidwell.
As a teacher, Mr. Kirk enjoys an international reputation for effective teaching of musicianship and the physical aspects of wind playing.
His orchestral playing is heard on Houston Symphony recordings under conductors Sergiu Comissiona, Newton Wayland, Christoph Eschenbach, Michael Krajewski, Hans Graf, and Andrés Orozco-Estrada. Kirk's solo playing is featured on Mark Custom Recordings' The Music of Leroy Osmon, Volume 1.