Bethany Wiese
---
Programs
---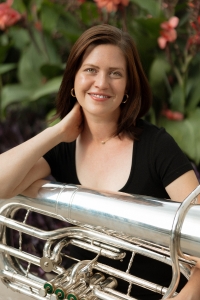 Leading a multi-faceted career as a performer and teacher, Beth Wiese is Associate Professor of Tuba and Euphonium at Vanderbilt University, Principal Tuba of the Asheville Symphony Orchestra, and Acting Principal Tuba of the Nashville Symphony Orchestra. As a soloist, she is a laureate of numerous competitions, including the International 'Citta di Porcia Brass Competition (Italy), Musician's Club of Women, Union League Civic and Arts Foundation, and Leonard Falcone International Tuba and Euphonium Competition. She has been invited to present recitals in a variety of venues, including multiple International Tuba and Euphonium conferences, the United States Army Band Tuba-Euphonium Conference, Amiata Piano Festival (Italy), Chicago Cultural Center, and numerous universities throughout the country.
Enjoying a diverse career performing in orchestras and other large ensembles, Dr. Wiese spent two years as a fellow of the New World Symphony in Miami Beach, Florida. She is also a past fellow of summer programs including the Tanglewood Music Center, Aspen Music Festival and School, National Repertory Orchestra, and National Orchestral Institute, and spent one summer touring the United States with the American Wind Symphony Orchestra. She has performed with orchestras throughout the country and abroad including the Charlotte Symphony Orchestra, Charleston Symphony, Aarhus Symphony Orchestra (Denmark), Macao Orchestra, and Korean Broadcasting Symphony Orchestra. Additionally, Beth has previously served as Principal E-flat Tuba in the North Carolina Brass Band (the only professional brass band in North Carolina) and has enjoyed performing with Monarch Brass, an all-female brass ensemble, at the International Womens' Brass Conference and International Trumpet Guild.
At Vanderbilt, Beth teaches courses in Brass Pedagogy, Orchestral Repertoire and Chamber Music in addition to teaching applied lessons in both tuba and euphonium. She received a Doctor of Music degree from Northwestern University as a student of Rex Martin. Additionally, she completed a Master of Music degree from Yale University and Bachelor of Music degree from Lawrence University, studying with Mike Roylance and Marty Erickson respectively.