Ways to Give
---
Donating Online
You can donate online with your credit card on our secure server. The Brevard Music Center accepts Visa, MasterCard, American Express, and Discover.
---
Monthly Giving
For monthly giving options, please call Palma Cohen in the Annual Giving office at (828) 862-2114 or email pcohen@brevardmusic.org. Palma can assist in setting up monthly donations, payable through VISA, MasterCard, American Express, or Discover. The minimum monthly withdrawal is $25.00.
---
Mail Your Check or Call Us
Checks should be made out to the Brevard Music Center and mailed to:
Brevard Music Center
P.O. Box 312
Brevard, NC 28712
To donate by phone, please call 828-862-2100 and select the option to make a donation.
---
You Can Donate Stocks, Bonds and Real Estate
Giving shares of appreciated stock, bonds, mutual funds, and other securities can be an excellent way to give, because you do not pay capital gains tax on the appreciation of the securities, and you receive a deduction for their full market value on the date of the gift. Please click here for instructions and more information.
---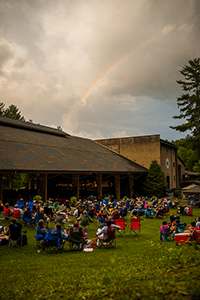 Taking Advantage of Matching Gifts
Many corporations match the gifts their employees, retirees and board members give to non-profit and charitable organizations. These matching programs extend the reach of your company's corporate giving and allow you to double and sometimes triple the impact of your gift. Your company's personnel or human resources office can provide any forms or necessary information to process a matching gift. It's a quick and easy. If you have questions, please contact the Development Office at 828-862-2121.
All donors will receive a written confirmation and a receipt by mail.
The Brevard Music Center is a 501(c)(3) non-profit organization, and all contributions are tax deductible.