William Ludwig
2021 Programs
---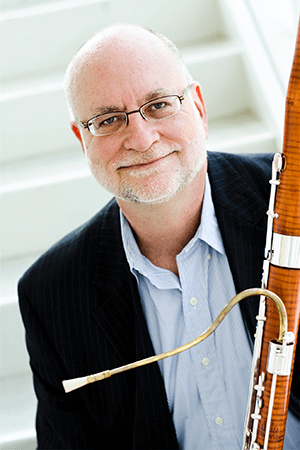 William Ludwig joined the faculty of the prestigious Jacobs School of Music at Indiana University as Professor of Bassoon in August of 2007. Previous to this appointment he had been Professor of Bassoon at Louisiana State University since 1985. For the last seven summers he has been in residence at the Brevard Music Center as principal bassoon and artist faculty. His orchestral experience includes principal bassoon with the Baton Rouge Symphony (1986-2007) and the Florida Orchestra (1980-1985). A noted chamber musician, he has performed in a wide variety of settings in the United States and Europe, including the Prague Spring International Music Festival and Highlands (NC) Chamber Music Festival and with the Orpheus Chamber Orchestra, Timm Wind Quintet and Ars Nova Wind Quintet. He was artist-in-residence at the State University of New York-Stony Brook Department of Music from 1989 to 1994 concurrently with his LSU appointment and taught at the University of South Florida from 1979 to 1985. He holds degrees from Louisiana State University and Yale School of Music and had the privilege of studying with John Patterson, Sol Schoenbach, Leonard Sharrow, Bernard Garfield and Arthur Weisberg.
Reviews of Mr. Ludwig's performances attest to his vibrant and communicative style: "everything was played with fluency, virtuosity and elan" (Kansas City Times). Response to his first solo CD of transcriptions included: "Indeed, with Ludwig's incredible technique, beautiful tone, and warm phrasing, they all sounded convincing in this new 'guise...' This is a convincingly impressive album, the work of a master bassoonist" (The Double Reed). His recordings include "Bach for Bassoon" with Mark Custom Records, "Rhapsody in Bassoon" with Mark Custom Records, a Brahms/Schumann/Prokofiev CD with Centaur Records, and a series of Reicha Wind Quintet recordings with the Ars Nova Wind Quintet for the Musical Heritage Society.
A committed and caring teacher and mentor, he has received several teaching awards, has been sponsored in teaching residencies at the major conservatories of San Jose, Costa Rica (2000), Beijing, China (1994) and Cairo, Egypt (1982) and is sought after to present recitals and master classes at universities and colleges throughout the country.
Mr. Ludwig performs on a Moosmann Model 222A bassoon.