Dilshad Posnock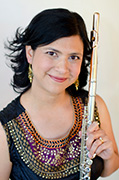 Originally from Mumbai, India, flutist Dilshad Posnock has appeared as a soloist and chamber musician in concerts and festivals across the United States, England, Puerto Rico and India, and has been featured on BBC TV and BBC World Service Radio.
Ms. Posnock's performance experience is wide and varied, including concerto appearances with the Bombay Chamber Orchestra, Brevard Symphonic Winds, McKeesport Symphony, Pittsburgh Civic Orchestra, and Royal College of Music Symphony Orchestra. She has performed solo and chamber recitals with musicians from the New York Chamber Ensemble, the Chamber Orchestra of Europe, the Academy of St. Martin-in-the-Fields, Renaissance City Winds and The Meridian Ensemble. Ms. Posnock has participated in such international music festivals as the Casals Festival in Puerto Rico, the Cape May Music Festival, Musica Viva, and was a founding member of the Sangat Music Festival in Mumbai, India.
Ms. Posnock completed her undergraduate studies with Honors at the Royal College of Music, London, and her Masters Degree at Carnegie Mellon University in Pittsburgh, where she studied with renowned flutist and pedagogue Jeanne Baxtresser, former Principal Flute of the New York Philharmonic. While in Pittsburgh, she performed regularly with ensembles including the Pittsburgh Symphony, the Pittsburgh Ballet, and Pittsburgh Opera. Ms. Posnock served as Artist Lecturer in Flute, and Director of the Artist Diploma Program at the Carnegie Mellon School of Music.
Apart from her activities on the flute, Ms. Posnock served as the coordinating editor for Jeanne Baxtresser's publication "Great Flute Duos of the Orchestral Repertoire," published by Theodore Presser in 2002, and as Assistant Director for the annual Jeanne Baxtresser International Master Class. She also worked on a publication project with world-renowned flutist, Sir James Galway, for Theodore Presser.
Ms. Posnock currently lives in Brevard with her husband Jason, and two young children. She serves on the faculties of the Brevard Music Center and Brevard College, has performed with the Asheville Choral Society, and has appeared as Guest Principal Flute with the Asheville Symphony Orchestra.
---