Benjamin Sung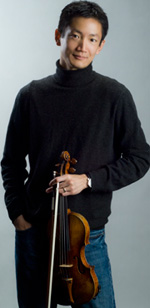 Assistant Professor of Violin at Florida State University, violinist Benjamin Sung is also concertmaster of the Fargo-Moorhead Symphony Orchestra. Recent concert highlights include the Cuban premiere of the Schnittke Concerto Grosso No. 1 and the Estaciones Portenas by Piazzolla, solo performances at the Brandeis Electro-Acoustic Music Series, and appearances on the Series Santander Cultural in Porto Alegre and Recife, Brazil. His 2011-12 calendar features collaborations with the James Sewell Ballet for the opening of the Cowles Center in Minneapolis; appearances at Segundo Festival de Música de Cámara de La Paz, Mexico, and Semana da Musica 2011, hosted by the Federal University of Rio Grande do Norte, Natal, Brazil; and the release of an album of new American music, supported by a Recording Grant from the Aaron Copland Fund for Music.
Sung has performed as soloist with numerous orchestras, including the Camerata Romeu of Havana, Cuba, the Virtuosi of Festival Internacionale de Musica in Recife, Brazil, and the National Repertory Orchestra. He is a past winner of the Starling Award of the Eastman School of Music and the Violin Fellowship of the Montgomery Symphony, and received the Gladys Gingold Scholarship at Indiana University. An enthusiastic advocate of contemporary music, Sung has performed and taught for Studio 2021 at Seoul National University, has recorded the music of composers Steve Rouse and Marc Satterwhite for Centaur Records, and was a juror for the 2011 Martirano Award of the University of Illinois.
Sung holds a Bachelor's degree from the Eastman School of Music, where he studied with Oleh Krysa, and Master's and Doctorate degrees from the Indiana University Jacobs School of Music, from the studio of Nelli Shkolnikova. Sung also studied at the Professional Training Program at Carnegie Hall, the Lucerne Festival Academy, the New York String Seminar, and the Chamber Music Residency at The Banff Centre. He lives with his wife Jihye in Tallahassee, Florida, where he enjoys running, playing pool, and everything that comes out of Jihye's kitchen.
---