College Composition
June 21 - August 5, 2018
Robert Aldridge, Professor and Head of Composition – Rutgers University
David Dzubay, Professor and Chair of Composition – Indiana University
Greg Simon, Assistant Professor of Composition – University of Nebraska-Lincoln
The composition program offers special opportunities for a select group of young composers. Enrollment is limited.
Brevard's composition faculty works closely with students and provides instruction through weekly private lessons and a daily seminar.
---
The Program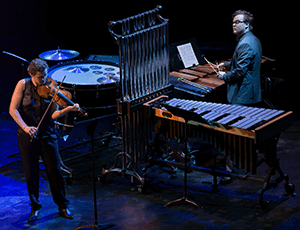 While in residence, students produce new works which are performed in a series of public concerts. Students collaborate closely with Brevard's new music ensemble, itch, comprised of instrumentalists in the College Division who have demonstrated ability and interest in the performance of new music.
The annual "New Songs" program has become a highlight of the summer festival. All student composers set the same text, and singers from Brevard's opera company perform the new songs on a public concert.
During the last week of the season, the Brevard Sinfonia devotes a session to reading and recording new student works.
Composition students spend most of their time in the composition lab, a pair of adjoining rooms housing MIDI keyboards, printers, and audio equipment. Students bring their own computers, so may use whatever notation software they elect.
Each season Brevard invites renowned guest artists to present concerts, classes, and seminars focusing on new music and contemporary performance practices. Recent collaborators have included the International Contemporary Ensemble (ICE), the Shanghai String Quartet, and Mason Bates.
Students in the composition program will participate in the BMC Chorus. In 2018, the BMC Chorus will join Maestro Keith Lockhart and the BMCO in the season finale performance of Leonard Bernstein's Mass.