Benefits of Giving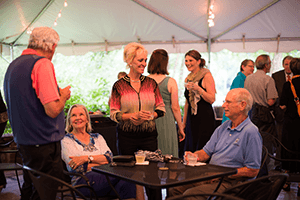 When you give to Brevard Music Center, you will help recruit and enroll highly talented and driven student musicians, provide merit and need-based student financial support, and maintain student and faculty residences and rehearsal and performance spaces across our acre campus. As a nonprofit organization, Brevard Music Center relies on charitable contributions for approximately 50% of our annual operating expenses.
Music Center supporters who contribute $75 or more each year to our Annual or Student Scholarship Funds will enjoy an array of benefits that can enhance your experience. Members of The Maestro Society, those giving an annual contribution of $2,500 or more, make an impactful investment and enjoy premium benefits, such as access to The Maestro Society lounge, reserved season parking, the highest levels of ticketing service, prominent recognition, invitations to exclusive special events, and more.
Regardless of why and what you decide to give, please know you are making a meaningful difference in the lives of talented students and ensuring a future filled with the performing arts for all of us.