---
BMC@Home
From our home to yours: students and faculty share new concerts, living room recitals, and masterclasses.
---
Posted January 21, 2021
---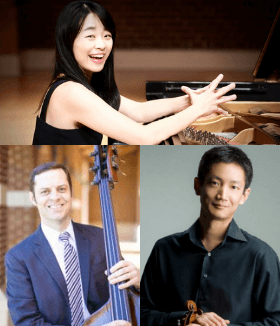 BMC faculty members Jihye Chang (piano), Ben Sung (violin), and George Speed (bass) perform excerpts from the pilot concert for Jihye's Salon, a new living room recital series. Enjoy the music of Boccherini, Bach, Wieniawski, Saint-Saëns, and more!
---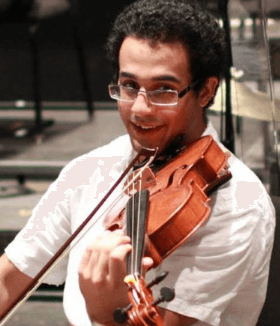 Violist and BMC alum Mounir Nessim performs all four parts of Matthias Durst's hauntingly beautiful Adagio for Four Violas. Mounir recently completed his Doctor of Musical Arts in Viola Performance at Louisiana State University in 2020.
---
Posted January 7, 2021
---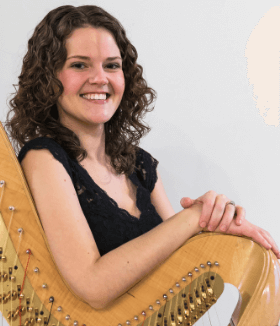 BMC harp faculty Allegra Lilly performs the mesmerizing Pièce en sol by J.S. Bach (arr. Renié). This performance is taken from her BMC living room concert, recorded on July 20, 2020. Allegra is the Principal Harpist of the St. Louis Symphony.
---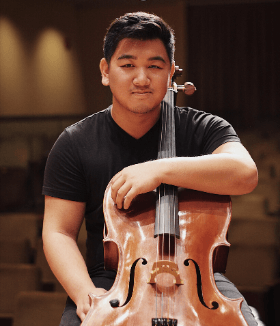 BMC alum and summer staff member Steven Chen shares his arrangement of Ennio Morricone's beautiful "Love Theme" from Cinema Paradiso for cello ensemble. It is performed and recorded by Steven and students from Alan Stepansky's studio at the Peabody Institute of Johns Hopkins University in Baltimore, Maryland.
---
Posted December 17, 2020
---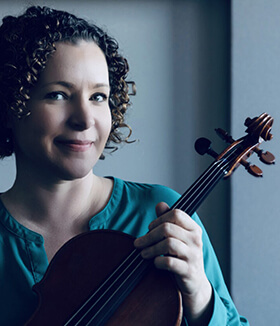 BMC viola faculty Maggie Snyder and pianist David Fung collaborate in an engaging concert film featuring four pieces intermingled with interviews by composers and performers. The centerpiece of the recital is the World Premiere of Spellbound for solo viola by Iranian-American composer Gity Razaz. The piece was commissioned as a part of the VIOLA2020 project commemorating the centennial of the 19th Amendment through commissioning works by women. Ms. Snyder is Professor of Viola at the University of Georgia - Athens.
---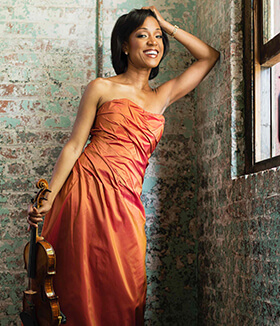 BMC guest artist Kelly Hall-Tompkins joins Tony nominee Daniel J. Watts in this powerful performance of "The Gatherers" from the Shabbat Community-building organization One Table. Kelly Hall-Tompkins is an award-winning classical soloist and plays the Fiddler on Broadway's Fiddler on the Roof.
---
Posted December 3, 2020
---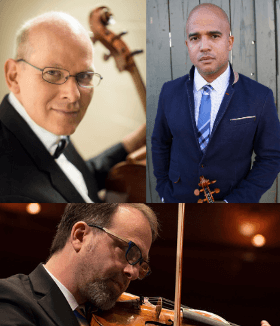 BMC faculty member Jonathan Spitz, BMC 2018 concertmaster Eric Wyrick and 2018 guest artist Daniel Bernard Roumain are featured in the New Jersey Symphony Orchestra's recent Concert Film. Included in this performance are music of Mahler, Mozart, a world premiere commission of Daniel Bernard Roumain and Delights & Dances by Michael Abels, featuring soloists from the Sphinx Organization. Definitely one not to be missed!
---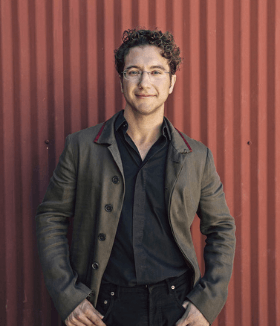 BMC 2020 guest conductor Teddy Abrams and violinist Gabriel Lefkowitz perform the spirited and exciting Perpetuum mobile Op. 34, No. 5 by Franz Ries. Mr. Abrams is Music Director of the Louisville Orchestra and shares this performance through the orchestra's online DUET series.
---
Posted November 19, 2020
---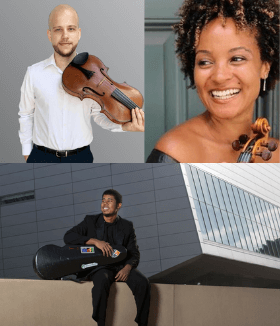 BMC 2021 faculty member Andrew Gonzalez, BMC alum Caleb Georges, and BMC guest artist Melissa White perform with the Sphinx Virtuosi in this incredibly moving performance of "Glory," featuring the vocal ensemble EXIGENCE.
---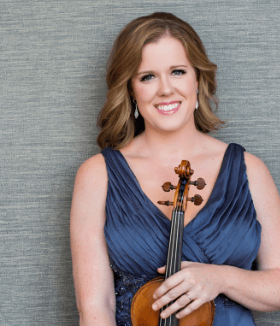 BMC 2020 guest concertmaster Madeline Adkins performs the beautiful Méditation from "Thaïs" by Massenet. Mrs. Adkins is the Concertmaster of the Utah Symphony, and shares her performance from the Symphony's 80th Anniversary Celebration.
---
Posted November 5, 2020
---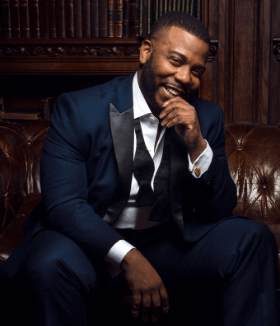 BMC Guest Artist and Brevard native Sidney Outlaw performs with pianist Warren Jones in this stirring performance of the spiritual Witness, recorded from The Riverside Church in New York City.
---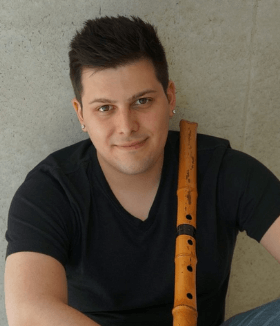 BMC alum Shawn Head (Composition 2014) performs his own arrangement of A Chorus of Rain Drops from the newly released video game, Ghost of Tsushima. Blending old and new, Shawn performs this beautiful piece on his 300 year old Shakuhachi.
---
Posted October 22, 2020
---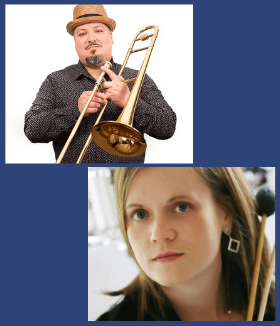 Married BMC faculty members Mike Dease (Jazz Director and Trombone), and Gwen Dease (Jazz and Orchestral Percussion) share their spirited rendition of When the Saints Go Marching In, recorded live from their home.
---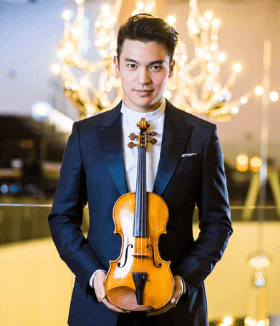 BMC 2020 guest artist Ray Chen was set to perform at Brevard for the first time this summer. Since he couldn't be here in person, enjoy this performance of the third movement of Bach's Sonata for Violin Solo No. 3.
---
Posted October 8, 2020
---
BMC saxophone faculty members Joseph Lulloff and Henning Schröder share a new work, Saxology, by Marc Mellits. The piece was commissioned and recently premiered by the Arizona State University Saxophone Choir, including the Capitol Quartet, helíos_, and the Seyon Quartet.
---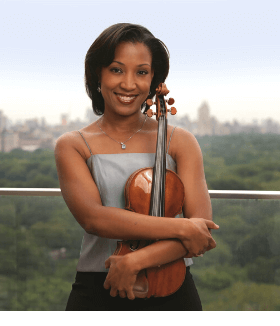 BMC favorite Kelly Hall-Tompkins, violin, joins Donna Weng Friedman, piano, for a stunning performance of Nocturne by Lili Boulanger. The French composer lived from 1893-1918 and was the first female winner of the Prix de Rome prize in composition.
---
Posted September 24, 2020
---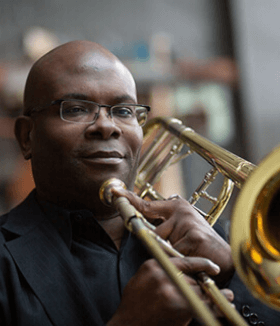 BMC trombone faculty member David Jackson shares a special arrangement of Henry Purcell's aria "When I am Laid in Earth." Also known as Dido's Lament, this aria is from the opera Dido and Aeneas, written around 1688. Here, Jackson performs all five parts of his own trombone quintet arrangement.
---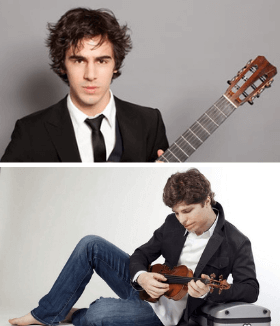 Guitarist Mak Grgić joins BMC regular guest artist Augustin Hadelich, violin, for this lively performance of Minor Swing by Django Reinhardt and Stéphane Grappelli. As Hadelich shares, "This has been such a fun session, not to mention learning a whole different kind of music expression was a cool challenge."
---
Posted September 10, 2020
---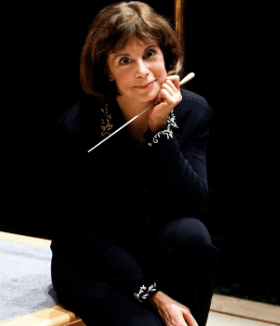 Join Let's Talk Off The Podium podcast host Tigran Arakelyan as he speaks with BMC Principal Guest Conductor JoAnn Falletta. In this podcast, they talk about working with composers, programming, staying connected with the audience during the pandemic, advice to young musicians, and much more. A Grammy-winning conductor, Falletta also serves as Music Director of the Buffalo Philharmonic Orchestra and the Virginia Symphony Orchestra and Artistic Adviser of the Hawaii Symphony Orchestra. Stream the episode through Apple Podcasts and YouTube.
---
BMC harp faculty member Allegra Lilly joins bassist Robin Kesselman for this at-home performance of Maurice Ravel's Pièce en forme de habanera. This early 20th-century work is a single movement, and has been transcribed for many different instrument combinations.
---
Posted August 27, 2020
---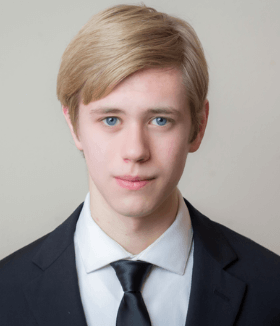 BMC alum John Schindler performs his own transcription of Siegfried's Funeral March from Wagner's Götterdämmerung. Originally composed for full orchestra, this performance transforms the colorful orchestration into a stunning soliloquy for solo piano. John is currently a student at Juilliard and recorded this on August 15, 2020, in Hartland, WI.
---
BMC faculty members Dilshad Posnock (flute), Jason Posnock (violin), and Jenny Snyder Kozoroz (viola) perform a socially-distanced trio in the new Parker Concert Hall on the Brevard Music Center campus. This is the first movement (Entrata, Allegro) of Beethoven's Serenade for Flute, Violin and Viola.
---
Posted August 13, 2020
---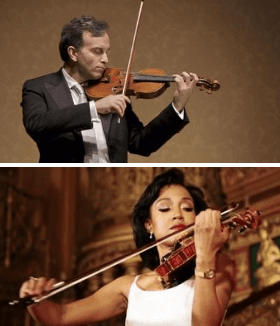 BMC favorite Gil Shaham shares this special episode of "Gilharmonic," featuring past BMC guest artist Kelly Hall-Tompkins. Sponsored by Violinist.com, this one-hour violin chat includes performances by Kelly as well as student guests Jasmine Li, 13, and Samantha Washecka, 15.
---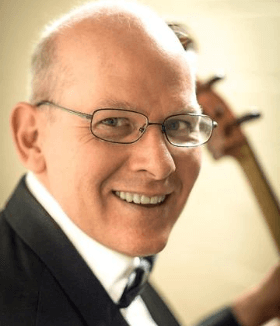 BMC cello faculty member Jonathan Spitz joins with fellow Orpheus Chamber Orchestra cellists Eric Bartlett, James Wilson, and Melissa Meell for this special arrangement of the Sarabande from Bach's Suite for Solo Cello No. 6 in D Major. Orpheus shared this at-home performance in honor of World Health Day on April 7.
---
Posted August 6, 2020
---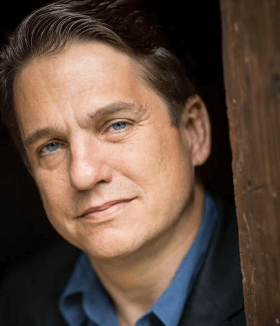 Join us this Sunday, August 9 at 3:00pm ET for a special rebroadcast of the 2018 BMC Season Finale, the Bernstein Mass. This video will premiere live here and on YouTube. About the performance: Maestro Keith Lockhart leads the Brevard Music Center Orchestra and Festival Chorus in a performance of the Bernstein Mass. Recorded live on August 5, 2018, at the Whittington-Pfohl Auditorium at the Brevard Music Center in Brevard, NC. Video by Sean Rafferty. Audio by Michael Schweppe and Robert Rydel with assistance from the Brevard Audio Engineering Interns.
---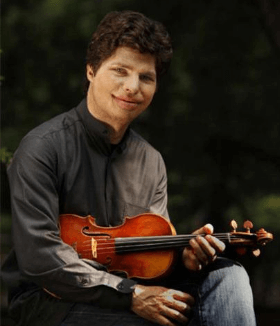 Enjoy this special video by BMC guest artist Augustin Hadelich and 13 additional violinists performing Bach's Chaconne from Partita No. 2 in d minor, BWV 1004. Recorded in April 2020, each violinist performs a section of the work, compiled and edited by Hadelich.
---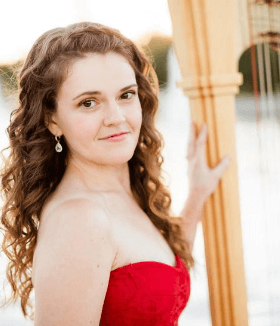 BMC harp faculty member Allegra Lilly shares this excerpt from Nocturne by Franz Strauss, performed with Tod Bowermaster. This performance is from a recent lawn concert sponsored by the St. Louis Symphony Orchestra.
---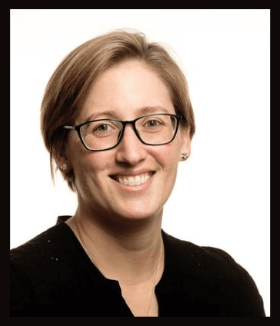 BMC student alum Dani Meier performs Debussy's art song Beau Soir. Dani is the Vice President of Artistic Administration and a section Double Bassist at the Omaha Symphony. Here, she performs both the bass and piano parts in this at-home arrangement.