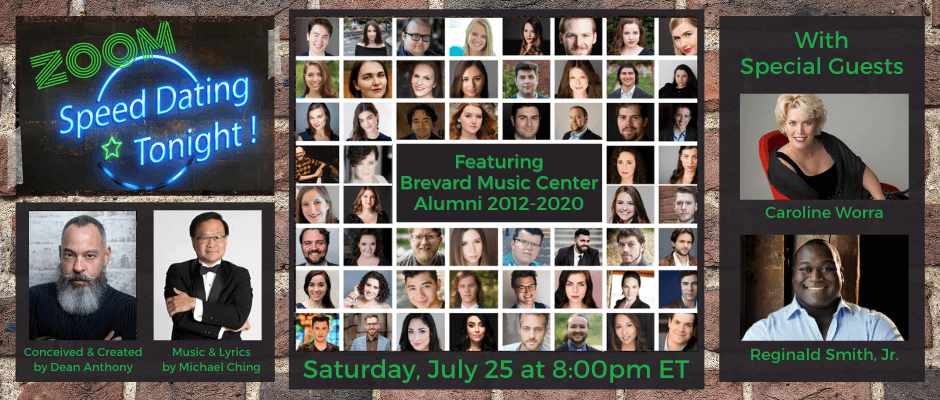 Zoom Speed Dating Tonight!
Music and Lyrics by Michael Ching
Conceived and Created by Dean Anthony
World Premiere: Saturday, July 25 at 8:00pm ET on YouTube
Rebroadcast: Sunday, July 26 at 3:00pm ET on Facebook
About the show: The original Speed Dating Tonight! was premiered at Brevard by the 2013 Janiec Opera Company. Zoom Speed Dating Tonight! has been updated for online presentation, with the central Speed Dating event occurring over Zoom. Music and Lyrics were written by Michael Ching, and the show was Conceived and Created by Dean Anthony.
About the performers: All Brevard Opera and Janiec Opera Company Alumni from 2012-2020 were invited to participate. In this production, there are 56 alumni performers as well as other alumni working on video production and editing, including several members of the 2013 premiere cast. In addition, everyone who signed up has been included in the process.
Caroline Worra has been a Janiec Opera Company Voice Faculty member since the 2017 season, and is performing the role of The Host. Reginald Smith, Jr., is a past participant of JOC and has previously returned as a guest artist in Falstaff (2013) and as a soloist in the BMC Season Finale performance of Beethoven 9 (2016).