High School Voice
First Session: June 20 - July 12, 2019
Second Session: July 13 - August 4, 2019
The Voice program for high school students offers three-week sessions for singers age 15 and older who plan to pursue vocal studies in college. A student selects either of two sessions; each session enrolls 16 students.
---
The Program
Each student receives two private lessons per week, in addition to individual and group coachings. Students have extensive performing opportunities, including recitals, masterclasses, and a program of staged opera scenes. Students are encouraged to audit rehearsals of Brevard's Janiec Opera Company. HS Voice students receive free admission to all opera performances.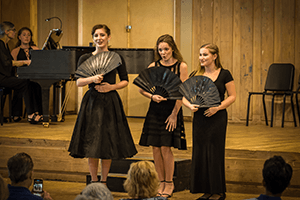 The daily schedule of classes includes:
music theory
music literature
acting
movement
vocal technique and diction
masterclasses in performance and audition techniques
All BMC students may attend open rehearsals with world-renowned concert soloists. Students have the opportunity to attend nearly 80 orchestra, chamber, solo, and opera performances throughout the full season.
Students in the High School Division will encounter older students at concerts, in studio and masterclasses, and in the cafeteria, providing valuable opportunities for guidance and mentorship. However, high school students have their own ensembles, their own residences, their own campus life system, and their own social activities.
Admission to the Brevard Music Center is determined by audition. Students audition for Brevard by submitting a recording. High School vocalists must post a video audition to YouTube.
---
Chamber Chorus
The BMC Chamber Chorus meets and rehearses regularly and enjoys a variety of performance opportunities. Under the direction of Dr. David Gresham, Associate Professor of Voice and Choral Music / Director of Choral Activities at Brevard College, BMC Chamber Chorus explores challenging choral music written and arranged for small group, with a focus on the development of ensemble singing skills.
In recent years students in the Voice program have had the opportunity to participate in the BMC Chorus. Past seasons have included performances of Beethoven's Symphony No. 9, Mahler's Symphony No. 3, Orff's Carmina Burana, Holst's The Planets, Bernstein's Mass, and a concert of Bach cantatas. In 2019, the BMC Chorus will join Maestro Keith Lockhart and the Brevard Music Center Orchestra in the season finale performance of Mahler's Symphony No. 2.
---
Audition Requirements
Voice applicants must submit a video recording to YouTube. Perform from memory two songs from the classical repertoire (not musical theater) – one must be sung in English.
Include one letter of recommendation from a music professional (voice or piano teacher, choir director). The letter must be sent to admissions@brevardmusic.org. Do not send a letter from a relative.
If you previously attended the Voice program, there is no need to send a letter.