High School Piano
Full Session: June 25 - August 9, 2020
First Session: June 25 - July 17, 2020
Second Session: July 18 - August 9, 2020
Each year Brevard's Piano program enrolls more than seventy students. Pianists may attend for the full six-week term or for either the first or the second session (three weeks). Most students select the full term.
---
The Program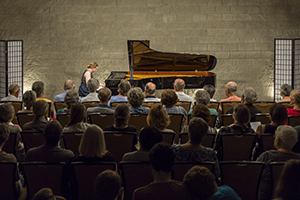 The piano program provides:
private study with distinguished teachers
ample practice time in air-conditioned studios
weekly studio and master classes with faculty and guest artists
open rehearsals with world-renowned concert soloists
classes in piano literature, performance practice, or other topics
opportunity to attend nearly 80 orchestra, chamber, solo, and opera performances
Piano students present a public recital each week. Pianists may also have the opportunity to participate in enhanced collaborative activities, e.g., instrumental, vocal, chamber, duo/duet, orchestra. All students in the High School Division take classes in music theory and music literature.
Students in the piano program will participate in the BMC Chorus. In 2019, the BMC Chorus will join Maestro Keith Lockhart and the Brevard Music Center Orchestra in the season finale performance of Mahler's Symphony No. 2.
Students work on campus in 90 studios and practice rooms. Piano students may reserve up to 3 hours of daily practice time on both grand and upright pianos. Steinway is the official piano of the Brevard Music Center.
The BMC Piano Competition is open to any BMC pianist enrolled for the full term. Each of the five finalists receives a cash prize. Full-session piano students may also enter the Jan and Beattie Wood Concerto Competition.
Students in the High School Division will encounter older students at concerts, in studio and masterclasses, and in the cafeteria, providing valuable opportunities for guidance and mentorship. However, high school students have their own ensembles, their own residences, their own campus life system, and their own social activities.
---
Typical Daily Schedule
7:00 a.m. - 9:00 a.m.
Breakfast
8:00 a.m. - 8:50 a.m.
Music Literature / Music Theory
9:00 a.m. - 11:00 a.m.
Practice time
11:00 a.m. - 12:00 p.m.
Private lesson (once a week) *
11:00 a.m. - 12:00 p.m.
Etude Class (twice a week)
11:30 a.m. - 1:30 p.m.
Lunch
12:30 p.m. - 1:30 p.m.
Student Piano Recital (Wednesday)
2:30 p.m. - 3:30 p.m.
Piano Literature class
4:30 p.m. - 5:30 p.m.
Piano Studio class (Tuesday)
4:30 p.m. - 5:30 p.m.
Piano Masterclass (Thursday)
5:00 p.m. - 7:00 p.m.
Dinner
7:30 p.m.
Concerts occur most evenings
10:45 p.m.
Call to Quarters
11:15 p.m.
Lights out
Each piano student is guaranteed up to 3 hours of reserved, daily practice time
Pianists are strongly encouraged to observe orchestra rehearsals – especially when a piano soloist is featured
Certain guest artists offer 'Q and A' sessions or masterclasses for students
Unscheduled times shall be used for personal practice, rest, and recreation
* Private lesson times are arranged with the teacher
---