On Campus
A powerful sense of community emerges each summer at the Brevard Music Center. Faculty, students, and staff live and work together on the campus. Shared experiences (dining in the cafeteria, rehearsals, classes, concerts) create connections that last long after the summer. A quiet, beautiful natural setting encourages work, play, rest, reflection, and perspective.
In many respects, Brevard maintains a culture of informality. Virtually every rehearsal is open to students and faculty. A great deal of informal instruction occurs, from faculty and from older students to younger ones (or from younger to older). Many lifelong friendships are forged each summer, and countless Brevard alumni retain strong attachments to the place and to its people.
With respect to student residential life, Brevard's two divisions, High School and College, operate under different policies and procedures. High school and college students live on different parts of the campus. Students are housed by age and gender. Brevard does not provide co-ed or married-student housing.
---
Housing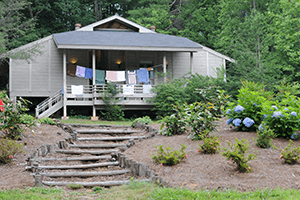 Students, staff, faculty, faculty families, and many of Brevard's guest artists reside within the 180-acre Music Center campus. Students live in simple yet comfortable residences. All residences are air-conditioned.
A Dean of Students, four Assistant Deans, and 36 Resident Assistants (RAs) comprise the student life staff. Each member of the staff brings experience in campus residential life. Most are musicians as well, and each is subject to a background check before they commence work at the Brevard Music Center.
Students in the High School Division are housed according to gender and age, with approximately 16 students, 4 to a room, in each residence. Two RAs are assigned to each high school residence. Students in the College Division live in comparable housing, with a single RA in each residence.
---
Facilities

Performance and Rehearsal Venues
Large ensembles rehearse and perform in the Whittington-Pfohl Auditorium, an open-sided structure with 1800 seats that was introduced for Brevard's 1965 season. The opera company rehearses in Thomas Hall, an open room adjacent to Whittington-Pfohl Auditorium that overlooks Lake Milner.
The Brevard Symphonic Winds and other ensembles rehearse in historic Straus Auditorium, constructed in 1920 and re-purposed as a performance/rehearsal venue when the Brevard Music Center moved to its current campus in 1946.
Student and faculty recitals take place in Searcy Hall, an air-conditioned space on the BMC campus. Searcy Hall is also home to piano and literature classes, seminars, and campus-wide masterclasses. Chamber concerts are presented at the Porter Center at Brevard College and at the Transylvania County Library in downtown Brevard.
Practice rooms
Brevard Music Center maintains nearly 110 air-conditioned practice rooms, studios, and classrooms. Steinway is the official piano of the Brevard Music Center. All of the pianos are Steinway products.
---
Recreation
Students in the High School Division gather in the Lodge for games, movies, ping-pong, and socializing. French Quarter, near Sonata Lake, serves as the hub of activity for the College Division. The student life staff coordinates recreational activities throughout the summer. Soccer games, ultimate frisbee, movie nights, pizza parties, and barbecues are common occurrences. Swimming and canoeing in Sonata Lake are popular activities during posted hours, when a lifeguard is on duty. Off-campus outings such as hiking or rafting in the nearby Pisgah National Forest are scheduled on certain weekends.
Downtown Brevard, with numerous shops and restaurants, is located 0.8 miles from the Music Center campus.
---
Student Services
Health Services
The Blue Mountain Medicine staff manages the BMC infirmary. One registered nurse resides on campus; other staff members are present as needed. Nursing staff will refer students for off-campus physician services when necessary.
Transylvania Regional Hospital, with a full range of emergency services, is located less than ten minutes away by car.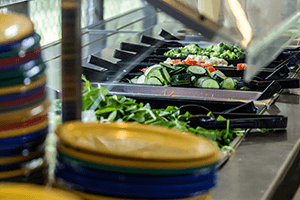 Campus Dining
All members of the campus community - students, staff, visiting artists, faculty and their families - dine in the Searcy Cafeteria. The Cafeteria is open for three meals each day. A variety of options, including vegetarian, is always available. The food service staff will make accommodation for special dietary needs when necessary.
Security
Brevard Music Center is patrolled regularly by the City of Brevard Police Department. The Music Center engages licensed off-duty police officers to manage security after dark.
Brevard Music Center subscribes to the TechRadium IRIS system, which provides instant notification to students, via cell phone, text message, and email, in case of emergency. The Music Center maintains a complete emergency plan, developed in consultation with local and regional law enforcement officials, which prescribes behaviors for every campus employee and resident. Emergency procedures are posted in every campus building.
Computer & Cell Phone Coverage
A central computer lab houses PCs for students' personal use. Students with laptops will find several wireless hotspots on campus.
Cell phones must be turned off during lessons, rehearsals and concerts. Because of the terrain, cell phone service can be intermittent in certain campus areas.